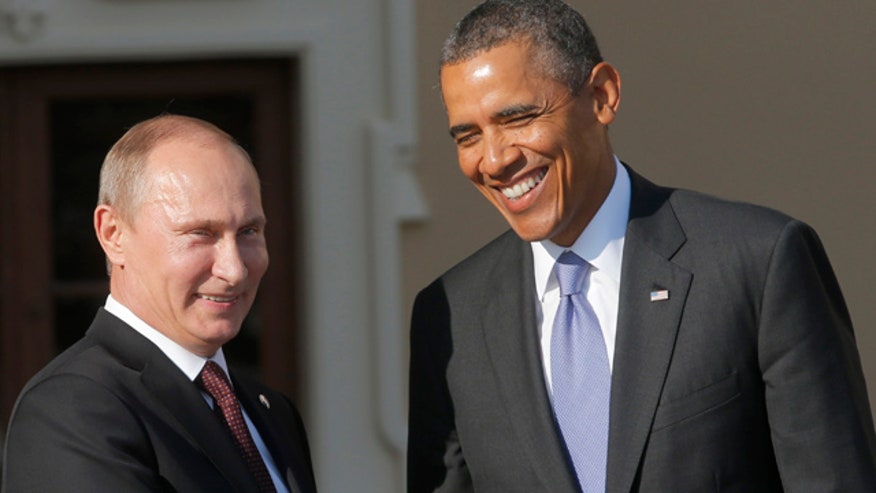 **Want FOX News First in your inbox every day? Sign up here.**
Buzz Cut:
• What's your question, Mr. President?
• Senate scraps Syria vote
• Gun rights on the line in Colorado
• 'The 47 percent' now 43 percent
• Is it frosting or icing? A basement or a cellar…
WHAT'S YOUR QUESTION, MR. PRESIDENT? - Despite a head-snapping turn away from his call for bombarding Syria, President Obama will still take to the airwaves tonight for his first primetime address in more than two years. We know the topic is the Syrian civil war, but what is the question? Obama, having opened the door to a Kremlin plan to secure Syrian chemical weapons, can no longer make the expected call for urgent action. So what will his stated reason be to interrupt Americans' Tuesday evening viewing?
[President Obama in his interview with Fox News: "I fervently hope that this can be resolved in a non-military way." Watch here.]
The takeaway - With Obama's request for a congressional resolution endorsing his plan for air strikes heading for defeat, tonight's speech was supposed to be an effort to reverse broad public opposition to his strategy. But with Obama looking longingly at the lifeline offered in the Putin plan, the president's sales pitch becomes less clear. Congress is even less likely to act with diplomacy showing some green shoots, so what is the president's "ask?" Authorize anyway? If Russia's offer helps Obama to save face, setting up a failed vote on Syria hardly seems worth the trouble.
Poll Check: Obama's Syria policy "weak" - A new Fox News Poll shows that public disapproval of President Obama's handling of Syria has jumped from 40 percent to 60 percent. Just 36 percent favor using force to punish Syria for using chemical weapons; 61 percent oppose taking that step. A majority of respondents, 57 percent, feel the president has not adequately explained why action in Syria is needed. And 48 percent of respondents viewed the president as a weak and indecisive leader when it comes to foreign policy.
SENATE SCRAPS SYRIA VOTE -Fox News: Senate Majority Leader Harry Reid, D-Nev., unexpectedly postponed a test vote on endorsing President Obama's plan for military strikes against Syria hours after the president took a sharp turn away from his "red line" threat to Syria.
Hill huddle - President Obama will head to the Capitol this afternoon to lay out his case for intervention in Syria with members of both parties. He'll meet first with the Senate Democratic Caucus, followed by the Senate Republican Conference, ahead of tonight's address to the nation. White House Chief of Staff Denis McDonough will brief House Democrats this morning.
[Watch Fox: Rep. Adam Kinzinger, R-Il., of the House Foreign Affairs Committee discusses Syria in the 10 a.m. ET hour]
Biden takes pitch to GOP - According to a tweet from Rep. Jason Chaffetz, R-Utah, confirmed by Fox; Vice PresidentJoe Biden will try and sell GOP house members on the president's Syria plan in a White House meeting today.
[House Armed Service Committee chairman Buck McKeon, R-Calif., pledges a "no" vote on any Syria strike authorization if military cuts due to sequestration are not lifted. He makes the case in a WSJ OpEd: "You don't conduct military campaigns with half a heart or half a wallet. Or, as Napoleon put it: 'When you set out to take Vienna, take Vienna.''']
Dems squeezed on Syria - Washington Examiner: "For vulnerable Senate Democrats, the upcoming vote to authorize limited military strikes on Syria will mark a high-profile opportunity to buck Republican criticism by going against President Barack Obama on a major legislative proposal." Embattled Sen. Mark Pryor, D-Ark., announced over the weekend he would vote "no."
OBAMA INVOKES REAGAN, A LOT - President Obama embraced former President Ronald Reagan's famous "trust but verify" approach to U.S.-Soviet relations during Obama's Monday interviews: "[W]e don't just trust, but we also verify" -- to CBS News' Scot Pelley// "[I]t's not enough just to trust, I think we're going to have to verify -- to Fox News' Chris Wallace// "[A] famous president said 'trust but verify'" -- to NBC's Savannah Guthrie.
BAIER TRACKS: NO EASY OUTS IN SYRIA ..."Several reporters from other networks and some government officials have speculated that a question to Secretary of State John Kerry on Monday about possible ways to avoid military action in Syria may have been planted – and that when Russia quickly jumped on it, it was evidence that it was all set up by the White House.
Maybe it's my skepticism from living in Washington too long, but that's tough to stomach.
After Kerry told reporters in London that Syrian dictator Bashar al-Assad could avoid a U.S. military strike if he surrendered his chemical weapons stockpiles within the week, the State Department tried desperately to "clarify" Kerry's statements right away, calling them "a rhetorical argument" … only to fully embrace the entire premise three hours later?
And I'm not alone in raising an eyebrow.
After all, the State Department was already dealing with several perceived Kerry stumbles in one presser. His characterization of an "unbelievably small" strike will likely be a phrase that comes back to haunt Kerry.
About the Russian proposal: The prospect of U.N. inspectors playing cat and mouse with the Assad regime over its chemical weapons supplies for months is tiring to even contemplate.
This tweet seemed to capture the skepticism about the new Russian proposal. Jeffery Goldberg, national correspondent for The Atlantic, wrote: "So, 3 months of, 'UN weapons inspectors continued their hunt today for Syria's sarin stockpiles as the Assad regime bombed Aleppo.'"
The basic message: Back to business as usual with artillery and shelling in Syria once this chemical weapons deal goes through.
It's quite stunning what has happened in the past 24 hours -- a complete turnaround and a lifeline for a president who was facing a stunning defeat in Congress.
An "unbelievably small" attack has its limits, but this Russian deal potentially lets the White House and Congress escape even deciding about those. There may be many lawmakers and White House officials who are breathing a sigh of relief because they're stepping back from the brink. But when the president referenced 'trust but verify,' it forecasts a lot of work ahead.
Most experts will tell you, there are no easy outs for something this complicated, even in a peaceful country. An effort like what's being talked about for Syria's chemical weapons would be a very heavy lift." – Bret Baier.
"…I think diplomacy, if possible, is always better than going to war. But you know, diplomacy also is partly trust and partly verifying. So we'll have to see. But I think it is a step in the right direction." Sen. Rand Paul, R-Ky., "On the Record With Greta Van Susteren" Click here for Gretawire
WHO ARE THE REBELS? -The House Homeland Security Committee is holding a hearing today on the Syrian opposition. Fox News is told the committee will also consider the growing number of foreign fighters among rebel forces.
Team Obama kept Syrian rebel leader out of DC? - Congressional sources tell Foreign Policy "…the Obama administration has delayed or cancelled at least three scheduled trips for [Syrian opposition leader Gen. Salim Idris] …to come to Washington since March." Idris and fellow rebel leader Ahmad al-Jarba make their case today in a WaPo OpEd.
NYT plays host for Kerry's "Hangout" - Secretary of State John Kerry will join NYT columnist Nicholas Kristof and Lara Setrakian, founder of the digital news site "Syria Deeply," for a Google Hangout at 2:00 p.m. ET.
JEB BUSH TO LAUD HILLARY - Former Florida Gov. Jeb Bush, who serves as chairman of the National Constitution Center, is to present former Secretary of State Hillary Clinton with the group's 2013 Liberty Medal today in Philadelphia. Hillary observers note that the award comes on the eve of the first anniversary of the 9/11 Benghazi attack, which remains under investigation in Congress. Clinton is expected to reiterate her strong support, delivered in a speech Monday, for President Obama's Syria strategy.
GUN RIGHTS ON THE LINE IN COLORADO VOTE - Colorado voters head to the polls today in recall elections targeting two Democratic state senators who helped enact the state's tough new gun-control law earlier this year. Sens. John Morse and Angela Giron are facing removal today, potentially setting up special elections in their competitive districts and a narrowing of Democrats' five-seat advantage in the state senate. While a Quinnipiac poll shows Colorado voters oppose the recall effort by a two-to-one margin, the districts, especially Morse's in and around Colorado Springs, lean pro-gun. Fox News reports early voting has been strong.
Proxy war - The Denver Post reports that both sides have spent $3.5 million on the races, much of it from outside the state. The National Rifle Association pledged $361,000 towards the recall. New York Mayor Michael Bloomberg has put $350,000 toward anti-recall efforts. It's a big moment for Bloomberg's gun-control crusade. If he can't protect lawmakers who buck local sentiments in favor of national support for restrictions, his effort to limit access to firearms could flounder.
NYC MAYOR VOTE TODAY - New York City Public Advocate Bill DeBlasio holds a commanding lead in today's Democratic mayoral primary, according to polls from Quinnipiac and NBC 4 New York/WSJ/Marist. (RCP Average: DeBlasio 37.7 perecent // Bill Thompson 21.3 percent // Christine Quinn 17 percent // Anthony Weiner 7.3 percent.)
DeBlasio needs to get 40 percent of the vote to avoid a primary runoff election. Race watchers expect the Democratic primary winner to glide past any members of the Republican field in this fall's general election. Polls close at 9 p.m. ET.
Spitzer in tight race - Two new polls show former Gov. Eliot Spitzer in a tight race in today's Democratic primary for New York City comptroller. A new Quinnipiac poll shows Manhattan Borough President Scott Stringer bests Spitzer by 7 points while an NBC 4/WSJ/Marist poll has the two in a virtual tie, with Spitzer ahead by 2 points. Spitzer is attempting a political comeback after resigning the governorship in 2008 following his admission that he patronized prostitutes.
Got a TIP from the RIGHT or LEFT? Email FoxNewsFirst@FOXNEWS.COM
HOUSE PROBES OBAMACARE CONTRACTORS - Reuters: The House Energy and Commerce Full Committee will hold a hearing today to "…examine preparations for enrollment [in ObamaCare] and take testimony from key government contractors including Serco Inc, a U.S. subsidiary of Serco Group Plc that won a $1.25 billion contract to process paper applications."
FOOD STAMP ENROLLMENT SPIKE - Daily Caller: "The number of households on food stamps reached another record high in June… According to the USDA, [23.1 million] households participated in the Supplemental Nutrition Assistance Program or food stamps in June…"
'THE 47 PERCENT' NOW 43 PERCENT - Fox News: The 47 percent of households that don't pay federal income tax made famous by Mitt Romney last year has continued a downward trend, according to the Tax Policy Center. The center reports that 43 percent will avoid paying the tax this year.
WITH YOUR SECOND CUP OF COFFEE...Dana Milbank considers how President Obama's choice to surround himself with loyalists may be hurting him as his Syria policy unravels, in his WaPo column Susan Rice returns to CIA talking points: "As Obama staffed the White House for his second term, there was criticism that he was isolating himself by promoting loyal aides who lacked the independent standing to tell him when he was making a mistake. Now, regarding Syria, we see the consequences."
POLL CHECK - Real Clear Politics Averages
Obama Job Approval: Approve – 42.9 percent//Disapprove – 52.0 percent
Direction of Country: Right Direction – 29.3 percent//Wrong Track – 62.0 percent
BIG-NAME DEMOCRAT BACKS CUCCINELLI - WaPo: "David 'Mudcat' Saunders, a veteran Democratic Party strategist, said Monday that he is backing Virginia Attorney General Ken Cuccinelli II (R) in the Virginia Governors race over Democratic nominee Terry McAuliffe because of economic justice issues."
THE PERSONABLE POPE - NYT on how Pope Francis is earning the nickname "the Cold Call Pope." This month the pontiff personally phoned a pregnant Italian woman who was unsuccessfully pressured to have an abortion, offering to baptize her child once it is born.
IS IT FROSTING OR ICING, A BASEMENT OR A CELLAR…It all depends on where you live. These new maps from Joshua Katz of North Carolina State University show who says what and where they say it. Using linguistic surveys, Katz shows us that there really are two Americas, at least when it comes to the question of whether to call it "tp'ing" or "toilet papering."

AND NOW, A WORD FROM CHARLES…"This is a clearly a way to get Obama off the hook politically. The chance of these weapons being eliminated from Syria are less than of the Chicago Cubs winning the World Series this year, and they are now mathematically eliminated." – Charles Krauthammer on "Special Report with Bret Baier"
Chris Stirewalt is digital politics editor for Fox News. Want FOX News First in your inbox every day? Sign up here. To catch Chris live online daily at 11:30 a.m. ET, click here.
Chris Stirewalt joined Fox News Channel (FNC) in July of 2010 and serves as politics editor based in Washington, D.C. Additionally, he authors the daily Fox News Halftime Report political news note and co-hosts the hit podcast, Perino & Stirewalt: I'll Tell You What. He also is the host of Power Play, a feature video series on FoxNews.com. Stirewalt makes frequent appearances on network programs, including America's Newsroom, Special Report with Bret Baier and Fox News Sunday with Chris Wallace. He also provides expert political analysis for FNC's coverage of state, congressional and presidential elections.