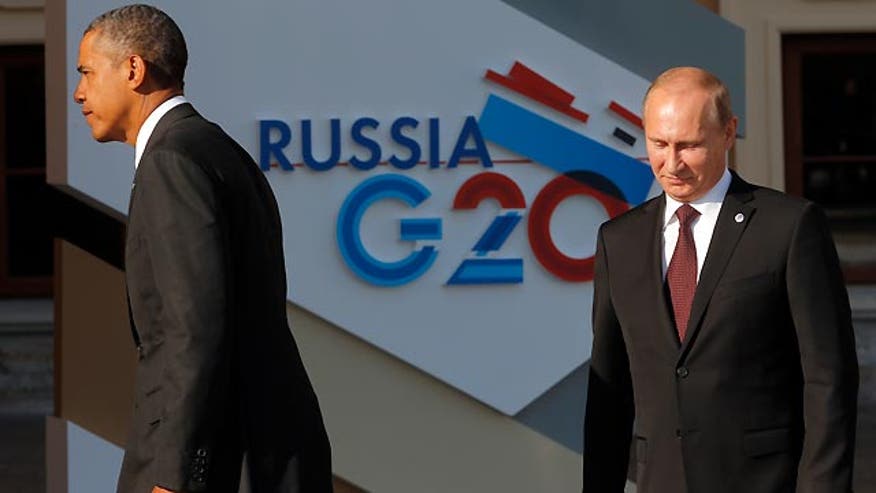 President Obama is using the final day of the G-20 summit to build support for a U.S. military strike in Syria, even as the details of that plan continue to change by the day -- with one source telling Fox News that military officials have been asked to revise their plans 50 times since the Pentagon first began considering a "limited" action.
Obama, who arrived in Russia on Thursday to find the already failing relations with his host Vladimir Putin in even worse condition, ran into opposition from China and the European Union over a potential U.S. strike on Syria -- one of Russia's closest Mideast allies.
The president's push for action on the international stage came as the Pentagon continued to plan possible methods of attack. While missile-equipped ships are at the ready in the Mediterranean Sea, a senior defense official told Fox News that the possibility of launching military aircraft strikes was one of the range of options presented to Obama.
The official said the choice the president makes will depend on what he wants included in the target list – and that seems to shift daily. The regularly fluctuating plans could feed into congressional uncertainty as members prepare to consider a draft resolution next week authorizing military action there.
Syria dominated a nearly three-hour meal at the G-20 summit Thursday evening, with leaders condemning the use of chemical weapons but reaching no consensus about the proper response, according to a French official in St. Petersburg.
Many leaders at the dinner remained in doubt about whether Syrian President Bashar Assad's regime was behind the attack, said the official, who told the Associated Press that Putin suggested that Syria be discussed at the dinner.
A fleeting interaction between Obama and Putin became the high-drama moment of the summit, underscoring the labored state of relations between the two leaders who stand on opposing sides of the Syrian conflict. Russia has steadfastly backed Assad -- militarily, economically and diplomatically -- and disputes claims that Assad's regime was behind chemical attacks that the U.S. says killed more than 1,400 Syrians. Other estimates are lower.
In public, at least, the Russian and the American were all smiles Thursday, making small talk in front of news cameras for a few seconds as Obama arrived at the summit. But the welcoming handshake may have been where the pleasantries ended.
Putin escalated concerns about the fallout from any strike when he indicated in an interview published Wednesday that his country could send Syria and its neighbors in the region the components of a missile shield if the U.S. attacks.
Russian state news agency Interfax reported Friday that another Russian ship on the Black Sea had departed for the Eastern Mediterranean with "special cargo."
The Ministry of Defense was unable to confirm the ship's departure. Kremlin Chief of Staff Sergei Ivanov said Thursday that Russia is boosting its naval presence in the Mediterranean, but "primarily" in order to organize a possible evacuation of Russians from Syria. It is unclear how many ships Russia has there.
U.S. Gen. Martin Dempsey, chairman of the Joint Chiefs of Staff, testified this week that the Russians might replace any military assets the U.S. destroys in a strike.
The warnings raise the possibility of a supposedly "limited" strike on Syria turning into a proxy tit-for-tat between Russia and the U.S.
Rep. George Holding, R-N.C., went further during a hearing on Syria on Wednesday, pressing military officials on what the U.S. would do "if Russia decided to strike at us in that theater."
"We can certainly say that Russia would have options to strike us in that theater in retaliation for us striking their ally," he warned.
Dempsey declined to engage in that discussion, saying only that "Russia has capabilities that range from the asymmetric, including cyber, all the way up through strategic nuclear weapons. And again, it wouldn't be helpful in this setting to speculate about that."
Secretary of State John Kerry, though, said the Russians have made clear they don't intend to go to war over a strike on Syria.
Perhaps more likely is that Putin's government would continue to aid and prop up the Assad regime, undermining any gains made by a U.S. strike.
"Putin will live up to what he says," Fox News military analyst retired Lt. Col. Ralph Peters said." If we destroy Syrian military technology, Putin will replace it."
Putin said in a published interview this week that he'd reconsider the status of a suspended S-300 missile defense contract.
"We have a contract for the delivery of the S-300s. We have supplied some of the components, but the delivery hasn't been completed," he said. "We have suspended it for now. But if we see that steps are taken that violate the existing international norms, we shall think how we should act in the future, in particular regarding supplies of such sensitive weapons to certain regions of the world."
The possibility for Russia stepping up its role in the region makes Obama's visit to Russia all the more critical. Though the president has nixed a formal one-on-one sitdown with Putin during the G-20 summit, he is expected to speak with the Russian leader on the sidelines. Though he said Wednesday that U.S.-Russian relations have "hit a wall," he said he'd continue to engage Putin.
"It is not possible for Mr. Assad to regain legitimacy in a country where he's killed tens of thousands of his own people," Obama said. "So far, at least, Mr. Putin has rejected that logic."
Obama added: "I'm always hopeful, and I will continue to engage him."
Obama's challenge to change Putin's mind comes as China warns that any military action against Syria will push up oil prices and hurt the world economy.
Speaking in St. Petersburg Thursday, Chinese Vice Finance Minister Zhu Guangyao said that "Military action would have a negative impact on the global economy, especially on the oil price -- it will cause a hike in the oil price," before citing estimates that a $10 rise in oil prices could push down global growth by 0.25 percent. Guangyao also urged a U.N.-negotiated solution to the chemical weapons standoff. Like Russia, China is a major arms supplier to Syria and holds veto power over any Security Council resolution.
Before his scheduled return to Washington late Friday, Obama was to meet with French President Francois Hollande, his strongest ally when it comes to Syria. He also planned to meet with Russian lesbian, gay, bisexual and transgender activists, calling attention to another area of disagreement with Moscow.
The Associated Press contributed to this report.