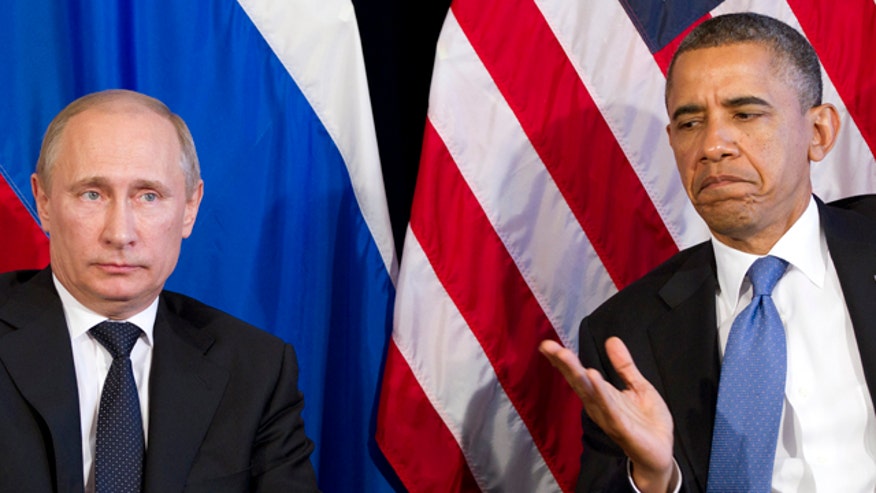 President Obama said Wednesday that he'll continue to make his case to Russia's Vladimir Putin to ease off his support of the Assad regime in Syria, ahead of what could be a tense visit to St. Petersburg.
Obama, during a stopover in Sweden en route to Russia for the G20 summit, said that while U.S.-Russian relations have "hit a wall," he's not giving up. He suggested he'd continue to press Putin, as his administration also tries to win the support of Congress for a U.S. military strike on the Assad regime in response to a chemical weapons attack on Aug. 21.
"It is not possible for Mr. Assad to regain legitimacy in a country where he's killed tens of thousands of his own people," Obama said. "So far, at least, Mr. Putin has rejected that logic."
Obama added: "I'm always hopeful, and I will continue to engage him."
Russia's resistance is a key reason why the U.N. Security Council so far has not gotten on board with U.S. calls for action in response to the chemical weapons strike. Obama nixed plans for a formal one-on-one meeting with Putin while in Russia, but a senior administration official said the two leaders will have a chance to speak on the sidelines of the summit.
Putin has been among the loudest critics on the international stage of Obama's push for a military strike in Syria. He reportedly blasted the push on Wednesday as an "act of aggression." He has said in recent interviews that a strike would be illegal if the United Nations does not support it.
Gen. Martin Dempsey, chairman of the Joint Chiefs of Staff, underscored during a Senate hearing on Tuesday how Russia stands to undermine any U.S. action. He said the Russians might just replace anything the United States destroys.
"There is some indication that (the Russians) have assured the regime that if we destroy something, they can replace it," Dempsey said.
He added: "But, you know, that is not a reason for me to hesitate to act."
The president said Wednesday there was far more than his own credibility at stake in responding to the chemical weapons attack.
"I didn't set a red line, the world set a red line," he said. "The world set a red line when governments representing 98 percent of world population said the use of chemical weapons are abhorrent." He added that Congress set its own red line when it ratified the treaty.
With Obama in Europe, his top national security aides were to participate Wednesday in public and private hearings at the Capitol to advance their case for limited strikes against Syrian President Bashar Assad's regime in retaliation for what the administration says was a deadly sarin gas attack by his forces outside Damascus last month.
The Senate Foreign Relations Committee could vote on authorizing the use of force as early as Wednesday, the first in a series of votes as the president's request makes its way through Senate and House committees before coming before the two chambers for a final vote.
The Associated Press contributed to this report.