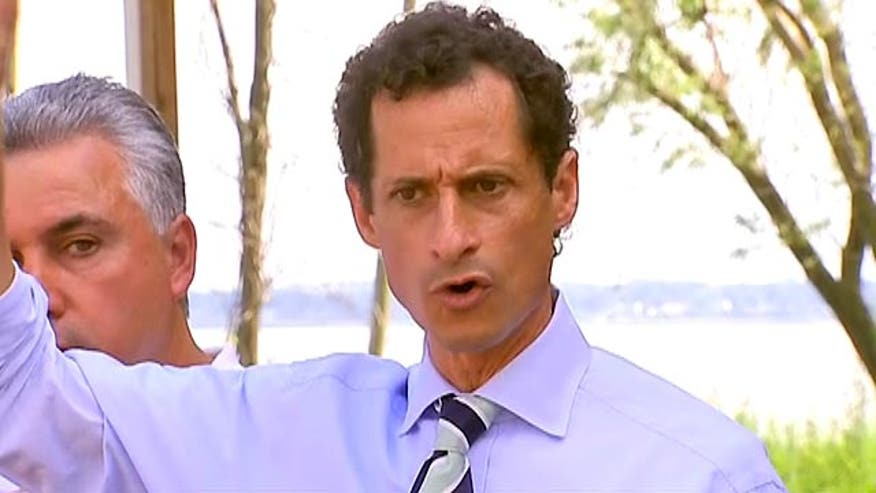 Anthony Weiner's campaign to become New York City mayor is showing another sign of imploding in the aftermath of his latest scandal -- a poll released Monday that has the candidate falling to fourth place in the upcoming Democratic primary.
Weiner was in first place early last week, despite his resignation from Congress in 2011 after he admitted to sending sexual pictures and messages to women via the Internet.
However, revelations last Tuesday that he continued such activities through summer 2012 dealt another major blow to his comeback bid.
The Quinnipiac University poll released Monday has Weiner dropping 10 percentage points, compared to its poll last week, and City Council Speaker Christine Quinn now in first at 27 percent among likely Democratic voters.
Poll director Maurice Carroll said Weiner, a married father, is in "freefall."
The new poll results were released one day after a Weiner spokeswoman confirmed that campaign manager Danny Kedem resigned after the new revelations.
Quinn was followed in the polls by public advocate Bill de Blasio, at 21 percent, and ex-city Comptroller Bill Thompson, at 20 percent.
Pollsters surveyed 446 Democrats from July 24 to 28. The poll has a margin of error of 4.6 percentage points.
In addition, an NBC 4 New York/Wall Street Journal/Marist poll conducted after the revelations show Weiner's support among registered Democrats now at 19 percent, a drop of 9 percentage points, with Quinn in the lead at 25 percent.