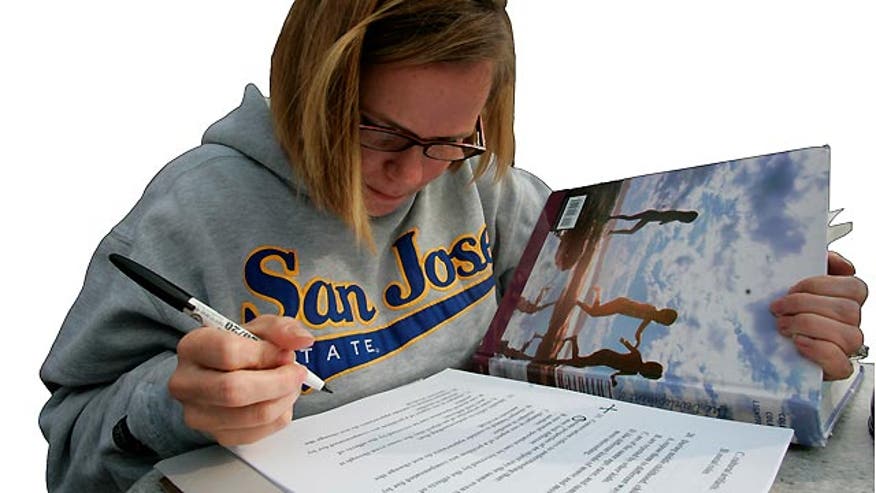 A highly touted student loan "deal" began to run into criticism Thursday as advocacy groups and Democratic lawmakers complained it would merely provide short-term relief in exchange for higher borrowing costs on future students.
A few years from now, students with subsidized loans could easily be paying far higher rates than the average person paying off a car loan.
In the near-term, the college agreement would rein in student loan rates, which for new subsidized Stafford loans had doubled from 3.4 percent to 6.8 percent at the beginning of the month.
Under the deal, undergraduates this fall could borrow at a 3.9 percent interest rate.
But higher rates would still loom. The rates would only last through the 2015 academic year, after which interest rates are expected to climb above where they were when students left campus in the spring. Rates for undergrads would be capped at 8.25 percent.
Sen. Jack Reed, D-R.I., was one of the first senators to criticize the plan, after the official roll-out of the proposal earlier Thursday.
"Instead of preventing the doubling of these rates to 6.8 percent, it would gradually raise these rates above 6.8 percent," he said in a statement. "We might see one or two or three years of rates that are relatively below that number, but inevitably, mathematically those rates will go beyond 6.8 percent. And the caps are rather high."
Liberal advocacy groups echoed the complaints.
"Instead of making student loans more affordable for both today's students and tomorrow's, this deal locks in long-term changes that provide short-term benefits for current students by increasing long-term costs for future students," said Lauren Asher, president of the Institute for College Access and Success.
Negotiators on the Hill are weighing competing goals -- the desire to reduce the government's role in setting interest rates by linking them to the financial markets while minimizing costs, and the desire to ease the burden on students at a time of already-rising costs.
The tuition sticker price at public four-year colleges is up 27 percent beyond overall inflation over the last five years, according to the latest figures from the College Board. This past year it rose nearly 5 percent to an average of $8,655 nationwide.
Only about one-third of full-time students pay that published price, and the average net price -- what the average student does pay after financial aid -- is just $2,910. But net prices have been rising, too, and tuition is just part of the cost of college. Including room and board, the average sticker price at public colleges is now $17,860, and students pay on average $12,110.
On Wednesday, the Consumer Financial Protection Bureau also estimated outstanding student debt at $1.2 trillion -- up 20 percent in just two years. Student loans are now the largest form of consumer debt behind mortgages.
Some groups have pushed a competing proposal by Sen. Elizabeth Warren, D-Mass., to set a short-term rate for students at .75 percent -- or the rate at which big banks can borrow.
That still wouldn't address rates in the long-term, though.
Under the bipartisan proposal announced Thursday, graduate students would have access to loans at 5.4 percent, and parents would be able to borrow at 6.4 percent.
Those rates would climb as the economy improves and it becomes more expensive for the government to borrow money.
The compromise heads off the doubling of rates on some students loans, which would cost students an extra $2,600.
"We have gone through weeks of negotiations and we have an agreement," said Sen. Dick Durbin, D-Ill.
At the White House, spokesman Jay Carney said President Obama was "glad to see that a compromise seems to be coming together."
And Sen. Lamar Alexander, R-Tenn., said students benefited: "For every one of them, the interest rates on their loans will be lower."
Even in announcing the compromise, it was clear the negotiations were dicey.
"While this is not the agreement any of us would have written, and many of us would like to have seen something quite different, I believe that we have come a very long way on reaching common ground," Durbin told reporters.
Moments later, Democratic Sen. Tom Harkin of Iowa, chairman of the Senate Health, Education, Labor and Pension Committee, said he would revisit the whole agreement this fall, when his panel takes up a rewrite of the Higher Education Act.
"Can we change it? Sure, we can change it," Harkin said. "It's not the Ten Commandments, for God's sake."
Harkin did little to hide his unhappiness with the compromise but said there were few options to avoid a costly hike on students returning to campus this fall.
According to Congressional Budget Office estimates, rates would not reach the caps in the next 10 years.
The Associated Press contributed to this report.