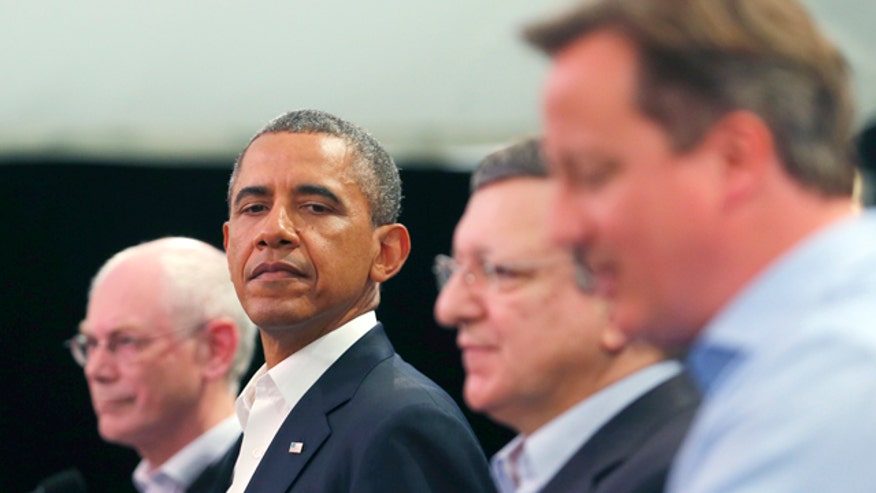 "One should hardly back those who kill their enemies and eat their organs."
-- Russian President Vladimir Putin, speaking through a translator, at a joint press conference with British Prime Minister David Cameron in London. Putin, referring to unverified footage of a Syrian rebel eating the heart of a government soldier, was harshly critical of a U.S.-backed plan to arm the members of the Islamist uprising.
President Obama's domestic woes are delighting America's foreign foes.
Obama today kicks of a pair of big international trips that Democrats hope will shift the media focus away from uniformly bad news for the administration in Washington – first to a summit meeting with the leaders of the nations with the world's largest economies and then later this month across Africa with his family.
But domestic politics were clearly much on the president's mind as he made his first remarks overseas, comparing the centuries-old violent struggle between Protestant and Catholic in Northern Ireland to his own problems with Republicans.
Obama commiserated with the hosts for the G-8 Summit in Belfast, saying he was "someone who knows firsthand how politics can encourage division and discourage cooperation." There haven't been any car bombings in Washington, but Obama might be excused for equating "The Troubles" with his own political difficulties.
The president has been off message and on defense for months now as conservative and liberal detractors hammer away at the administration over corruption scandals and the recent revelation of massive domestic surveillance programs. He and his team have been busy trying to corral an unusually restive press corps, keep Democrats from breaking ranks and reassure the public that the abuses of power already exposed were isolated and that the president can still be trusted.
Today's new CNN poll reaffirms that the effort is not succeeding. The assessment of Obama's honesty and trustworthiness dropped under 50 percent, a 9-point slide from last month. His job approval, down overall, tanked with young voters, dropping 17 points. He was down 10 points with independents, too.
It seems that the unprecedented resources and efforts arrayed on Obama's legacy protection efforts – his permanent campaign arm today released an ad plumping for his 2010 health law today – will soon have to be turned to preventing a more rapid implosion in public confidence in the administration.
So foreign policy might have been a welcome respite for the president. But that's not how things are shaping up.
First, there's the way in which his travels reflect on the problems back home. For example, the massive costs for he and his family to travel, especially on the scheduled African journey, look badly out of kilter as the administration keeps the White House closed to public tours, citing the security costs.
Taxpayers will finance an Obama family trip to Africa the summer, estimated at between $60 million and $100 million according to the Washington Post, but the taxpayers cannot bring their own kids to see where the Obamas live. The president's "sequestration" gambit continues to prove a serious blunder.
[pullquote]
Second, there's the way in which the problems back home follow Obama overseas.
With our European allies pushing for military intervention in Syria, Obama last week took the next step forward in involving the U.S. military in the years-long and increasingly savage civil war between Muslim sects in that country. His move to start openly sending weapons to the Islamist rebels and step up covert training of the forces edges him closer to the positions of other NATO leaders.
But voters are often reminded of the unhappy state of other Obama initiatives in the region, including coverage of the botched administration effort to spin the raid by Islamist militants on a U.S. diplomatic outpost in Libya. The idea of ramping up another Islamist insurgency in the region holds little appeal to voters these days.
Russian President Vladimir Putin knows it, too. Putin, who has been key to the effort to keep Syrian dictator Bashar al Assad in power, spoke with open contempt Tuesday for the Western effort to arm the rebels. Yes, this helps Putin look tough to the folks back in Minsk, but his chosen message makes clear that he's trying to hurt Obama with the folks back in Moline.
By highlighting the savagery seen in some of the rebels, Putin hopes to remind Americans that Obama's chosen allies in the struggle make the Contras look like Amnesty International. Obama is usually unwilling to defend his own defense and national security policies and jetted off to sell his plan to other world leaders without discussing it with voters at home. Putin sees his opportunity and will make it very bad on Obama.
And then there's the stuff about spying on everybody.
It's pretty hard to take the Chinese government seriously on any question about online privacy or raiding reporter email accounts. The politburo shouldn't have any questions about the NSA, seeing as Beijing doesn't just monitor it actively censors. But you'd better believe that won't stop Chinese President Xi Jinping from squeezing Obama on the subject. Xi will stand on the world stage claiming to be the protector of a whistleblower who told the world of Obama's intrusions into digital privacy.
And again, because Obama is mostly unwilling to defend his policies, Xi and others know that these accusations will harm Obama with increasingly distrustful voters. Americans don't know what to believe about the digital dragnet and since Obama won't make his own case, Xi, Putin and others are happy to fill in the blanks.
One also supposes that the other bigwigs at the summit might have a question or two about just what of theirs Obama's cyber spooks have scooped up.
This foreign trip may be enough to convince Obama that until he starts dealing more urgently with the problems back home, there's no legacy, no second-term agenda and not even the relief of commiserating with other leaders. Until he gets real about the scandals, the spying and the crisis of confidence he's facing, Obama will keep drifting toward irrelevancy.
Chris Stirewalt is digital politics editor for Fox News, and his POWER PLAY column appears Monday-Friday on FoxNews.com. Catch Chris Live online daily at 11:30amET at http:live.foxnews.com.
Chris Stirewalt joined Fox News Channel (FNC) in July of 2010 and serves as politics editor based in Washington, D.C.