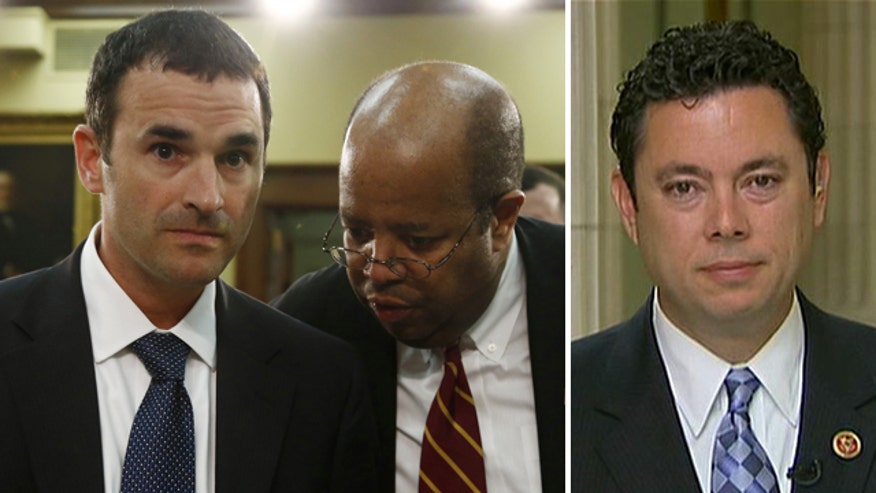 Internal Revenue Service officials are expected to face tough questions from lawmakers Thursday over a report that says the agency spent roughly $50 million on conferences between 2010 and 2012.
The report, which is the subject of Thursday's House Oversight and Government Reform Committee hearing, found the agency dropped more than $4 million at a 2010 training conference in California -- spending the money on luxury hotel rooms and other items.
The IRS on Wednesday placed two employees on administrative leave for accepting hundreds of dollars worth of food and gifts at the party in 2010 and said the agency was in the process of trying to remove the employees.
The two employees in question allegedly received $1,100 in free food and other items while attending the 2010 event. A congressional source said the workers were assigned to the IRS team tasked with enforcing the federal health care overhaul.
The IRS further explained in a statement that the incident involved a party at a private hotel suite in Anaheim, Calif., and that the food was provided for free in violation of ethics policies.
"When I came to IRS, part of my job was to hold people accountable," Acting Commissioner Danny Werfel said. "There was clearly inappropriate behavior involved in this situation, and immediate action is needed."
A total of 132 IRS officials received room upgrades at the conference, according to the report by J. Russell George, the Treasury Department inspector general for tax administration. The tax agency paid a flat daily fee of $135 per hotel room, the report said, but the upgrades were part of a package deal that added to the overall cost of the conference.
The report was made public on the same day leaders of six conservative groups testified at a congressional hearing, where they told lawmakers they had endured abuse from IRS agents as they spent years trying to qualify for tax-exempt status.
Tuesday's report by the inspector general suggests the agency has struggled with management issues beyond the division that handles tax-exempt applications. According to the report, expensive employee conferences were approved with few restraints or safeguards until new rules were imposed in 2011.
In all, the IRS held 225 employee conferences from 2010 through 2012, at a total cost of $49 million, the report said. The Anaheim conference was the most expensive, but others were costly, too.
In 2010, the agency held a conference in Philadelphia that cost $2.9 million, one in San Diego that cost $1.2 million and another in Atlanta that also cost $1.2 million.
All of these conferences would violate new rules imposed by the White House budget office in 2012 that cap expenses for a single conference at $500,000. In 2010 alone, the IRS had 13 conferences that cost more than that.
Fox News' Mike Emanuel and The Associated Press contributed to this report.