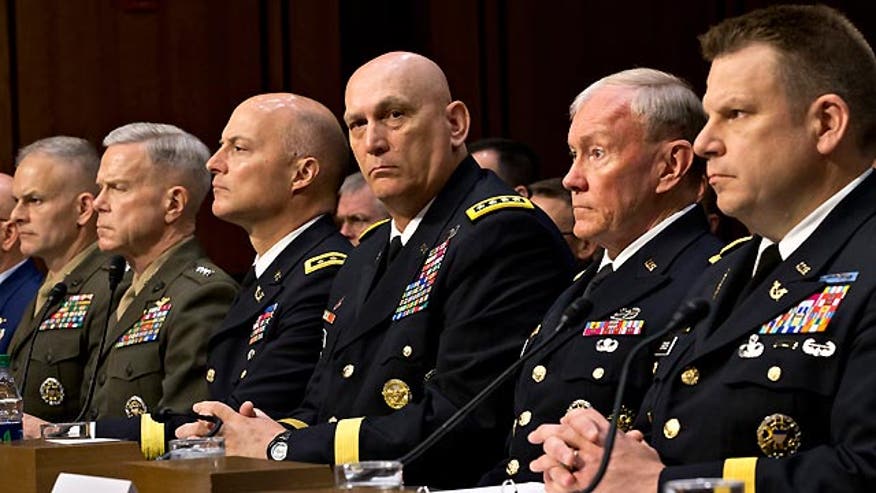 WASHINGTON – Lawmakers plan to tackle legislation that would strip commanders of their authority to overturn convictions in rape and assault cases, a provision greatly opposed by America's top military chiefs at a Senate hearing Tuesday.
The House Armed Services Committee plans to consider a sweeping, $638 billion defense policy bill for the fiscal year beginning Oct. 1. Debate over numerous provisions on sexual assault, the war in Afghanistan, missile defense and the U.S. detention facility at Guantanamo Bay, Cuba, is expected throughout the day Wednesday. A final panel vote is likely late into the evening.
However, even as one of their own referred to it as a "cancer within the force," America's top military chiefs fought Tuesday to keep their authority over sexual assault and harassment cases in the U.S. armed forces despite the recent spike in allegations of abuse within the ranks.
In a rare appearance, the service chiefs of the Army, Navy, Marines, Air Force and Coast Guard all testified at a packed Senate hearing.
Army Gen. Martin Dempsey, the chairman of the Joint Chiefs of Staff, said that commanders are critical to the legal system and said stripping them of their authority could adversely affect the mission.
"The role of the commander is essential," Dempsey said during questioning by Sen. Carl Levin, D-Mich., chairman of the Armed Services Committee.
Levin said the problem of sexual assault "is of such a scope and magnitude that it has become a strain on our military."
Army Gen. Ray Odierno likened sexual assault and harassment to "a cancer within the force -- a cancer that left untreated will destroy the fabric of our force."
"It's imperative that we take a comprehensive approach to prevent attacks, to protect our people, and where appropriate, to prosecute wrongdoing and hold people accountable."
In recent weeks, lawmakers led by Sen. Kristen Gillibrand, D-N.Y., and Sen. Claire McCaskill, D-Mo., have backed legislation that would remove commanders from the process of deciding whether serious crimes, including sexual misconduct cases, go to trial. That judgment would rest with experienced trial counsels who have prosecutorial experience and hold the rank of colonel or above.
McCaskill called out members of the military for being "20 years" behind when it comes to prosecuting cases.
The McCaskill/Gilibrand legislation has 18 co-sponsors, including four Republicans.
The House legislation, crafted by Reps. Michael Turner, R-Ohio, and Niki Tsongas, D-Mass., would establish dismissal or dishonorable discharge as the mandatory minimum sentence under military law for service members found guilty of rape, sexual assault, forcible sodomy or an attempt to commit those offenses.
Commanders also would be barred from reducing or commuting the minimum sentence except in situations in which the accused substantially aided the government in the investigation or prosecution of another assailant.
The House bill stops short of taking those cases outside the military chain of command.
In a recent report, the Pentagon estimated as many as 26,000 military members may have been sexually assaulted last year, up from an estimated 19,000 assaults in 2012, based on an anonymous survey of military personnel. While the number of sexual assaults that members of the military actually reported rose 6 percent to 3,374 in 2012, thousands of victims were still unwilling to come forward despite new oversight and assistance programs aimed at curbing the crimes, the report said.
In the past few months, there have been a number of high-profile cases that eventually led Congress to take up the topic of sexual assault in the military.
Last week, the Pentagon said the U.S. Naval Academy is investigating allegations that three football team members sexually assaulted a female midshipman at an off-campus house more than a year ago. A lawyer for the woman says she was "ostracized" on campus after she reported it.
In recent weeks, a soldier at the U.S. Military Academy was charged with secretly photographing women, including in a bathroom. The Air Force officer who led the service's Sexual Assault Prevention and Response unit was arrested on charges of groping a woman. And the manager of the Army's sexual assault response program at Fort Campbell, Ky., was relieved of his post after his arrest in a domestic dispute with his ex-wife.
The Associated Press contributed to this report.