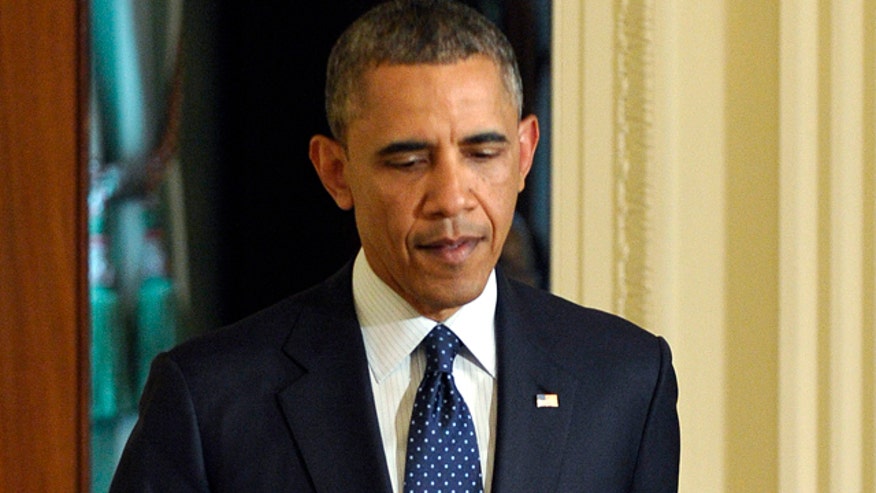 "I'm not sure how many of those cases ... I have actually signed off on."
-- Attorney General Eric Holder in a Tuesday interview with National Public Radio when asked how often he has authorized the seizure of reporter records.
The acting director of the IRS has left his post three weeks ahead of schedule, but how can it be that others more intimately involved with the targeting and harassment of the president's political enemies are still on the job today?
That's the first question facing the White House today as the president continues to struggle to find his feet amid broadening allegations of wrongdoing against his administration.
[pullquote]
As FOX News colleague Bret Baier learned just after President Obama's announcement of the resignation of Steven Miller as the interim head of the agency, Miller was headed for the exits in early June anyway.
Presumably, the president had, or still has, a carefully chosen permanent appointee in the wings since the tax collection agency is crucial to enforcing Obama's 2010 health law. Even without the current scandal, the president knew that the confirmation of a commissioner of Internal Revenue to a five-year term was going to be a battle royal. So Miller's slightly earlier departure is no big deal.
Miller is still expected to testify before the House Ways and Means Committee on Friday, testimony that might become more candid given that he just got the presidential boot. The former acting commissioner certainly may be looking for somewhere to place blame, given that Miller seems to have kept information from Congress about the politically motivated agenda inside the agency.
Miller, who previously oversaw the office at the center of the scandal prior to his elevation, may seek refuge as a whistleblower and say he was under pressure to keep the lid on the damning revelations ahead of the 2012 election or he may clam up given the potential for criminal and civil penalties.
But whatever Miller opts to do, this is not a great moment for an agency already distrusted and now gripped by a massive scandal to be leaderless and still populated by the same people who were on board when the abuses occurred. More than 100 million Americans are waiting for word from the agency about the status of their tax returns, due last month, political activity for the 2014 cycle is gearing up and the agency is scrambling to start imposing Obama's health law.
In announcing Miller's departure, Obama promised to cooperate with congressional investigators and facilitate his administration's own probe. That's good, since Obama's political opponents were the victims of the wrongdoing. Anything that looks like a cover-up would only raise questions about the involvement of others closer to the president. With no national security exemptions to claim, Obama can hardly resist any fact finding.
Given the urgency of the moment for the agency and the depth of the scandal, though, one wonders how Obama can avoid doing more than moving up Miller's departure by a few weeks.
What about Lois Lerner, who ran the office at the center of the controversy? She is still on the job. Agency critics have accused her of a host of wrongdoings, but Lerner, who the Washington Examiner reports today took in $42,531 in bonuses during the period in question, is still there.
If Obama has the clout to kick Miller out early, surely he or Treasury Secretary Jack Lew have the clout to suspend Lerner and others until the investigation is over. To assure taxpayers, he could even find a trustworthy Republican to act as an all-access watchdog until things can be sorted out – that returns and applications will be handled fairly and that no evidence is being destroyed or hidden.
Given the importance and power of the agency and the depth of the abuses of power, Obama might have taken those steps as soon as news reached the White House last month. Of course, that would have required the White House Counsel's office to have informed the president.
That failure, like Obama's conditional and then limited response to the scandal once informed, suggests that Team Obama does not yet understand the severity of its problem. This is big, bad and shows no signs of ending soon. When a president's foes are harassed by the least trusted federal agency, one that is central to that president's legacy project, containment is not a viable political option.
Team Obama is already talking about getting "back on offense" today after cashiering Miller, but given the violations of public trust on talking points about a September attack by Islamist militants on a U.S. diplomatic outpost and a dragnet cast for reporter records, that's just goofy.
While Obama can continue to dibble out information on the Benghazi raid, the other two big scandals besetting his administration, the targeting of his enemies by the IRS and the spying on reporters, will only get worse if the president doesn't do more than just sound upset in making a symbolic firing.
And Now, A Word From Charles
"But then [President Obama] has the chutzpah to essentially warn Republicans not to make this into a political event when what we're talking about is the IRS applying political criteria inexcusably unconstitutionally, probably criminally, in deciding who it's going to investigate. So I found this the bare minimum. It will hold him for 12 hours, but no more."
-- Charles Krauthammer on "Special Report with Bret Baier."
Chris Stirewalt is digital politics editor for Fox News, and his POWER PLAY column appears Monday-Friday on FoxNews.com. Catch Chris Live online daily at 11:30amET at http:live.foxnews.com.
Chris Stirewalt joined Fox News Channel (FNC) in July of 2010 and serves as politics editor based in Washington, D.C. Additionally, he authors the daily Fox News Halftime Report political news note and co-hosts the hit podcast, Perino & Stirewalt: I'll Tell You What. He also is the host of Power Play, a feature video series on FoxNews.com. Stirewalt makes frequent appearances on network programs, including America's Newsroom, Special Report with Bret Baier and Fox News Sunday with Chris Wallace. He also provides expert political analysis for FNC's coverage of state, congressional and presidential elections.