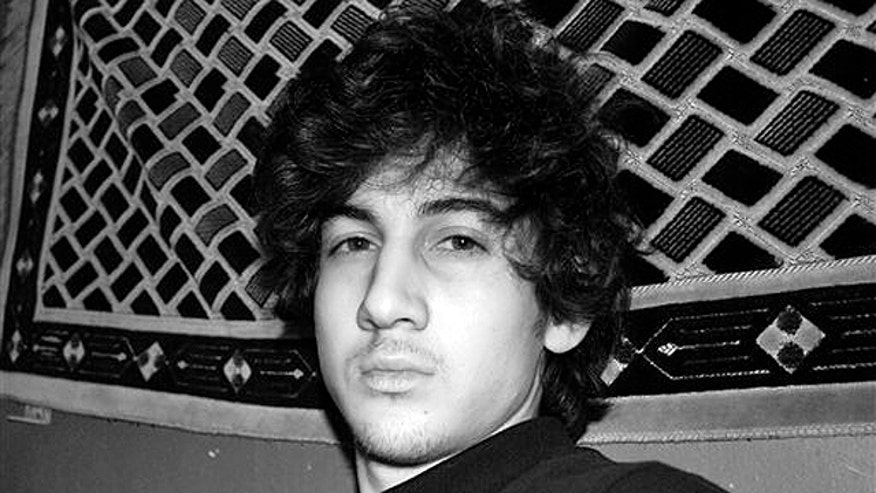 Law enforcement officials are scouring all travel records and electronic traffic connected to the two suspects in the Boston bombing, and have so far discovered that the older brother Tamerlan Tsarnaev made a prolonged trip to Russia in early 2012.
Officials are searching for clues as they try to determine whether one or both of the brothers had foreign training, or were directed by a foreign terrorist organization.
Tamerlan Tsarnaev was killed in a shoot-out with police overnight, his younger brother, Dzhokhar Tsarnaev, was arrested after a massive manhunt Friday night.
Multiple sources confirmed Tamerlan went to Russia for a prolonged period last year. It's unclear what he did there, but Fox News is told that the bombmaker who made the Boston devices would need practice to build a device with a viable detonator.
A senior Capitol Hill source, who has been briefed by the National Counterterrorism Center on the manhunt, told Fox News the FBI is tracking passports, airline tickets and a lot of other data.
Fox News is also told that all electronic traffic associated with the radical Muslims is now being "combed," including the YouTube sites attributed to the suspects which included radical Islamist videos and propaganda.
Investigators are working to verify whether the sites and postings associated with the brothers were in fact theirs. Fox News was told "nothing is being taken for granted" in terms of authenticity.
While no final determination has been made, so far there is no evidence to support the view that the brothers were acting on behalf of the Chechen cause -- but the motivation for their actions remains wide open.
Fox News is told investigators will be looking for computer traffic to the Al Qaeda web magazine Inspire which provides a how-to guide to build pressure cooker bombs -- which were used in the Boston Marathon attack.
Fox News is told that investigators are eager to execute warrants at the residences and to review the brothers' computers but this is being approached with extreme caution given the potential, after this week's successful explosions, to leave booby traps.
While authorities are following the paper trail, the Capitol Hill source said the consensus in the intelligence community is that it's "really important that we try to take this guy alive" so he can be questioned. The goal is to find out whether more are involved.
"We would really prefer to have that intel," the source said.
The source said officials know the two suspects are Muslim, but don't know if they attended a mosque in the area -- and are looking closely at that possibility.
Fox News' Catherine Herridge and Bret Baier contributed to this report.