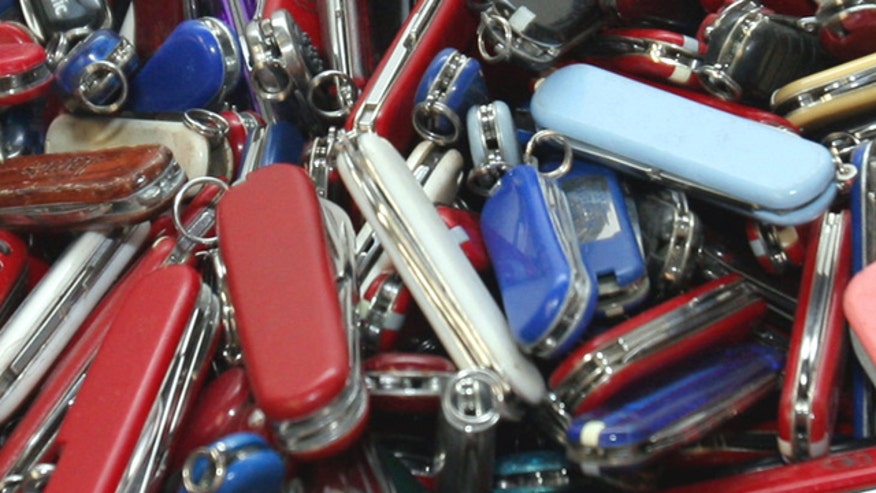 Congress is stepping up the pressure on the Transportation Security Administration to keep passengers from carrying knives onto airplanes, sending a letter to the agency chief with more than 100 lawmakers' signatures.
The letter is being circulated by several House Democrats and Republicans, including New York Republican Rep. Michael Grimm, who also has co-sponsored bipartisan legislation to stop the TSA policy change.
TSA chief John Pistole said earlier this month that passengers will be allowed next month to bring small, folding knives on board so that checkpoint agents can focus more on detecting explosives and other, more dangerous objects.
Passengers also will be allowed to bring on board miniature, souvenir baseball bats and such sporting goods as hockey sticks and ski poles when the change takes effect April 25.
However, razor blades and box cutters like the ones used by the 9/11 hijackers are still prohibited.
"The decision to lift the ban on knives was done without consulting any key stakeholders -- like members of Congress, flight attendants and air marshals and the general public," Grimm said Wednesday. "I don't know which is more idiotic -- the policy or the process."
The letter urges Pistole to refrain from lifting the ban until he talks to related parties and is being circulated by Democratic Reps. Eric Swalwell of California, and Bennie Thompson of Mississippi.
The legislation to stop the TSA change was submitted last week by Massachusetts Democratic Rep. Ed Markey.