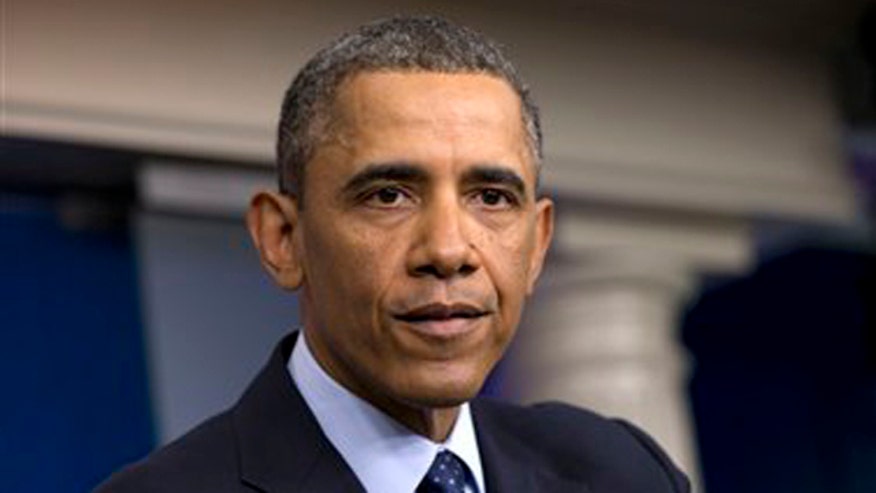 "So it is our opinion that however you manage that reduction, you need to make sure you are not contradicting what we said the impact would be."
-- An email from USDA official Charles Brown rejecting a subordinate's suggestion of a way to lessen the consequences of budget cuts for citizens.
Americans have a government that now claims the power to execute its own citizens on its own soil without trial but that cannot find a way to afford public tours of government buildings.
Those two decrees on Tuesday from the Obama administration – Attorney General Eric Holder claiming the power for the president to use drones domestically to kill citizens and the White House closing its doors to public tours citing smaller increases to federal spending – sort of sum up the American moment, 2013.
So what becomes of a government that claims the power to do almost anything but that can't seem to do anything at all? Nothing good.
While one might assume that it would be with some embarrassment that a president would see the White House shut to public tours – the people kept out of the people's house – the messages from President Obama and his team about the stuttering and stumbling of the government these days seem to be: the worse the better.
Obama has a big problem on his hands.
The president believes vehemently that the federal government should be spending more, not less, right now. He has laid out a bold second-term agenda in which deficit spending and higher taxes on top earners will finance what he calls "investments" in things like green energy and education.
But because he has a worse relationship with Congress than perhaps any president since Richard Nixon and seems to despise the kind of deal making that has been necessary for all of his predecessors, Obama is stuck with automatic spending cuts.
Obama couldn't muster a deal on the debt limit in 2011, something George W. Bush accomplished with a Democratic congress and rock-bottom approval ratings, so the president devised and approved automatic reductions to automatic increases in spending. There is so little trust in the president among his foes that he had to build a dead-man switch into the deal to break the impasse.
Massive deficit spending, an ongoing absence of a budget and an inability to deal with Congress left Obama with little choice. But he believed that the cuts would be so odious that Congress would end up negating them.
But as we enter the age of sequestration, it turns out that cuts designed to be wretched are actually pretty popular.
Obama Democrats can take comfort in the fact that while voters generally agree that overall deficit reduction requires some tax increases in addition to spending cuts, but when it comes to the current debacle, the electorate is squarely against the president.
The latest Washington Post/ABC News poll shows 2-1 support for the spending reductions, and that's not even limited to registered voters, a population that tends to be more fiscally conservative than the public at large.
[pullquote]
Worse for Obama, the poll shows strong support for letting the cuts fall on the president's preferred domestic spending programs but shielding the military. The poll, which actually overstates the size of the reductions, shows the president is getting shellacked on spending.
But rather than bow to public opinion, the president means to change it by making Americans believe that shaving less than 3 percent off of federal spending will cause a government that employs some 2 million civilians and spends some $3.6 trillion a year to grind to a halt.
What he has succeeded in doing, though, is turning the "sequester" into a punchline.
Did you hear the one about the agency that released 2,000 inmates citing the "sequester" while ordering $50 million in new uniforms?
Voters had been hearing for weeks about flight delays, worker furloughs, laid off teachers, empty firehouses, tainted meat and unsecured borders. Between Transportation Secretary Ray LaHood and Homeland Security Secretary Janet Napolitano, voters had reason to believe that last week's deadline would turn the United States into a less orderly version of Somalia.
But nothing happened. And the president had to admit as much last week when Republicans refused to cave in to Obama's demands for another round of tax increases and let the ax fall.
The game, though, is still very much on.
As an internal email from the Agriculture Department shows, the intention is to maximize and expedite the pain from the cuts. An administrator, acting on what he said were orders from the top, told his subordinates not to find ways around the cuts but rather to let taxpayers feel the pain as promised.
The president, after weeks of attacking and denouncing his foes, is opening up the lines of communication with Senate Republicans. He is hoping that they will break with their House colleagues and yield on the cuts. If he can get the Senate GOP to do what they did on the suite of tax increases at the beginning of the year, Obama hopes that he can push spending back up.
Like a detective working over two suspects, Obama will offer the Senate Republicans one chance to turn on their confederates. Take the deal or everybody is going up the river together.
But what Obama has to offer in the way of a threat right now isn't much. He is trying to make Republicans the villains from the cuts, but so far voters seem to think he's blowing smoke.
By starting the scare tactics so early and so comically, the president has turned himself into the Keynesian who cried wolf. By the time the moment for an actual government shutdown arrives at the end of the month, Obama may not have much credibility left on the subject.
The White House closure is especially bad for the president. A guy being accused of selling access to the Oval Office to top donors doesn't do well to tell Mr. and Mrs. America that they can't bring their kids for a tour over spring break. A guy who takes Air Force One to play golf with Tiger Woods probably ought not muck up the vacation plans of ordinary folks.
He can blame Republicans and scream "sequester" all he wants, but Obama seems to be getting plenty of the blame for overseeing a failing federal government. Whether he can eventually punish taxpayers to the point that they side with him on cuts remains to be seen, but he is certainly paying a heavy price in the effort.
And Now, A Word From Charles

"[Hugo Chavez] spread the ideology to Bolivia, Ecuador and to Nicaragua. But in the end, those are basket cases, and with socialism, their system is not going to make it. It was Margaret Thatcher who said in the end socialism doesn't work because the socialists run out of other people's money. And there isn't a lot of it in Bolivia and Ecuador and Nicaragua to start with."

-- Charles Krauthammer on "Special Report with Bret Baier."

Chris Stirewalt is digital politics editor for Fox News, and his POWER PLAY column appears Monday-Friday on FoxNews.com. Catch Chris Live online daily at 11:30amET at http:live.foxnews.com.
Chris Stirewalt joined Fox News Channel (FNC) in July of 2010 and serves as politics editor based in Washington, D.C. Additionally, he authors the daily Fox News Halftime Report political news note and co-hosts the hit podcast, Perino & Stirewalt: I'll Tell You What. He also is the host of Power Play, a feature video series on FoxNews.com. Stirewalt makes frequent appearances on network programs, including America's Newsroom, Special Report with Bret Baier and Fox News Sunday with Chris Wallace. He also provides expert political analysis for FNC's coverage of state, congressional and presidential elections.