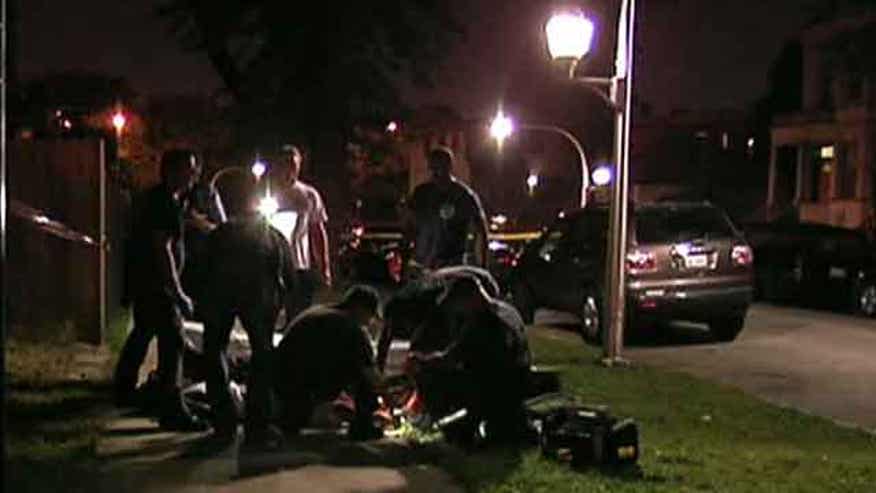 As Chicago leaders push for a statewide mandatory minimum prison sentence of three and a half years for illegal firearm possession in Illinois, Chicago Police Superintendent Garry McCarthy made the case for urgency Monday by telling the story of an arrest this week in which police checked on a convicted felon and discovered he had a stolen and loaded Cat-9 9mm handgun.
McCarthy went through other tales of SWAT teams and cops bursting in on convicted felons to find .38 caliber Smith and Wessons, .45 caliber Glocks, .357s, and 38 specials. The guns typically are loaded, impossible to register and illegal -- both in how they are purchased and that they are in the possession of habitual, violent criminals.
Mayor Rahm Emanuel, McCarthy and District Attorney Anita Alvarez are calling for legislation to toughen the penalty for illegal firearm possession, as well as so-called truth-in-sentencing laws, intended to prevent convicts from being released after serving just a fraction of their time and returning to their violent lifestyle.
"By increasing penalties and requiring criminals to serve their punishment, we not only protect our children, our families and our communities but we also prevent the impulsive retaliatory killings that plague our neighborhoods," McCarthy said.
The catch is that such laws need to be passed by the state Legislature in Springfield, where the success of Emanuel's agenda will depend on his powers of persuasion.
"When you commit a serious gun offense, you should serve the time. The victims deserve it. The public demands it, and the criminal justice system should deliver it," Emanuel said.
Emanuel may not be accustomed to the reception his push may get from downstate lawmakers.
Illinois prisons are so badly overcrowded that six of them have inmates bunking together in the gym. On top of that, the governor of the cash-strapped state announced the closure of two prisons. AFSCME union members are protesting because the understaffed guards are at risk. Their protest is punctuated by news that guards were attacked at Menard Correctional Center and the Pinckneyville Correctional Center.
Stiffer sentences will mean more prisoners staying longer, and downstate Illinois will help foot the bill for Chicago's problem.
"It's an unfunded mandate, and you know the state of Illinois has a budget problem of course. We're trying to cut corners and do everything we can to balance the budget," Democratic State Sen. Gary Forby said.
The bill containing the increased penalties desired by Chicago's leaders has been drawn up. It is in Springfield waiting to be assigned to a committee.
Michael Tobin joined FOX News Channel (FNC) in 2001 and currently serves as a Chicago-based correspondent.