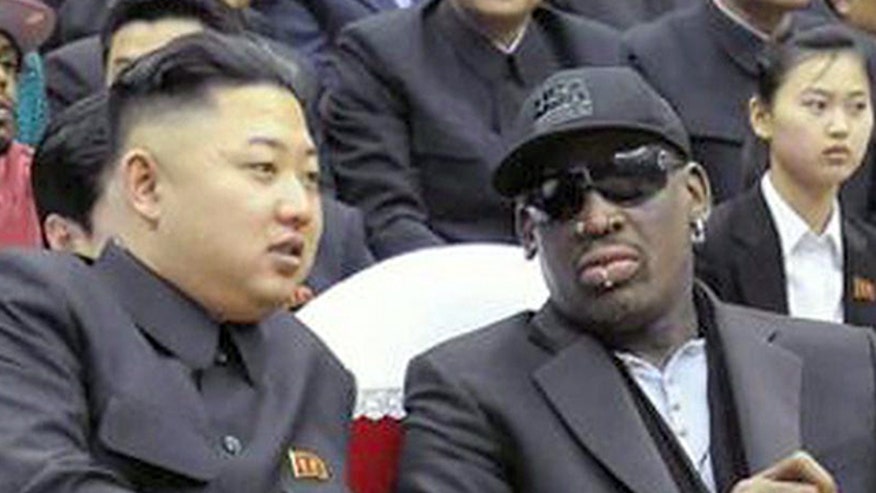 Former NBA star and provocateur Dennis Rodman delivered a message Sunday from North Korean leader Kim Jong Un to President Obama: Call me.
Rodman, who has made headlines for several days as a result of his trip to North Korea with the Harlem Globetrotters, told ABC's "This Week" that the 28-year-old leader "doesn't want to do war."
Rodman is the highest-profile American to meet Kim since he took power in December 2011 after his father's death.
He did the interview in the network's New York studio dressed in sunglasses and a sports coat emblazoned with images of U.S. dollar bills.
The trip took place amid strained ties between the United States and North Korea over that country's recent underground nuclear test.
The State Department on Friday distanced itself from Rodman's visit.
Rodman also defended the suggestion that he's putting out propaganda and attempted to explain why he earlier called Kim "an awesome guy," despite widespread reports about the country's imprisoning citizens and other human rights violations.
"I don't condone that," Rodman said. "He's not his father. He's not his grandfather."
Rodman said when Kim said he loved basketball, he said: "Obama loves basketball. Let's start there" as a way to warm up relations between the countries.
The State Department also has criticized North Korea for "wining and dining" Rodman while its own people go hungry.
Rodman said he was aware of North Korea's human rights record, which the State Department has characterized as one of the worst in the world, but said he wasn't apologizing for Kim.
Basketball is popular in North Korea, and an exhibition game Thursday with two Americans playing on each team alongside North Koreans ended in a 110-110 tie. Following the game Kim threw an "epic feast" for the group, plying them with food and drinks and making round after round of toasts.
Rodman said he planned to go back to North Korea to "find out more what's really going on."
The Associated Press contributed to this report.