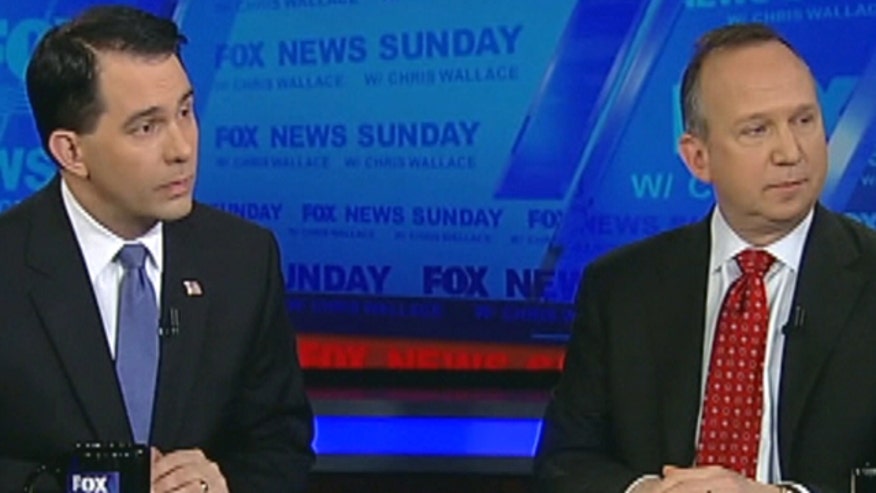 Democratic and Republican governors in Washington on Sunday urged Congress to reach a budget deal before billions in budget cuts kick in this week, warning the cuts will be a job-killer and wipe out post-recession economic gains.
"I'm very concerned about the effect on the economy," Delaware Democratic Gov. Jack Markell told "Fox News Sunday."
The roughly $85 billion in across-the-board cuts this year to defense and other federal spending, known as sequester, will begin Friday if Congress fails to reach a deal. Both parties agreed to the plan in 2011 after failing to reach a deal on less drastic cuts.
"Sequester could put us right back to where we were," Markell also told Fox.
The governors are in Washington this weekend for the annual National Governors Association meeting and blanketed the Sunday shows with the unified message of comprise, despite party differences.
"All the governors are concerned," Wisconsin Republican Gov. Scott Walker told Fox.
Though both sides largely agreed on the potential perils of such cuts, the governors disagreed on who was to blame for the stalemate.
Louisiana Republican Gov. Bobby Jindal said on NBC's "Meet the Press" that President Obama needs to lead on the issue and has failed to take a balanced approach to improving the federal budget.
"The president needs to step up to the plate," said Jindal, chairman of the Republican Governors Association. "There is never enough taxes for this administration."
Massachusetts Democratic Gov. Deval Patrick disagreed, saying the president has taken a balanced approach of tax increases and spending cuts.
"My good friend, we've actually seen some $2.5 billion in budget cuts," Patrick said. Congressional Republicans "move goalposts as soon as the president comes their way."
At the annual meeting, the governors expressed pessimism that both sides could find a way to avoid the cuts, pointing to the impasse as another crisis between the White House and Congress that hampers their ability to construct state spending plans and spooks local businesses from hiring.
Hawaii Gov. Neil Abercrombie, a former congressman, said the cuts could lead to 19,000 workers laid off at Pearl Harbor, site of the surprise attack in 1941 that launched the United States into World War II. Today, Joint Base Pearl Harbor-Hickam supports Air Force and Navy missions.
"If that doesn't symbolize for the nation ... what happens when we fail to meet our responsibilities congressionally, I don't know what does," he said.
The budget fight came as many states say they are on the cusp of an economic comeback from the financial upheaval in 2008 and 2009. States expect their general fund revenues this year to surpass the amounts collected before the Great Recession kicked in. An estimated $693 billion in revenues is expected for the 2013 budget year, nearly a 4 percent increase over the previous year.
"It's a damn shame," said Maryland Gov. Martin O'Malley, a Democrat. "We've actually had the fastest rate of jobs recovery of any state in our region. And this really threatens to hurt a lot of families in our state and kind of flat-line our job growth for the next several months."
At their weekend meetings, governors were focusing on ways to boost job development and grow their state economies, measures to restrict gun violence and implement the new health care law approved during Obama's first term.
Some Republican governors have blocked the use of Medicaid to expand health insurance coverage for millions of uninsured, while others have joined Democrats in a wholesale expansion as the law allows. The Medicaid expansion aims to cover about half of the 30 million uninsured people expected to eventually gain coverage under the health care overhaul.
Yet for many governors, the budget-cut fight remains front and center and fuels a pervasive sense of frustration with Washington.
"My feeling is I can't help what's going on in Washington," Gov. Terry Branstad, R-Iowa, said in an interview Saturday. "I can't help the fact that there's no leadership here, and it's all politics as usual and gridlock. But I can do something about the way we do things in the state of Iowa."
Indeed, right now no issue carries the same level of urgency as the budget impasse.
Congressional leaders have indicated a willingness to let the cuts take effect and stay in place for weeks, if not much longer.
The cuts would also lead to trim furloughs for hundreds of thousands of workers at the Transportation Department, Defense Department and elsewhere.
Defense Secretary Leon Panetta has said the cuts would harm the readiness of U.S. fighting forces.
Obama has stepped up efforts to tell the public about the cuts' negative impact and pressure Republicans who oppose his approach of reducing deficits through a combination of targeted savings and tax increases. House Republicans have said reduced spending needs to be the focus and have rejected the president's fresh demand to include higher taxes as part of a compromise.
Governors said they are asking the Obama administration for more flexibility to deal with some of the potential cuts.
"We're just saying that as you identify federal cuts and savings, allow the states to be able to realize those savings, too," said Oklahoma Gov. Mary Fallin, a Republican and the association's vice chairwoman.
The Associated Press contributed to this report.