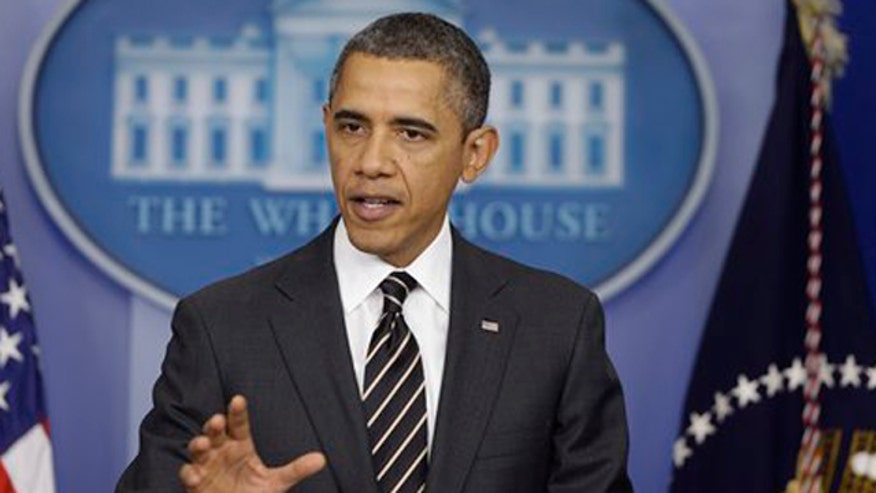 President Obama is urging another short-term fix to avoid automatic spending cuts set to hit March 1, calling on Congress to come up with an alternative package containing tens of billions of dollars in spending cuts and tax revenue. Republican leaders, though, quickly raised concern that the president was setting the stage for another round of tax hikes.
"There is no reason that the jobs of thousands of Americans ... not to mention the growth of the entire economy, should be put in jeopardy just because folks in Washington couldn't come together," Obama said Tuesday, during a brief statement at the White House.
The call is the latest effort to kick the can on a deadline set by Congress in the summer of 2011. As part of the debt-ceiling deal, Congress set in motion more than $1 trillion in defense and other spending cuts unless lawmakers found an alternative that achieved similar deficit reduction. They didn't.
Lawmakers, as part of the fiscal crisis deal at the end of 2012, delayed the automatic budget cuts for two months. But with less than a month left until the next deadline, Obama on Tuesday urged Congress -- if they can't enact a bigger package by then -- to draft a short-term package of "spending cuts and tax reforms" that would push off the deadline for a "few more months."
Noting that Congress is currently working on a broader package, Obama said "at the very least we should give them a chance to come up with this budget instead of making indiscriminate cuts now that would cost us jobs and significantly slow down our economy."
The move, though, underscores how little progress has been made toward a comprehensive solution.
It also raised renewed concerns among Republicans that Obama, after winning tax hikes on top earners during the fiscal-crisis talks, would push anew for more tax increases.
"We believe there is a better way to reduce the deficit, but Americans do not support sacrificing real spending cuts for more tax hikes," House Speaker John Boehner said in a statement.
Senate Republican Leader Mitch McConnell accused Obama of wanting to "delay" the cuts "for a few months with more permanent tax hikes at a time when American families are already feeling the pinch of the Obama economy."
He called on the president to propose "significant spending reforms."
"The clock is ticking. It's time to get serious," McConnell said.
Obama said in an interview with CBS before the Super Bowl on Sunday that he doesn't think tax rates will need to be raised again. But he indicated he wants to raise revenue by closing loopholes.
"There is no doubt we need additional revenue, coupled with smart spending reductions, in order to bring down our deficit," he said.
The automatic cuts, if they are allowed to proceed, could require widespread layoffs and indiscriminately affect defense programs and domestic spending accounts.
Obama is asking for a targeted way to reduce the deficit in the short term, perhaps several months. White House officials said that Congress needs more time to work out a 10-year plan worth more than $1 trillion in deficit reduction. Obama is not placing a time span or a dollar amount on the short-term plan. Officials said he will leave that to Congress.
Finding deficit reductions of up to $85 billion would put off the automatic cuts, known as a "sequester" in government budget language, until the start of the new fiscal year.
The White House cited as part of its rationale that the annual budget process in Congress won't even be complete by March 1 -- Obama, though, came under fire Monday for missing the deadline for submitting his own budget proposal for the next fiscal year.
White House officials say the delay will give Congress and the administration time to negotiate a long-term deal through the regular legislative budget process.
The automatic cuts are part of a 10-year, $1 trillion deficit reduction plan that was supposed to spur Congress and the administration to act on long-term fiscal policies that would stabilize the nation's debt. Though Congress and the White House have agreed on about $2.6 trillion in cuts and higher taxes since the beginning of 2011, they have been unable to close the deal on their goal of reducing deficits by about $4 trillion over a decade.
If the automatic cuts are allowed to kick in, they would reduce Pentagon spending by 7 percent and domestic programs by 5 percent. Food stamps and Medicaid would be exempt, but Medicare could take up to a 2 percent reduction, under the plan.
The Associated Press contributed to this report.