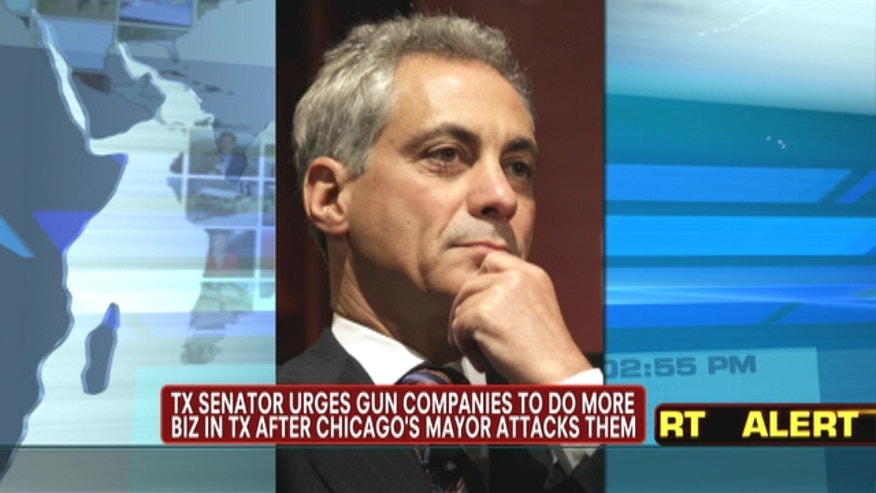 Rookie Sen. Ted Cruz, a Texan Republican, apparently has no problem picking fights with the big dogs -- particularly if it concerns the Second Amendment.
He's already made it a practice of criticizing President Barack Obama. Now he's taking on former high-ranking Obama advisor and current Chicago mayor, Rahm Emanuel.
Cruz is urging major financial banks and American gun manufactures to ignore the demands of "bullies" like Emanuel whom Cruz and other conservatives deem are being unfairly targeted by liberal politicians.
Emanuel is pushing the CEOs of Bank of America and TD Bank Group to stop their financial backing of gun manufacturers unless those companies support "commonsense reforms, including requiring criminal background checks on all gun sales."
That's taking it too far for Cruz.
"Both of your companies do considerable business in the City of Chicago and you maybe understandably concerned that there are risks to refusing to comply with the demands of a politician who has earned the nickname, "The Godfather,"" Cruz wrote to the bank CEO's.
"We do not accept the notion that government officials should behave as bullies trying to harass or pressure private companies into enlisting in a political lobbying campaign."
Cruz went on to encourage the banks to pack up and take their business to friendlier pastures in Texas.
Cruz did not mince words in directly talking to the gun manufacturers while denouncing attacks from Emanuel
"Attempts to put law-abiding gun makers out of business hardly qualify as "modest common-sense gun control. Instead, they are a manifestation of an unabashed agenda to deprive law abiding citizens of our rights to keep and bear arms," Cruz wrote in the letter.
The 42-year-old senator from Houston, a Tea Party darling, is also against current gun control proposals -- including Democratic Senator Dianne Feinstein's bill to create a national gun registry -- because he says it's unconstitutional.
Chicago is at the center of the gun control debate that has surfaced following the tragic shooting in Newtown, Conn. The Windy City was home to 532 murders in 2012, about 80 percent due to gang violence, despite having some of the most strict gun laws in the nation. As reported in a New York Times article, handguns were banned in Chicago for decades until 2010 when the U.S. Supreme Court ruled it had overstepped the second amendment rights.
As a matter of fact, Illinois is still the only state with no provision that allows private citizens to carry guns in public.
After talking politics, Cruz had no problem pummeling Emanuel, addressing him personally.
"Finally, to Mayor Emanuel...your city's longstanding policies stripping citizens of their constitutional right to keep and bear arms have, in turn produced some of the very highest crime and murder rates in the nation," he wrote.
He ended the letter with a one last sly parting thought: "In the future, I would ask that you might keep your efforts to diminish the Bill of Rights north of the Red River."