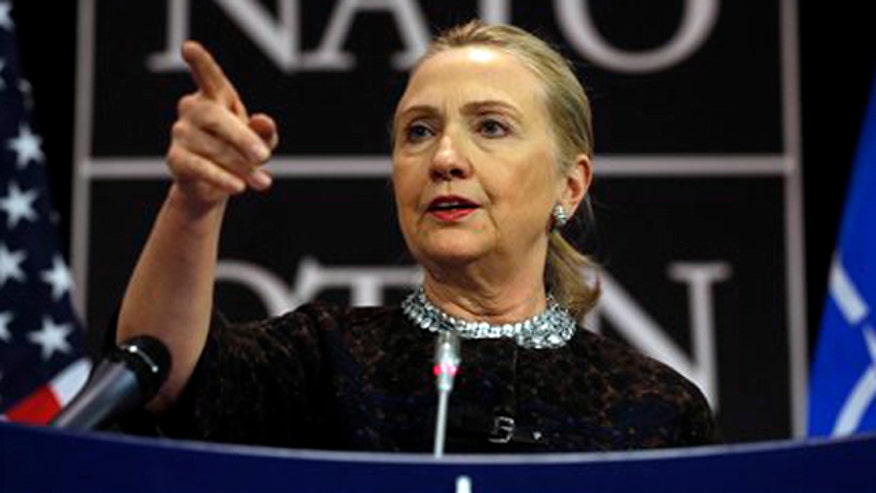 The State Department-sponsored report examining the Sept. 11 attack on the U.S. consulate in Benghazi is complete and in Secretary Hillary Clinton's hands.
State Department spokeswoman Victoria Nuland on Monday confirmed that the report went to Clinton earlier in the day.
Though Clinton is no longer expected to testify before Congress this Thursday on the Benghazi attack, due to a purported concussion sustained last week, the leaders of the investigating panel are expected to brief lawmakers on Wednesday.
Senior State Department officials William Burns and Thomas Nides are also expected to take Clinton's place at the hearings on Thursday.
The review into the Libya attack was led by Adm. Mike Mullen, former chairman of the Joint Chiefs of Staff, and Thomas Pickering, a former U.S. diplomat who has held several positions.
Some lawmakers have speculated that the report could contain damaging information about warning signs missed or ignored in the run-up to the attack. Lawmakers also continue to look for an explanation on why U.S. Ambassador to the U.N. Susan Rice initially described the strike as a "spontaneous" assault tied to protests over an anti-Islam film.
It is still possible that Clinton could testify before Congress at a later date -- the secretary left open that possibility in a letter to lawmakers. But the State Department said over the weekend that doctors diagnosed her concussion on Thursday, saying it was the result of Clinton becoming being sick and fainting.
Clinton backed out of a trip to North Africa and the Persian Gulf last Monday because she was sick. She caught the virus during a recent visit to Europe.
The 65-year-old Clinton is recovering at home and has been advised by her doctors to avoid strenuous activity and cancel all work events this week -- including the scheduled open testimony on Capitol Hill regarding the deadly terror attack in Benghazi.
U.S. Ambassador Christopher Stevens and three other Americans were killed in the Sept. 11 attacks.
The Associated Press contributed to this report.