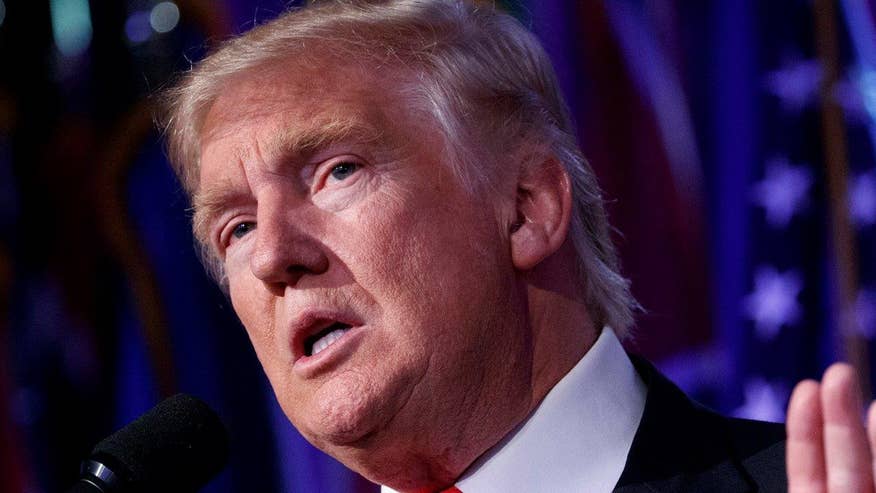 Donald Trump's announcement on "60 Minutes" Sunday night, that he supports marriage equality, shocked almost as many on the left as his stunning victory at the polls last week. If they would have been paying attention, however, neither of these events would have come as a surprise.
Despite the left's attempts to demonize Donald Trump as a homophobe during the campaign, the truth was and is that Donald Trump is unquestionably, the Republican Party's most pro-gay presidential nominee in history.
Since the awful terrorist attacks in Orlando, Donald Trump made a passionate and sincere outreach to the LGBT community -- promising to do something that Barack Obama and Hillary Clinton would not do: protect LGBT Americans from the barbarism of radical Islam.
Orlando was not the beginning of Trump's outreach to the LGBT community, indeed it is much more of a natural continuation of Trump's long-time record of treating LGBT people with fairness and equality in the business sector.
While Hillary Clinton was busy supporting Don't Ask, Don't Tell and the Defense of Marriage Act, Donald Trump was hiring LGBT Americans, promoting LGBT Americans and offering benefits to the partners and families of LGBT Americans
While Hillary Clinton was busy supporting Don't Ask, Don't Tell and the Defense of Marriage Act, Donald Trump was hiring LGBT Americans, promoting LGBT Americans and offering benefits to the partners and families of LGBT Americans.
Donald Trump has long been a friend, an ally and an advocate for the LGBT community.
It was at Donald Trump's Republican National Convention that an openly gay speaker -- PayPal co-founder Peter Thiel -- spoke in prime time. Not only did he speak in prime time, he spoke about being a proud gay man, about how the party needed to avoid the fake culture wars and he did this all to a standing ovation from Republican delegates.
It didn't end with just Thiel's speech, in his speech accepting the Republican nomination -- the most important speech he has ever given in his life -- Donald Trump chose to do something that no other Republican nominee has ever done before: to speak out on behalf of LGBT Americans.
Again, just as with Thiel's speech, Trump's impassioned defense of the LGBT community was met with thunderous applause from the Republican delegates. Trump paused as the crowd came to its feet that night and then said, in a moment of revealing candor, "I have to say as a Republican, it is so nice to hear you cheering for what I just said. Thank you."
It is clear from that ad-libbed line that Trump wasn't sure how the crowd would react, which makes his decision to defend the LGBT community in his speech even more powerful.
Trump repeatedly attacked Hillary Clinton during the campaign for her hypocrisy on LGBT issues. Noting in the debates that Clinton has taken tens of millions of dollars from regimes that kill people for being LGBT.
Since his election, not only has Trump made it clear that marriage equality is settled law, he also selected an openly gay man for his transition team (another GOP first) and may be on the cusp of selecting the first openly gay cabinet member.
The arguments against LGBT people voting for Trump generally had absolutely nothing to do with Trump's record or position on LGBT issues. Instead, we were treated to attacks on the record of his running mate and the words contained in the GOP's party platform.
Neither the platform nor the vice presidential nominee matters -- what matters is where the nominee of the party stands -- and Mr. Trump has made it clear, in both words and deeds, where he stands on LGBT issues.
The Republican Party platform is a meaningless document. It carries no legal weight. Nothing in the platform is binding on the candidate or the party, and for decades the presidential nominees of both parties have routinely distanced themselves from their official platforms.
As for the selection of Indiana Governor Mike Pence for vice president? The vice president's position on LGBT issues doesn't matter, either.
Don't believe me? Just ask the gay left that spent eight years telling us that Vice President Dick Cheney's position on LGBT issues did not matter because he was the vice president and it was the president who set policy.
This is Donald Trump's GOP now and his new Republican Party is one that is not only open and accepting of LGBT Americans, it is a party committed to defending us.
The self-appointed LGBT elites might not like Donald Trump, but rank and file LGBT Americans should know that Donald Trump's victory last week is a victory for our community.

Christopher R. Barron is a conservative strategist based in Washington, DC. He is the former co-founder of the LGBT advocacy group GOProud and the organizer of LGBT for Trump.