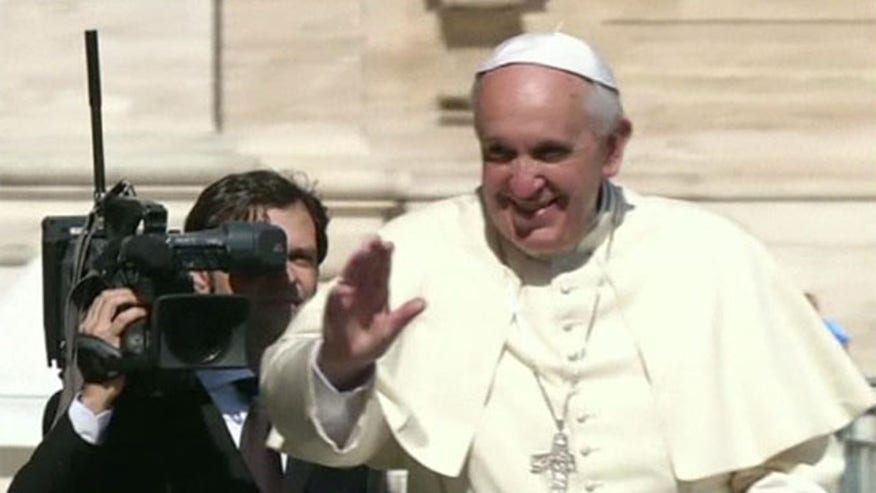 During the troubles in Northern Ireland, an Irish rabbi was stopped at a checkpoint. An armed guard approached his car. "Are you a Catholic or a Protestant?" demanded the guard.
"I'm a Jew," the rabbi said.
"Well, are you a Catholic Jew or a Protestant Jew?"
This weekend, during his visit to the Holy Land, Pope Francis will be similarly challenged by the guardians at the local ideological and confessional barricades. What kind of pontiff is he, an Israeli Jew or a Palestinian Arab?
[pullquote]
The Vatican is insisting that the pope is a Catholic – which makes a certain kind of sense when you think of it – and has put together an even-handed itinerary designed to show that this is a spiritual journey, not a diplomatic initiative.
His first stop is Bethlehem, where he will perform a Mass near the Church of the Nativity. The Palestinian leadership and its allies on the Israeli Left have circulated reports for days that he will use the occasion to denounce Israel's occupation of the West Bank and the Netanyahu government for the failure of the recent Kerry peace initiative.
Vatican sources say this is wishful thinking. The pope is expected to voice support for a Palestinian state (which is already official Israeli policy) and to make a plea to respect the human rights of the Palestinians (also Israeli policy, if not always practice). He will meet Palestinian Authority President Mahmoud Abbas to hear the party line and make a tour of a U.N. camp, where third and fourth generation "refugees" will have a chance to kvetch about the depredations of the Jews. The pope, presumably, will be sympathetic (that's in his job description), but he isn't about to turn himself into a tool of propaganda.
This is a cause of great consternation to Palestinian nationalists and their Israeli cheerleaders. After a week of promoting the papal fireworks narrative, the far-left Hebrew daily Ha'aretz was reduced on Wednesday to an ex cathedra dismissal of the apolitical trip headlined, "A Wholly Insignificant Papal Visit to the Holy Land."
Some Israeli foreign ministry officials are upset that the pope is flying first to Bethlehem, in the West Bank, and only later to Israel. This is a diplomatic decision that matters primarily to fussy diplomats and nationalist Israeli pundits eager to portray it as a snub. There are hurt feelings in Nazareth, too, because the pope has chosen Bethlehem – Nazareth's rival for Christian tourist dollars – as the venue for his public Mass.
Francis is also planning to pray at the Cenacle, site of the Last Supper, in Jerusalem. The Vatican would like Israel to cede its control over this hallowed space, which is part of a compound Jews venerate as the burial place of King David. Foreign Minister Avigdor Lieberman announced this week that this is a non-starter, which hasn't appeased ultra-orthodox Jerusalemites who think the pope is up to some tricks. Rabbi Avraham Goldstein, the dean of a Talmudic academy situated on the floor below the Cenacle, has warned that since the pontiff is an idol worshipper, his prayers will make the entire compound unkosher – a fact, if true, that would argue for turning it over to the Catholics after all.
Israeli authorities have put a small number of anti-Christian fanatics under house arrest to prevent them from carrying out some public act of sacrilege. There are presumably more of these people at large, but the cops will see to it that they don't get anywhere near the pope, who will be cruising around in an open car instead of the Popemobile.
In a historical first, Francis will lay a wreath on the grave of Theodor Herzl, founder of modern Zionism. In 1904, Herzl met with Pope Pius X and asked for his support, and Pius told him the Church would never accept Jewish control of any part of the Holy Land. But Francis isn't your great-great-grandfather's pope. The Vatican has good relations with Israel these days, and no problem with its founder – a fact deplored by Palestinian activists like BDS co-founder Omar Barghouti, who calls the Herzl visit "a nauseating, offensive act of complicity."
Not far from Herzl's grave is Yad Vashem, the Holocaust memorial and museum, which is a testing ground for visiting popes. In 2000, John Paul II won applause for his visit. Nine years later, Benedict XVI, a veteran of the German army in World War II, came across as cold, and flopped. Francis, who already gets a lot of love from Israelis, won't make his predecessor's mistake, but he is likely to incur the displeasure of the Palestinian intelligentsia, who tend to view the Holocaust as some kind of Jewish PR stunt.
Actually, no matter what the pope says and does during his visit, propagandists on both sides will try to spin every word and gesture. But, with luck, Francis will leave the Holy Land as he came, neither an Israeli nor a Palestinian pope but a Christian pilgrim of unimpeachable sincerity and good will.
Zev Chafets is a Fox News contributor. His latest book is "Remembering Who We Are: A Treasury of Conservative Commencement Addresses" (Sentinel 2015).