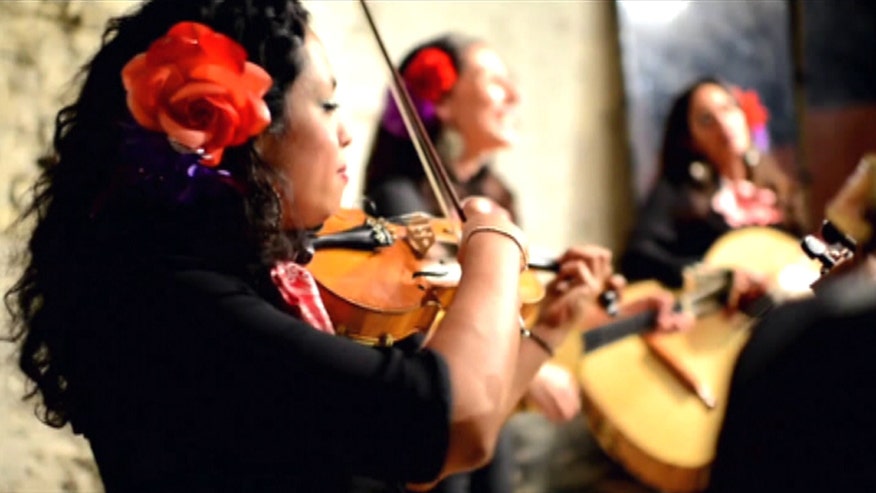 New York – When you think mariachi music, the imagery is universal: older Mexican men, ornate uniforms, big sombreros and even bigger beards, belting songs of love and rancor to their hearts content.
But Flor de Toloache's is mariachi like you've never heard or seen before.
The 13-member, all-female mariachi band is a melting pot of talented musicians from all kinds of cultural backgrounds – including one from Australia. It was started in 2008 by Mexican-Dominican violist Mireya Ramos, who said she was determined to break through the machismo cloak of the mariachi industry.
"I started the group because my father was a mariachi," Ramos told Fox News Latino. "I noticed that there weren't that many women playing mariachi in New York and [since] the Mexican population is growing in New York, I thought it would be really cool to be the first ones."
And the suited ladies became not only trailblazers but quite successful: Flor de Toloache is currently nominated for a Latin Grammy for Best Ranchera Album and last year their debut album reached #2 on the Latin iTunes chart.
While mariachi music has roots that go back to the 1800s, Ramos said the young female musicians are helping to evolve the sound to today's audiences.
"Sensitivity," Ramos said, when asked what women bring to mariachi music. "You can hear it, for example, in the trumpets. That's so signature of mariachi that is so strong … and so edgy. I think we're still strong and very present but we add that little finesse of sensitivity, more melodic."
Shae Fiol, one of the singers who also plays a small five stringed percussive guitar, called vihuela.
"We are used to men doing everything," Fiol said. "Just the woman form alone up there is very beautiful. I think we bring sensitivity and we have our own power and our own command that we have to work harder for. So however that translates, it's different and it's special."
But it hasn't always been easy for Flor de Toloache to operate in a 'Machismo' and Latino culture not used to an all-female band.
"Well, I've never really been turned away from a set or a gig, but I feel that as far as my male counterparts, as musicians sometimes they're just taken more seriously or their questions are answered more directly, and that's tough," said Claudia Valentina, a singer and guitarist.
"That's tough on me – she added – and personally it's been a growth opportunity because I've had to find a stronger voice to be taken seriously at venues."
Still, the band pushes forward and continues to spread the love for mariachi and through mariachi — after all, their name comes from a flower native to Mexico used in love potions.
"We make people fall in love with our music," Ramos said with a smile.
Watch the feature aired on Fox & Friends above for more.
Bryan Llenas currently serves as a New York-based correspondent for Fox News Channel (FNC). Click here for more information on Bryan Llenas. Follow him on Twitter @BryanLlenas.