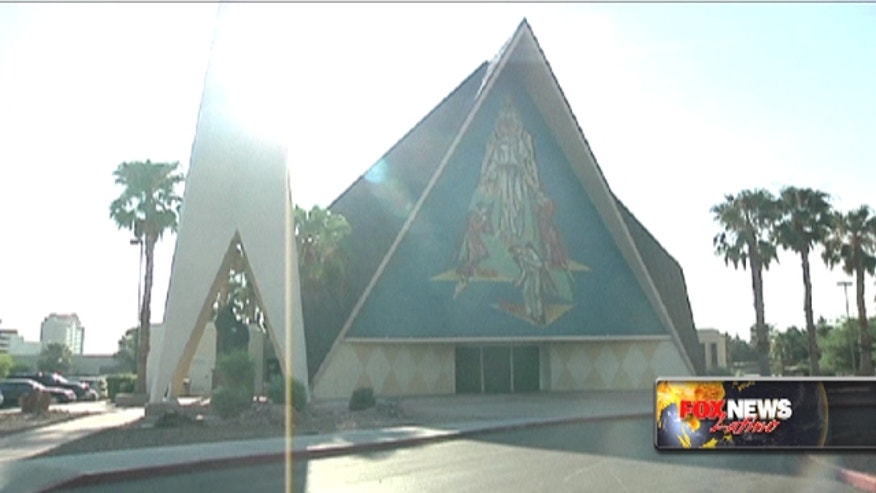 Las Vegas – Las Vegas may be known as Sin City, but it turns out it has a large community of faith — it ranks as one of the most Catholic cities in the country.
"I'm going to go up and down the strip and pass out my pamphlets and talk about Jesus," said Gloria Jones, who attends Mass every day at one of the 30-plus churches here.
In a town of about 2 million inhabitants, mostly transients, nearly 600,000 people identify as Catholic according to the Roman Catholic Diocese estimates. The Roman Catholic Diocese has nearly 30 churches there.
"They're not as big and tall as and well-lit as a casino," Jones, a fervent middle-age mom, told Fox News Latino. "You really have to look, get the Yellow Pages first and then right around you'll find one within 15 to 20 minutes wherever you are in this city."
Jones attends Mass up to five times a week at the Guardian Angel Cathedral. The majestic church sits a few feet off the strip and serves up to 5,000 people a week — many are tourists who don't want to skip out on weekly Mass, even while in Sin City.
"My offering to God is I try not to miss every Friday," said Roberto Ablias, who was visiting from California.
One of the busiest daily services in Vegas is the noon time Mass. But, it actually starts at 12:10 in order to give casino workers time to walk to church on their lunch break.
In Vegas, timing is important. Many folks lose track of time gambling and partying, or even working odd shifts.
"The beauty of this city is the faith of the people and the many, many services they offer," said Father Robert Kiefier.
One reason the Catholic community might be so strong is because nearly 40 percent of its residents are Latino and Filipino — nationalities that are traditionally Catholic.
Gloria says another reason Vegas might be home to such a strong Catholic community is because it gives comfort and solace to parishioners — who in turn spread their faith to help those who might be hurting from the all the sinful temptations the city has to offer.
"We're going to make you feel welcome and you're going to receive what you need when you come to our table," Jones said.
Like us on Facebook
Follow us on Twitter & Instagram
Matt Finn is a Fox News correspondent based in the Chicago bureau. Follow him on Twitter: @MattFinnFNC