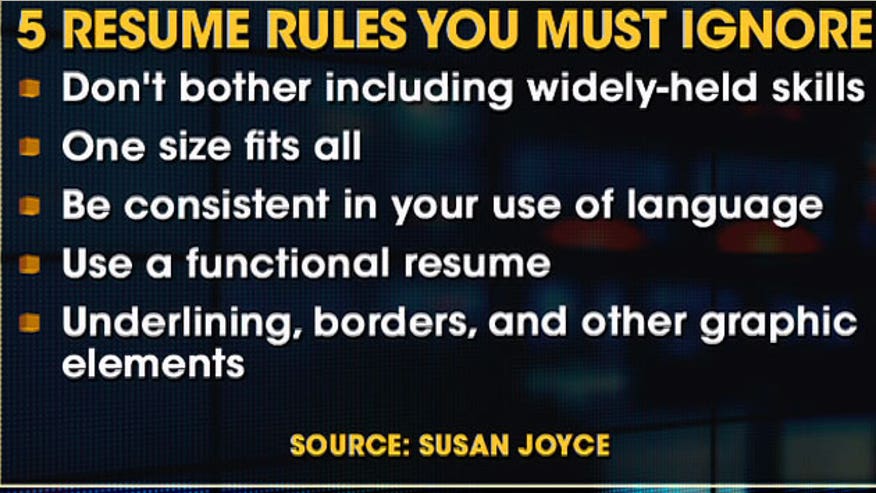 Finding a new job is tougher than ever, and the rules of resumes have changed significantly in recent years.
With more and more places advertising openings and accepting applications online, how can you make sure your resume stands out from the rest of the pile?
Susan P. Joyce, Editor of Job-Hunt.org and WorkCoachCafe.com shared a few lessons below. Be sure to check out the video to get some more tips.
Rule to Ignore #1 : Don't bother including widely held skills
What you should be doing is focusing on the key words in the job description and making sure those are included in your both resume and application, Joyce says. If those happen to be widely-held skills, then you want to make sure they are included.
Rule to Ignore #2: One Size Fits All
Customize your resume to the opportunity. Chances are a "one-size-fits-all" resume wont contain the right key words for the specific job you are applying for. Don't try to use for everything because it looks generic. Always, always try to match your experience key words to those listed in the description. For example: If the job requires someone who has "managed" a group of workers, don't use the term "supervised," Joyce says.
Rule to Ignore #3: Be consistent in your use of language
The person who does the searches may or may not use exactly the same terms as the person who wrote the job description, Susan says. This means you need to use the words the employer has put in the job description but you also need to be a bit more creative. For example, if a job description contains the word "Microsoft Office," include that but also include "Excel" or "Word" or ay other Microsoft office products that you know how to use.
Rule to Ignore #4: Use a functional resume
A functional resume is one organized based on your skills, not your chronological work experience. Joyce advises not using this format as it sends up a red flag to most recruiters. Either use a straight chronological resume listing your experience in order or a combination or your work history and skills. If you're looking to make a career change, you want to highlight the transferrable skills you've got at the top of the resume and add chronology below, Joyce says.
Rule to Ignore #5: Underlining, borders, and other graphic elements
Keep the applicant tracking systems in mind, Joyce advises. If your're submitting anything on a job board, keep it "pretty vanilla," she says. Assume you're dealing with a "dumb applicant tracker" that might be confused by fancy formatting.