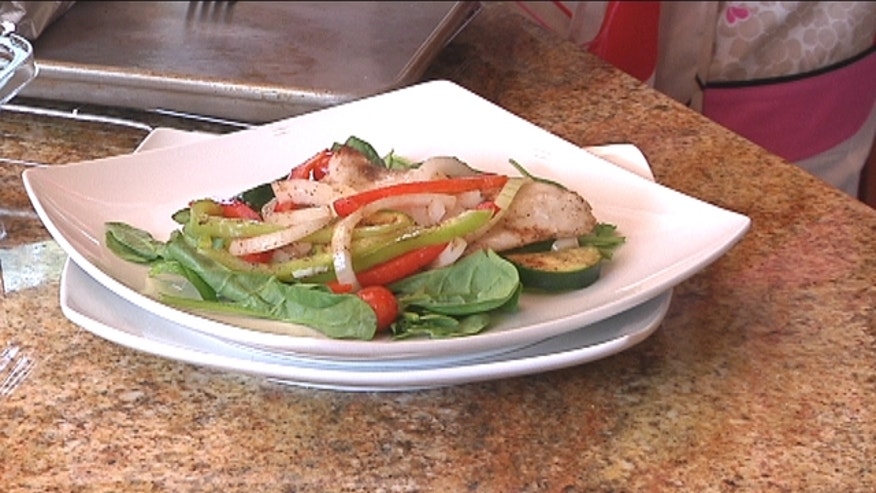 Ingredients:
• 1 ½ pounds flounder fillets
• 3 garlic cloves, thinly sliced
• ½ large yellow onion, thinly sliced
• 1 red bell pepper, thinly sliced
• Dash of Paprika
• Salt and Pepper
• Extra virgin olive oil
• 8 ounce fresh baby spinach
Directions
1. Preheat oven to 375 degrees.
2. Using four to six 12x12 sheets of foil, place fish fillets in each sheet.
3. Season one side with salt, pepper and paprika.
4. Flip fish and layer with garlic, onion and red bell pepper.
5. Drizzle each packet with about a ½ teaspoon olive oil each.
6. Season again with salt, pepper and paprika.
7. Seal each packet by rolling sheets.
8. Place in oven rack and bake for 20-25 minutes.
9. Let stand for 2 minutes before opening.
10. Serve over fresh spinach.
Serves 4-6.
Elizabeth Carrion, a Dominican, co-founded Mi Cocina, a New Jersey-based catering service that also offers cooking classes, with her sister, Ana Martinez. Follow her on Twitter: @micocinalatina and visit her website micocina-latina.com.
Follow us on twitter.com/foxnewslatino
Like us at facebook.com/foxnewslatino