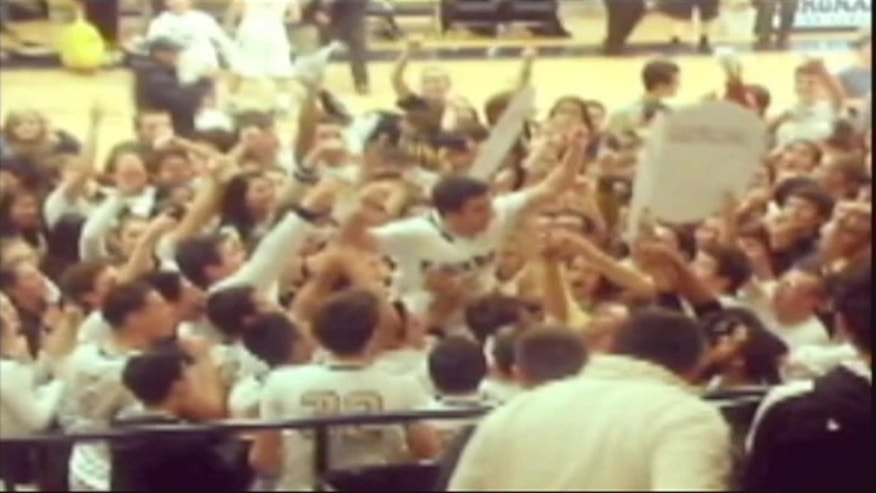 EL PASO, Texas – A High School basketball coach and a rival player in Texas are credited for giving a student team manager with special needs - the shot of a lifetime.
[Watch Inspiring Video Above]
The gym at Coronado High School was packed Tuesday night for a west side rivalry showdown between Coronado and Franklin High School. But as the clock ticked down, both sides of the bleachers found themselves cheering for the same player.
It was going to be a surprise for him, so during our shoot-around yesterday (Tuesday), I gave him a uniform, and his eyes just sparkled. He was ready for the moment.

- Peter Morales, Coronado High School Basketball Coach
That player is Mitchell Marcus, who has been Coronado's team manager for the past three years. Team coach Peter Morales describes Marcus as someone everyone wants on their team.
"Mitchell has been a big part of this team and this team's success," said Morales.
To reward his right-hand man, Morales wanted to give the senior something special: He wanted Marcus to suit up.
"It was going to be a surprise for him, so during our shoot-around yesterday (Tuesday), I gave him a uniform, and his eyes just sparkled. He was ready for the moment," said Morales.
"That would have been enough," said Amy Marcus, Mitchell Marcus's mom.
But there was more.
With a 14-point lead and two minutes left to play, the coach turned to Marcus and told him he was going into the game.
"We were so grateful the kids got us a big enough lead that everyone felt comfortable letting Mitchell in, which was amazing," said Amy Marcus.
Marcus stepped onto the court and the crowd erupted.
"It gave you chills and just to hear the crowd go Mitchell, Mitchell, Mitchell," said Morales.
It was a moment, Marcus didn't think her son would ever have.
"There aren't words to describe it. But the entire section, the whole Coronado section was standing up and cheering. There was not one person sitting down," said Amy Marcus.
His teammates kept passing him the ball, he'd shoot, but nothing wanted to go in.
"Oh and Mitchell's a great shot, and he took that first shot and missed and you could hear the whole crowd sighing," said Amy Marcus.
With only seconds left, the ball fell into the hands of the Franklin team.
"We all knew he wasn't going to have his chance," said Amy Marcus.
Franklin player Jon Montanez had the ball, and that's when, suddenly, the pride of the west side rivalry didn't seem to matter anymore.
"I saw all the players had been trying to get the ball to Mitchell and he hadn't made a basket. Since we were down and there was only 13 seconds left, might as well give Mitchell his last shot," said Montanez.
That's what he did, Montanez passed the ball to Mitchell.
"That was just the most incredible sportsmanship I've ever seen," said Amy Marcus.
Mitchell took his shot and that time, it went in.
"Then, the fourth time, I made it, and everybody from Coronado like, came out and cheered me on and said my name a lot," said Marcus.
The crowd rushed the court, lifting Marcus onto their shoulders, chanting, "Mitchell! Mitchell!"
"To put away the rivalry for a persons special moment in his life, was just amazing," said Morales, who also credited the Franklin team, coach and officials for their sportsmanship.
Marcus has always has a big cheering section led by his mom. Tuesday night, he had nearly 50 people there to support him but before the night was over, the whole gym was cheering for him.
"I was bawling, just bawling. Every mom around me was bawling," said Amy Marcus.
While Mitchell may have special needs what happened on the court Tuesday night, was nothing less than extraordinary.
"The kids from both sides did everything possible to make Mitchell's night be beyond anyone's expectations, with such a rivalry between the two schools, everyone dropped the rivalry," she added.
With all of the excitement from the game still pumping through the halls of Coronado, Mitchell has become somewhat of a celebrity.
"I know," he said with a smile.
But Mitchell Marcus won't let the team lose focus, because he's got big plans for the T-Birds.
"Make it to state, make it to Austin," he said.
Amy Marcus said she wrote the Franklin team a thank-you note.
"I mean there are just not words to thank them. It was such a gift," said Amy Marcus.
Tuesday night, the crowds cheers, a team's support and an act of kindness ended up changing the game.
The game, Marcus said, is a highlight of his senior year.
For more stories from KFOX 14 in El Paso, Texas click here.
Follow us on twitter.com/foxnewslatino
Like us at facebook.com/foxnewslatino