Talk about a hot-button issue.
Things are really heating up in the Spanish town of As Pontes in Galicia, which some months ago wanted to advertise its February festival of a green known locally as "grelo" for the Spanish-language version of its website, and it turned to Google Translate for assistance.
Oops. Turns out that the popular online translation service has a hard time telling the difference between Portuguese and the local Galician language.
When the municipal government entered "Feria do Grelo," Google Translate picked up "grelo" as an archaic Portuguese term for a part of the female anatomy, and rendered it into the Spanish "Feria del Clítoris."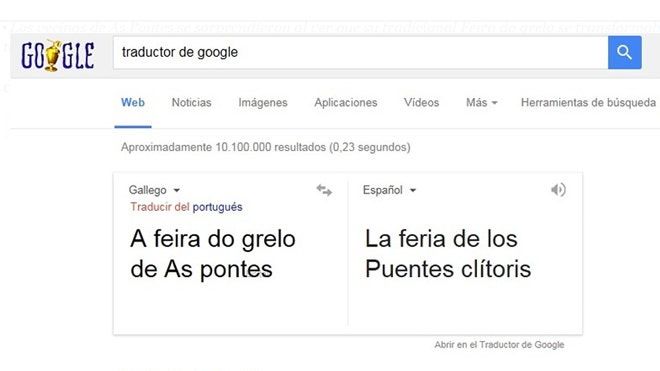 The mistake reproduced and recorded on Saturday by La Voz de Galicia.
"Grelo" is a slightly bitter green used commonly in Galician cooking – often accompanying pork and potatoes – that is known in the U.S. as "rapini" or "broccoli rabe." "Clítoris" is none of those things.
According to the Guardian, the town of 11,000 residents advertised its clitoris festival for months without realizing the mistake.
"It was quite a surprise," a spokeswoman for the town, Montserrat García, told the Guardian. "At first, we didn't believe what we were seeing."
García told the English-language Spanish paper, The Local, "It's a very serious error on the part of Google, and we are thinking about making an official complaint for Google to properly recognize the Galician language so this kind of thing doesn't happen again."
Before being corrected, the website described the event this way: "Since 1981, the festival has made the clitoris one of the star products of the local gastronomy," according to The Local.
Google Translate does translate to and from Galician, and a spokesperson for the company told the Guardian, "Google Translate is an automatic translator – that is, it works without the intervention of human translators, using state-of-the-art technology instead. When Google Translate generates a translation, it looks for patterns in hundreds of millions of documents to help decide on the best translation."
The company spokesperson added, "If people come across incorrect or inappropriate translations, they can let us know about them, and we'll be happy to fix them as soon as possible."
Since the mistake occurred, the translation of the "grelo" now is rendered as "turnip green."
Like us on Facebook
Follow us on Twitter & Instagram