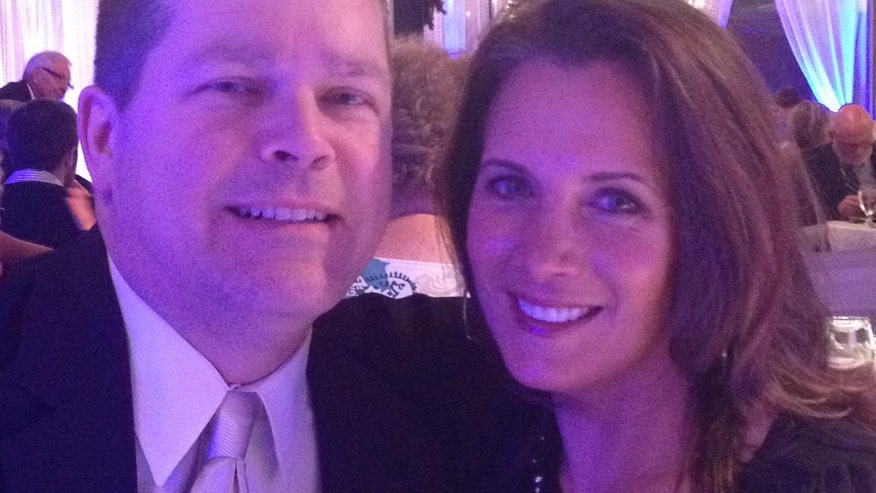 When Todd Crawford's wife, New York City's WABC-TV reporter and anchor Lisa Colagrossi, passed away March 20 from a ruptured brain aneurysm, he set off to raise awareness about the condition to help other families like his.
He has since launched a foundation in Colagrossi's name, along with a national fundraising campaign that is aiming to raise $7 million over the next seven months to promote education of brain aneurysms.
"My family was torn apart and forever changed overnight like nobody can imagine," Crawford told FoxNews.com. "My two boys will never see their amazing mom again, so I am on a mission to put this disease on everyone's radar and prevent other families from being ripped apart."
A brain aneurysm is a ballooning in a blood vessel in the brain, which is caused by the thinning of artery walls in the organ. While most aneurysms don't rupture but create other health problems, those that do end up rupturing or leaking cause bleeding in the brain— a condition that is life threatening and requires quick treatment, according to the Mayo Clinic. According to the National Institutes of Health (NIH), ruptured brain aneurysms are reported in 10 of 100,000 people— or about 30,000 people in the United States— per year.
Crawford said his campaign, called the "Lucky7," is simple. People can make a donation on LisasLegacy7.org of any amount including the number 7, and then nominate seven other friends on social media to do the same.
"If just 1 million people will donate $7 each, we will reach our goal," Crawford said.
His ultimate goal is to develop a parent organization for brain aneurysms and have the foundation become a private funder of initiatives in awareness, education, research and support. Since the debut of the foundation in September, from around the world have called asking him to partner with them.
Next year, Crawford is planning to produce a public service campaign to raise awareness for the signs and symptoms of brain aneurysms. According to the NIH, brain aneurysms usually aren't noticeable until they become large or burst. When an aneurysm is growing, a patient will feel pain in the eye area, as well as numbness, weakness or paralysis on the side of the face. Dilated pupils and vision changes may also occur. A severe headache, nausea, a stiff neck, double vision or loss of consciousness may occur when an aneurysm hemorrhages.
Crawford believes there could be as many as 10 to 15 million Americans living with a brain aneurysm, but because of a lack of proper screening, and deaths being attributed to other factors, he believes the numbers are significantly underreported.
Here are 7 fast facts about brain aneurysms:
1. An estimated 6 million, or 1 in 5, people in the U.S. have been diagnosed with an unruptured brain aneurysm.
2. Between 30,000 and 40,000 people in the U.S. suffer a brain aneurysm rupture each year.
3. A brain aneurysm ruptures every 18 minutes in the U.S. Ruptured brain aneurysms are fatal in about 50 percent of cases. Of those who survive, about 66 percent suffer some permanent neurological deficit.
4. Women and African Americans are almost 50 percent more likely to develop brain aneurysms than men and Caucasians.
5. By the reported numbers, the disease is as prevalent in the U.S. as breast cancer and ALS.
6. The four biggest signs of growing or ruptured brain aneurysms are "the worst headache of my life – WHOL," blurred vision, a severely sharp pain behind one of the eyes, or numbness or tingling in the facial area.
7. The four biggest risk factors for brain aneurysms are smoking, hypertension, drug abuse and alcohol abuse.
"This isn't just about my wife," Crawford said of his foundation. "Instead, this is about everyone who has ever died from or survived a brain aneurysm, as well as those who have one but haven't yet been diagnosed."
For more information and to donate, visit LisasLegacy7.org.