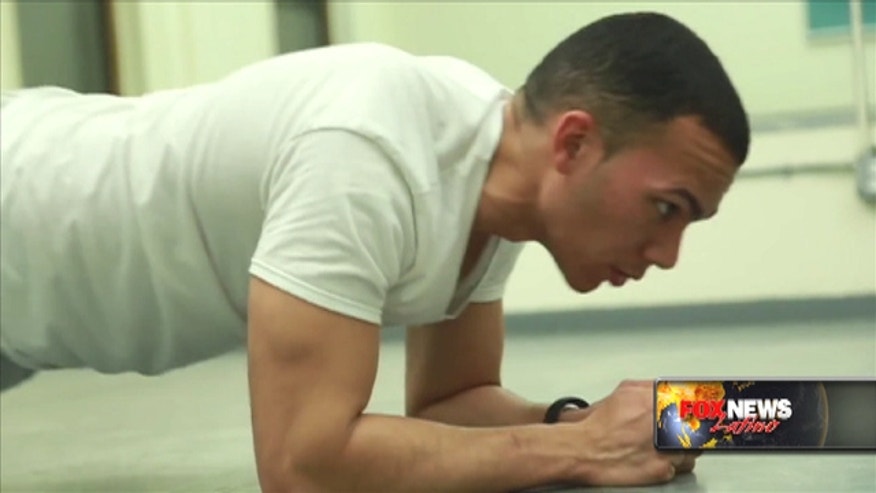 NEW YORK, NY – Coss Marte was making two million dollars a year before he was caught.
He sold coke and weed for a living, he openly told Fox News Latino. "I was running one of the largest cocaine distributing centers in [New York] city," he said.
Operating out of the Bronx, at one point Marte commanded hired drivers to deliver up to a kilo of cocaine a week 24 hours a day throughout New York, New Jersey and Connecticut. It was a lavish lifestyle that ended suddenly in 2009, when he was charged and sentenced to seven years in prison. He was released after four.
In the meantime, Marte reshaped his life and plotted a way to make a living again, but on the right side of the law this time.
He founded Conbody, a one-of-a- kind gym that offers prison-style bootcamp classes taught by him and other ex-cons.
Marte's workout is strictly callisthenic-based, which means all you use is your body weight – no equipment necessary. Participants are partnered with their "cellmates" and endure one hour of non-stop crab-walks, lunges, ab exercises, varied body movements, and sweat inducing squats.
"Body weight," Marte said. "It gives you better results at the end of the day."
The workouts, originally designed to be done in a 9x6 jail cell, are currently being taught in a colorful studio in the Lower East Side. So far, investors have fueled $100,000 into Marte's business and now he's looking to expand.
The idea came to him while in prison, after doctors there told him he would probably die in prison due to his high cholesterol and sedentary lifestyle. "They said you can catch a heart attack in five years," he recalled. So Marte began working out in his cell and eventually lost 71 pounds in six months.
He then began teaching other prisoners.
"After losing all the weight I helped like 20 inmates lose a cumulative 1000 pounds," said Marte, who is 29.
He said the best part of Conbody is that he is able to help out other ex-cons, who are hired only after a thorough screening process.
"Seeing them in front of the class control a group of 20 people ... gives me hope and desire to keep going," he said.
Watch the video above for more on the workout and the moment in prison that changed his life.
Bryan Llenas currently serves as a New York-based correspondent for Fox News Channel (FNC). Click here for more information on Bryan Llenas. Follow him on Twitter @BryanLlenas.