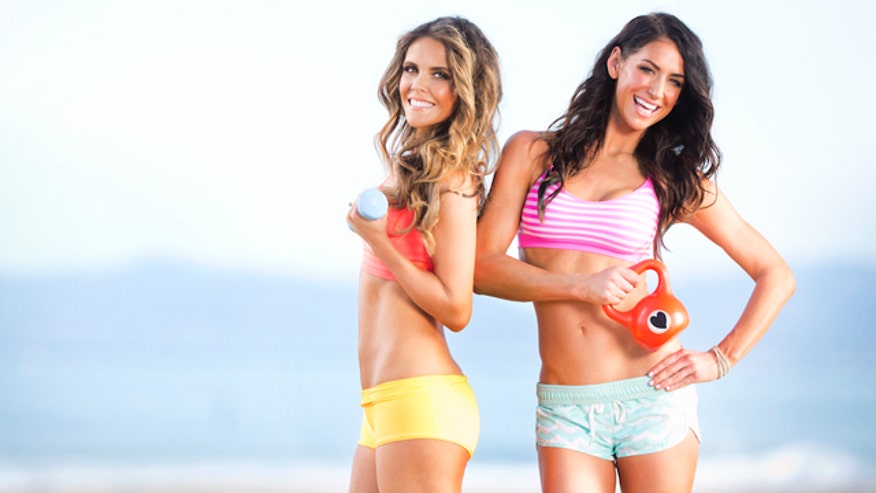 In California, where every day is a beach day, "Tone It Up" founders Katrina Scott and Karena Dawn have built a business empire around their beach babe workouts.
After meeting and introducing themselves to one another at a gym, the two personal trainers sparked a quick friendship and one day decided to film a healthy cooking video together. Once they gained an audience on YouTube, they added original workout videos, and fans have followed their routines ever since. Today, their videos have more than 35 million views, and have gained hundreds of thousands of followers for their newsletters, social media accounts and online community at ToneItUp.com.
Eager to inspire millions more, the duo published their first fitness book, "Tone It Up: 28-days to Fit, Fierce and Fabulous." The book includes 28 days of workout challenges, healthy recipes and mental and spiritual practices to get your mind, body and soul ready for the beach.

"The 28 days to fit, fierce, and fabulous challenge is not only about transforming your body, but it's also about transforming your mind and your lifestyle," 34-year old Karena Dawn told FoxNews.com.
The fitness program projects a healthy beach lifestyle by getting readers bikini-ready with three daily challenges.

"You have your fit challenge, which is a workout of the day; you have your fierce challenge, which is that challenge that makes you step out of your comfort zone and try something new; and then there is that fabulous challenge, and that's taking care of yourself— it's the beauty, it's nurturing your body and your mind," Dawn said.
Some of their fabulous challenges range from passing along positivity by giving everyone you come in contact with a compliment, to taking a nighttime tech detox by powering down your TV and all of your electronics after dinner.
Fierce challenges are all about keeping you motivated to stay fiercely committed to your health and happiness. Spending more time in nature is one of Dawn's favorite fierce practices, she said.
"That could mean taking a walk during your lunch break or moving your workout outside, because in nature is where you can find a moment to actually be present, and listen to trees or the birds," Dawn said.
For added inspiration, the girls also offer daily mantras throughout the 28-day-long challenge.

"We want you to set your intentions, you know 'how am I going to live today' and my favorite is 'I am brave, I am bold, and I am up for anything,'" 31-year old Katrina Scott told FoxNews.com.

For their "Be Fit" challenge, the social media sensations encourage women to do two workouts a day.

"One is your booty call workout in the morning, and that can be the fit challenge of the day-- so it's either a HITT workout, which is high-intensity interval training or a toning workout. And then your second workout is shorter. There are options for short booty calls if you only can fit in 10 to 15 minutes anywhere in the day. We just want you to start moving again for a second time in the day," Dawn said.

To burn more calories in less time, Dawn and Scott suggest trying some of their "Tone It Up" combo moves:
Tricep-Pushup, Row, and Twist:
Begin in a plank position on your toes, then drop down to your knees and perform a triceps push up, then when you come up twist to the side. And then alternate sides.
"So you're working your triceps, your chest, your core, your abs, your shoulders, and your back. It's really amazing," Scott said.
Crab Up:
Start on your back with your knees bent, hands on the mat beneath your elbows and feet on the floor. Then come up and perform a crunch and bring your opposite arm to the opposite toe (while lifting your butt off the floor) and then sit back down.
"This is working the upper and lower abs, the booty, the tops of the thighs and the triceps when you sit up," Scott said.

For more workout moves and information on Dawn and Scott's book, visit ToneItUp.com.