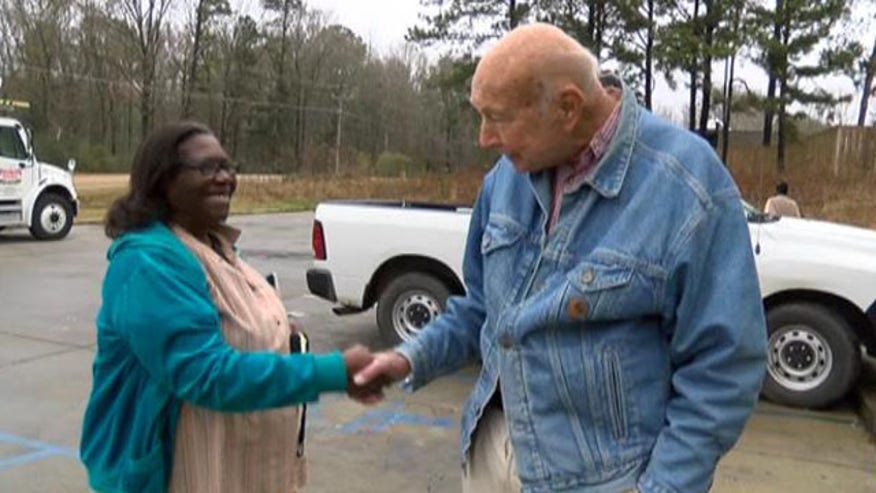 EDWARDS, Miss. – For more than a half century, residents of a tiny western Mississippi community have counted on Dr. Carrol Landrum's house calls for their health care.
The sight of Landrum's dented, black, 2007 Toyota Camry pulling up has brought relief to countless shut-ins in Edwards, a town of about 1,000 about 28 miles west of Jackson. But the state medical board is probing the country doctor, an 88-year-old World War II veteran, because, he says, they don't like him working out of his car.
"I didn't know there was any law against it," Landrum, who grew up in Taylorsville, but has practiced medicine in Edwards since 1959, told FoxNews.com.
Landrum said Andrew Pitts, an investigator for the board, told him the board objects to him writing prescriptions out of his car and has been monitoring him for months, tracking all of his visits.
"He said the director had told him to ask me to surrender my license right then and there or I would come before the board," said Landrum. "And he said basically, 'If you surrender it here, nobody would know about it. But if it goes to the board, it'll be public knowledge and it might affect your reputation.'"
Landrum said he refused, and is determined to continue his work.
"I didn't know there was any law against it."

- Dr. Carrol Landrum
"These people absolutely need me," said Landrum, who served as a sonor operator in the Navy during World War II, doing a stint in the Pacific Theater, where his role was to help protect U.S. destroyers from enemy submarines. "I see the need and I'm trying to fulfill it as much as possible," he said of the patients he treats.
Fox News could find no law or regulation in Mississippi barring doctors from operating out of cars. According to the Mississippi Board of Medical Licensure, there have been no disciplinary actions against Dr. Landrum. Pitts confirmed an investigation was under way, but declined further comment.
"Because it's still under investigation, I can't confirm or deny anything at this time," he said.
Dr. H. Vann Craig, executive director of the Mississippi Medical Board, was not able to confirm an ongoing investigation against Landrum, but did say the doctor still has an active Mississippi license.
"I will confirm that investigations are confidential until there is an action by the board," Craig said. "Other than that, I cannot tell you anything."
Nearly 50,000 people from around the world have weighed in on Dr. Landrum's side, signing a petition that states many residents in Edwards are "poor or disabled people who aren't able to travel to seek medical attention and would not receive treatment otherwise."
And in the small town, where the per capita income was just $12,000, according to the most recent census, support for Dr. Landrum is strong.
"Taking his license?" said Edwards resident Leigh Jefferson, a patient of Dr. Landrum. "I mean, that's pretty much like taking his livelihood. And you may as well take his life because that's what he's dedicated his life to doing."
Some Landrum supporters believe the Mississippi Medical Board is "angry" because Landrum is strong competition against other doctors in the area.
"I guess 'cause they don't get a percentage of what he's doing," said Edwards resident Terrance Williams. "When I was going to [another] doctor, paying all this extra money, they couldn't tell me nothing. That's the God's honest truth."
Landrum is proud of the support from his patients, which he believes he has earned. And he says his housecalls save patients trips, and save local hospitals, who may have to treat them at taxpayer expense, money.
"The Mississippi Medical Board is completely ignoring the welfare of the people," Landrum said. "Peoples' lives are at stake, and if I'm not there, a lot of them would die."
Kyle Rothenberg is a graduate of the Junior Reporter program at Fox News. Follow him on Twitter: @kylerothenberg