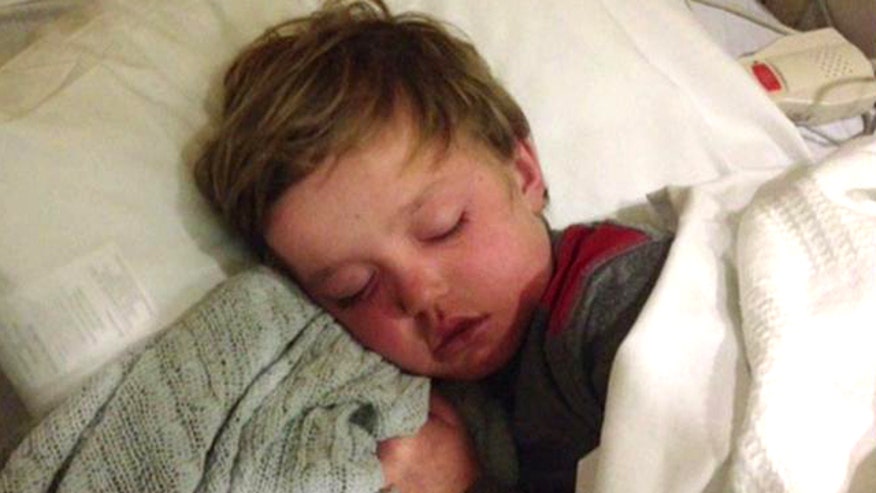 When asked whether or not he thought 7-year-old Josh Hardy should receive lifesaving treatment, a member of the board of directors at Chimerix seemed to blame government regulation for the company's reluctance to give Josh access to their drug Brincidofovir.
"Don't you people realize there is an FDA? We have done what we can. Say a prayer for Josh," Tim Wollaeger wrote in an email to FoxNews.com.
The snarky remark came just hours after Chimerix announced it would begin a pilot trial for Brincidofovir – an antiviral drug that has been proven to clear up adenovirus in children within two weeks. Josh will be the program's first patient.
Chimerix initially refused to give Josh, who had developed adenovirus after undergoing a bone marrow transplant, emergency access to the medication. But after receiving intense criticism over their denial, the pharmaceutical company reversed their decision Tuesday night.
Chimerix did not want to utilize the FDA's expanded access program as they thought it would interfere with their phase III clinical trial on the drug.
The FDA program -- sometimes called compassionate use -- allows patients to use investigational drugs outside of clinical trials in order to treat serious or life threatening diseases with no alternative treatments.
Wollaeger serves on the board of directors for Chimerix and was previously a co-chairmen of the board from 2002-2010. He specializes in investing in early-stage biotech and health care companies, and since 2002, he's been the managing director for Sanderling Ventures, an investment firm focused on biomedical companies. Wollaeger is also on the board of directors for CalciMedica, Sotera Wireless, Asteres and several other Sanderling Ventures companies.
FoxNews.com reached out to all of Chimerix's board members about Josh's case, but only two responded. The second member, Wende Hutton, gave a more gentle response:
"We are all wishing Josh a speedy recovery," Hutton, a general partner at Canaan Partners, wrote in an email to FoxNews.com.
Chimerix CEO Kenneth Moch has come under fire for how he and the company have handled Josh's case. A representative for the Max Cure Foundation, a pediatric cancer charity who had offered to pay for Josh's treatment, said that Moch hung up on him when discussing the situation.
Adenovirus is an acute infection that can be deadly in people with compromised immune systems. Doctors at St. Jude Children's Research Hospital in Memphis, Tenn recommended that Josh be treated with Brincidofovir, but the drug has not yet been approved by the U.S. Food and Drug Administration (FDA), which prevented Josh's family from gaining access to the medication. Thanks to Chimerix's reverse decision, Josh received the drug early Wednesday morning.