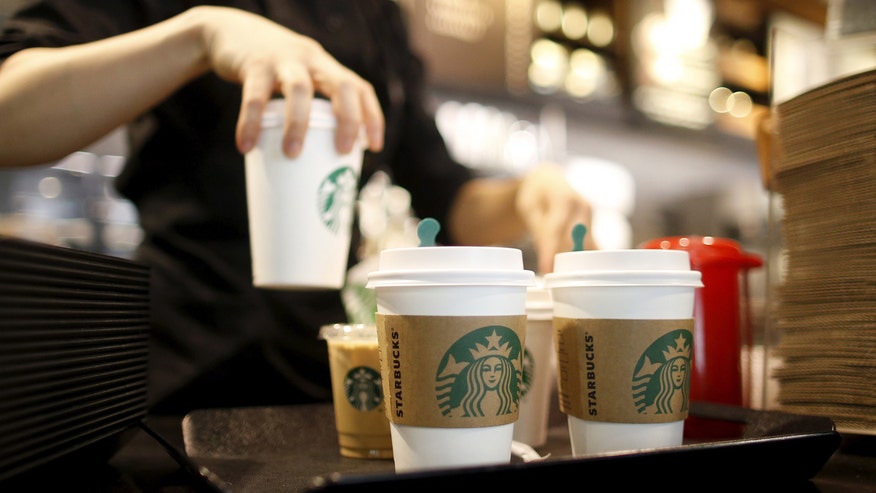 A Washington state man took to Facebook to accuse Starbucks of age discrimination after being banned from the coffee shop for asking a teenage barista out to dinner.
Lucas Werner, 37, claims he was banned from the coffeehouse after penning a note to a 16-year-old barista whom he claims was acting flirtatiously.
"A barista said I was funny and that she liked me, so I politely thanked her, sat down to drink my hot chocolate, wrote her a nice note, so as not to interrupt her work schedule asking her out to dinner if she was interested and walked out," Werner wrote in the social media post on Dec. 22.
RETURN OF THE #TRUMPCUP: PRESIDENT-ELECT SUPPORTERS PROTEST STARBUCKS WITH TRUMP'S NAME
But when he returned to the establishment the following day, Warner says he was greeted by police and told that he was prohibited from visiting that Starbucks location in the future.
Werner then went on Facebook to express his dismay, urging his friends to complain to the famous coffee chain. "This is a clear case of age discrimination," he wrote.
In Washington state, the legal age of consent is 16, but Starbucks backed the employee and released a statement saying the chain would have "no tolerance for any such inappropriate behavior or harassment, and we will continue to support our store partners and local authorities investigating the situation."
But the incident may have been a glorified PR stunt. Werner operates both a website and Facebook page focused on his assertion that it's advantegous for older men and younger women to procreate, according to the Spokesman Review.
FOR THE LATEST FOOD FEATURES FOLLOW FOX LIFESTYLE ON FACEBOOK
On his Facebook page Werner also claims to be a "scientist without a degree in science."
As for Werner's accusation of ageism, Spokane police told local station KING 5 TV that any private business has the right to refuse service to customers for however long they choose.
Accordingly, Starbucks is well within its legal rightto ban Warner from the Spokane location.