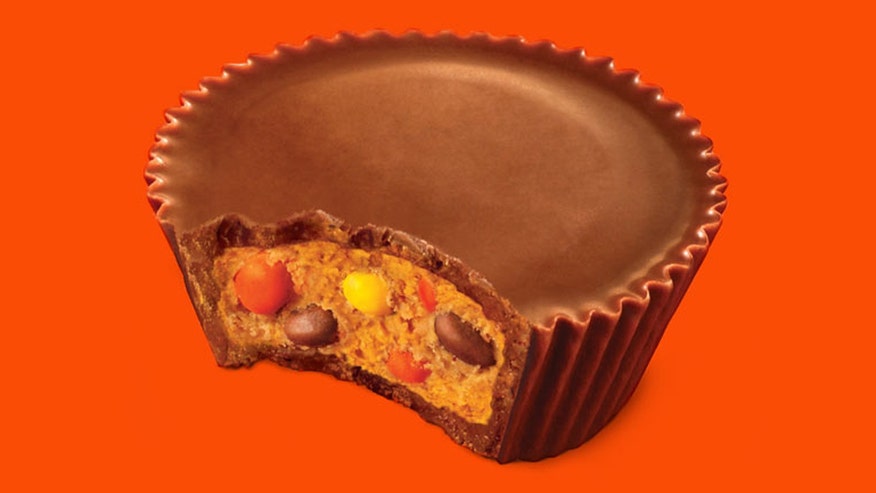 Still eating leftover Halloween candy? Well, chew on this.
Hershey's sales have increased by almost 10 percent during the last few months-- driven in large part by the new Reese's Pieces-stuffed peanut butter cups, which combine the company's most popular chocolate peanut butter candies.
According to Time, Hershey's Chief Executive John Bilbrey said on a conference call Friday that consumers are starting to visit stores more frequently, and subsequently, "beginning to spend a little bit more confidently than before." Hershey's stock and sales have both risen over the past several months even though the company says it's spending less on advertising.
Hershey's North America sales, meantime, rose 1.8 percent to $1.76 billion in the third quarter that ended Oct. 2. The candy-maker's North America sales account for about 85 percent of their total revenue.
REESE'S LATEST PEANUT BUTTER CUP MASHUP LIVES UP TO THE HYPE
In an effort to maintain the upward momentum, Hershey is introducing new products to overcome slow demand in North America. The candymaker will debut the new Cookie Layer Crunch, a chocolate bar with layers of cookie bits, during the holidays. This summer, the company released a simpler version of classic chocolate syrup with just five ingredients and no artificial preservatives.
But are the new peanut butter cups really worth the hype or are they a temporary blip?
Well, if you're a Reese's fan, get ready for the ultimate chocolate-peanut buttery experience.
The Reese's Pieces stuffed King-sized Big Cup is actually double the thickness of an average Reese's cup to make space for the candies stuffed inside.