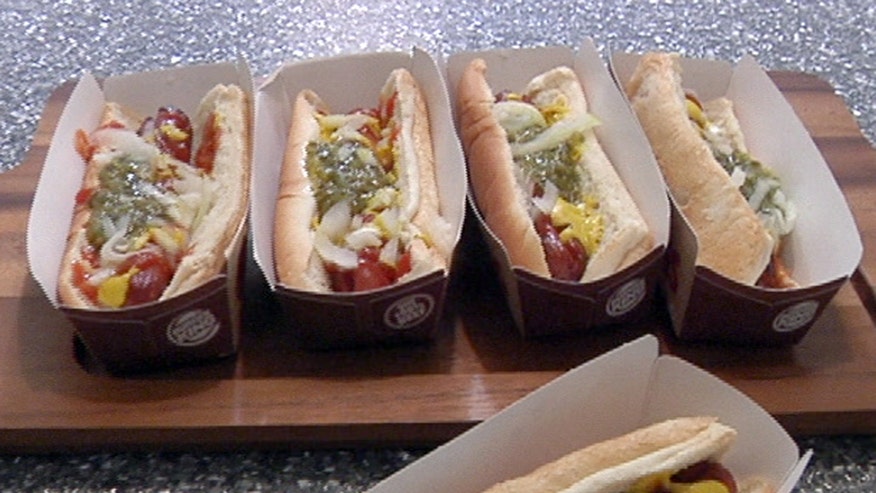 7-Eleven is throwing serious shade at Burger King because of its nationwide roll out of its Grilled Dogs.
Last week Burger King restaurants nationwide began selling two types of hot dogs: a regular hot dog with ketchup, mustard and relish for $1.99 and a chili cheese dog for $2.29.
It didn't take long for the competition to strike back. 7-11 poked fun at Burger King on social media. "Kings selling hot dogs? What's next, dictators selling Slurpees? LOLOLOL," the company tweeted.
Kings selling hot dogs? What's next, dictators selling Slurpees? LOLOLOL pic.twitter.com/SHlmAWqLXz

— 7-Eleven (@7eleven) February 23, 2016
The convenience store chain even went so far as to create an ad campaign promoting a cheeky "Hot Dog Bill of Rights," which proclaims that customers are entitled to customize their hot dogs with free chili and cheese and "the right to believe in totally made-up but totally tasty constitutional rights."
Long-time hot dog purveyors Checkers and Rally's also joined in on the attack.
We're challenging @BurgerKing to a #WienerSmackdown. pic.twitter.com/0A7TVMg8lS

— Checkers & Rally's (@checkersrallys) February 23, 2016
There's been no word from The King responding to the attacks.
So we decided to put Burger King's wieners to the test and took to the streets to find out if the dogs are top dog.
Overall, the dogs got the thumbs up --and, yes, the grill marks are real in case you were wondering.
When asked how they compare to New York City's vendor dogs, aka dirty water dogs, one taster said: "They're fresher."
But a few people were nonplussed about the average menu item.
"It tastes like a hot dog."