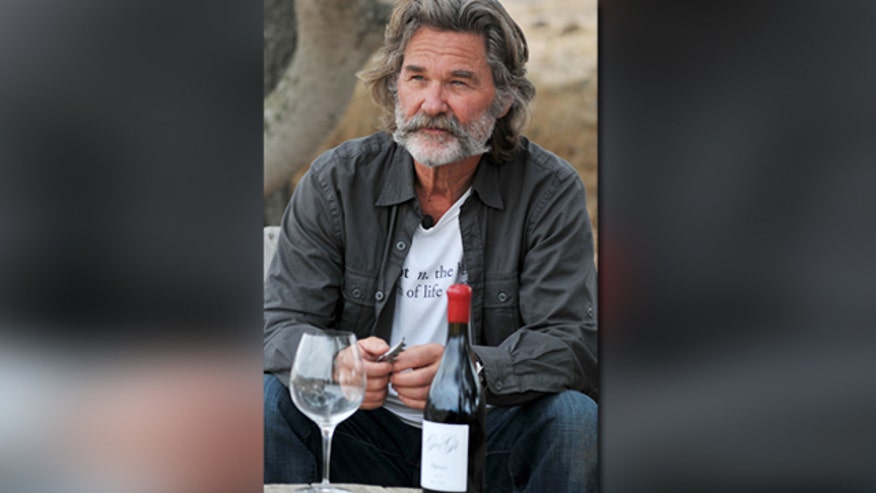 Kurt Russell proudly proclaims himself a "pinot poodle," after turning his passion for drinking wine into a passion for making wine.
Taking a break from filmmaking, the 64-year-old actor has created an exclusive line of wines that's getting rave reviews.
"They took me on and allowed me to kind of pursue my dream of learning how to make wine and becoming a cellar rat and getting involved with the winery."
"I'm in the business. It's not a hobby, it's something I'm very serious about and I love the results of what's happened with this wine," Russell told FoxNews.com.
Russell founded GoGi Wines (pronounced go-gee) in 2008 at Ampelos Cellars under the tutelage of owners Peter and Rebecca Work.
"They took me on and allowed me to kind of pursue my dream of learning how to make wine and becoming a cellar rat and getting involved with the winery," Russell said.
GoGi Wines - operating out of Southern California's Santa Rita Hills area - produces a chardonnay, but Russell's real pride is the pinot noir.
"A great pinot chases its own tail. You drink it and you just keep finding new tastes that go with it," Russell said. "My dream was to make a world-class pinot and learn more about other wines as well."
Their vineyard is organic, biodynamic and sustainable and the boutique wine is produced in small batches, using only "free run" juice --a process that takes only the is most prized part of the grape. Russell says he is catering to a very specific audience.
"I'm only interested in these wines being drunk by people who are serious pinot drinkers, serious, kind of knowledgeable about it," Russell said. "It's fun to introduce people to a really high-end pinot, but it's not easy to make and I understand, I appreciate, I should say, what goes into making a great pinot."
Russell has been chosen to headline the 2nd Annual Santa Barbara Food & Wine Weekend's Grand Wine Dinner on April 18 at Bacara Resort & Spa.
The dinner is part of a four-day event that benefits the Julia Child Foundation for Gastronomy and the Culinary Arts. The event includes a Western-themed dinner with the star's wine as the centerpiece, as well as Hudson Bellamy Wines made by the Russell's daughter Kate Hudson. Hudson, together with Muse frontman Matt Bellamy, created Hudson Bellamy Wines, also at Ampelos Cellars.
"[The event] for me is really exactly what I want to do because I love great wine with really great food, and there's going to be a lot of great wine and a lot of great food," Russell said.
Prices for his wine range between $50 to $75. But don't expect to find Russell's wine just anywhere. You can only find it at select restaurants, including Wine Saloon at the 1880 Union Hotel in Los Alamos and the vineyard.
But what's up with the name, GoGi?
"I didn't want to have a long name, Russell Estates or something. I didn't think trying to slap a name on a bottle that people might recognize was not only, to me, not necessarily a good thing, I thought it was a drawback," Russell said. "Gogi is an old nickname of mine, so the brand is GoGi."
Visit GoGiWines.com for more information.