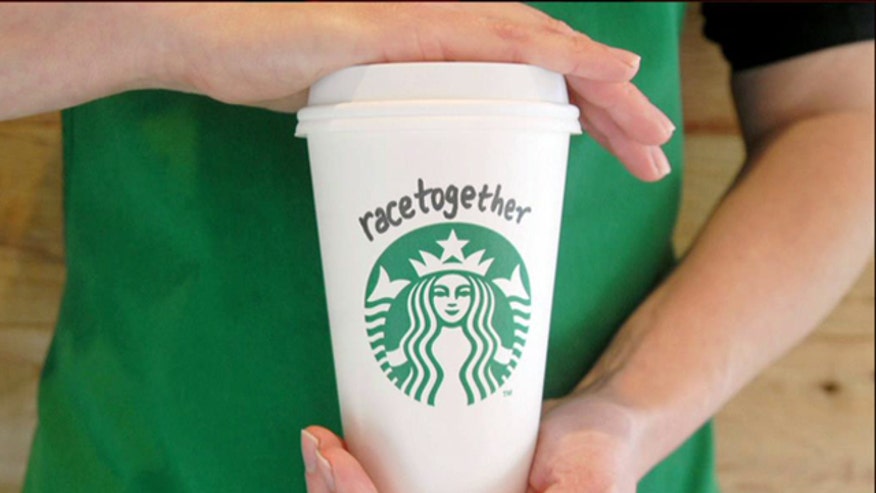 Want some cream, sugar with that debate?
Starbucks CEO Howard Schultz has never shied away from voicing his political opinions. But now the outspoken leader of the world's biggest coffee chain is taking on one of the most heated topics of today: race relations.
On Sunday, Starbucks published a full page ad in USA Today with the words "Shall We Overcome?" on a stark, black background to kick off its initiative.
This was followed Monday by a company directive where baristas are being encouraged to spark race discussions with the option to handwrite the words "Race Together" on a customer's cup.
And starting Friday, USA Today, who is partnering with the coffee chain, will publish the first of a series of inserts with information on race relations and varying perspectives, reports Fortune.
Though baristas are under no obligation to start a discussion, the potential for heated arguments to arise—not to mention slow service—already has some questioning why Starbucks would undertake such an initiative.
Talking about race issues with a strange while both parties are holding scolding hot liquids? This should end well! #Starbucks #RaceTogether

— @Baker-Bone (@BakerBone) March 17, 2015
Starbucks' Race Together, McDonalds' Pay With Love—what is it with brands acting out their midlife crises with their underpaid staff?

— Kip Manley (@kiplet) March 17, 2015
Schultz announced "Race Together" via video message shared with Starbucks staff last week.
"There were some people who said 'Howard, this is not a subject we should touch. This not for you. This is not for a company. This is for someone else,'" the CEO explained. "I reject that. I reject that completely because we can't leave this for someone else." He went on to urge his staff to write "Race Together" on customer cups and to initiate discussions with curious coffee-drinkers on the sometimes heated topic.
According to a company statement, Scultz met with more than 2,000 Starbucks employees to discuss racial issues at "open forums" in cities like Oakland, Los Angeles and New York over the past three. People shared personal stories as well as citing the need to do more. Of the company's 200,000 plus employees, about 40 percent are of a racial minority.
The idea for "Race Together" was born from these discussions as a way to involve Starbucks customers. He hopes the project will "encourage greater understanding, empathy and compassion toward one another."
Schultz will share more details at his company's annual shareholder meeting held this Wednesday.