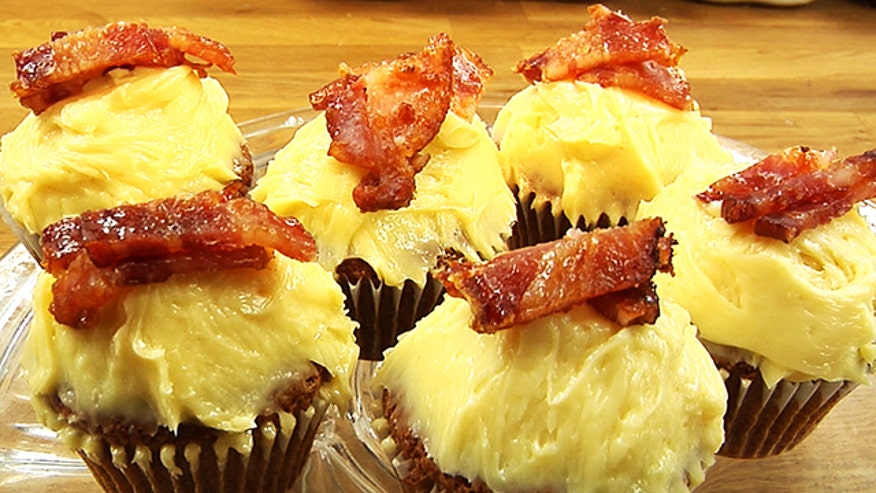 A world without bacon would be a terrible, terrible place. That's why people put it on just about everything, including the Elvis-inspired cupcakes at Robicelli's Bakery in Brooklyn.
Yep! They went right ahead and baked up some banana cupcakes — made with REAL bananas — frosted them with peanut butter buttercream, and topped them with glorious strips of candied, Elvis-approved bacon!
Let's all just take a moment to ponder how those flavors might mingle on our tongues, shall we?
OK, you good? Now watch the video above and see how they're made!
Ingredients:
Banana Cake:
4 bananas
1 cup sugar
1 cup brown sugar
3/4 cups vegetable oil
2 cups flour
1 tsp. baking soda
1 tsp. baking powder
1 tsp. salt
1 Tbsp. cinnamon
4 (slightly) beaten eggs
Candied Bacon:
8 strips bacon
1 cup brown sugar
Frosting:
3 or 4 Tbsp. peanut butter
Directions:
Pre-heat oven to 350 degrees F.
Place bananas, sugar and brown sugar in stand mixer and mix for 3–4 minutes. Add vegetable oil and continue to mix until almost incorporated. Slowly add the rest of the dry ingredients, allow to mix, and then add the eggs and mix until just incorporated. (Over-mixing can produce a tough cupcake. Robicelli's suggests removing the batter from the mixer before everything is completely incorporated.)
Pour batter into cupcake molds and bake for 15-18 minutes, or until you touch the top of the cupcake and it springs back.
For candied bacon, coat thick-cut bacon in brown sugar. Place on a baking sheet lined with parchment paper, then transfer to the same oven as the cupcakes (350 degrees F) and bake for about 15 minutes until crispy, gooey and sticky.
For the frosting, add about 3 or 4 tablespoons of peanut butter to this recipe for Robicelli's buttercream frosting. Once mixed, generously frost each cupcake.
Top with chunks of candied bacon and serve.