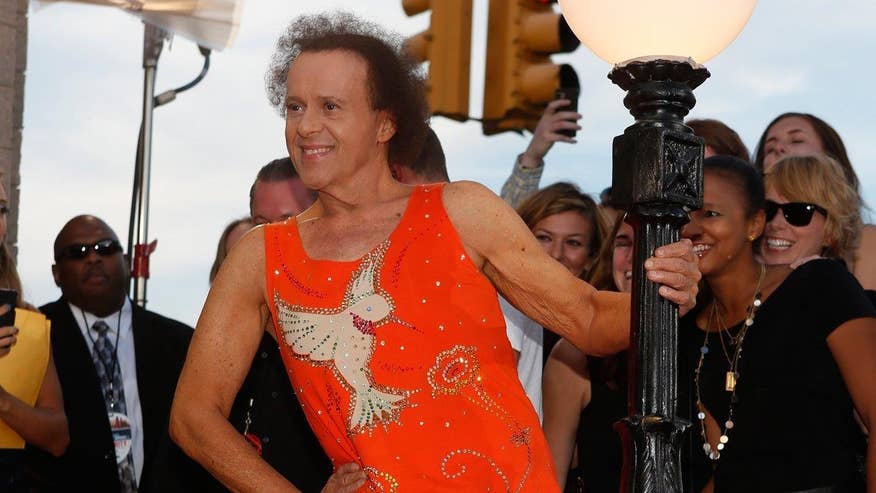 [Spoiler alert: The following article contains information about the latest episode of "Missing Richard Simmons."]
Richard Simmons' older brother won't say that the fitness guru is happy necessarily, but he is adamant that he is healthy.
That's the latest from Dan Taberski's super successful podcast "Missing Richard Simmons."
In the episode released on Wednesday, Simmons' brother Lenny tells Taberski he spent Christmas with his celebrity brother.

"My wife and I were there for Christmas like we are almost every year," Lenny Simmons revealed in a call with Taberski. "We had a very pleasant time. He was in good spirits except for a cold, and he is doing what he wants to do, which is kind of just to enjoy life and kick back."
When asked directly by Taberski if Richard Simmons is happy and healthy, Lenny had a diplomatic answer.
"Happy is kind of a hard word to describe," he said. "There is nothing going wrong medically, and I would know that… And he's healthy."
SHOCKING REVELATIONS FROM RICHARD SIMMONS PODCAST
Richard Simmons has not been seen in public since 2014. According to former friends of the fitness star, he has stopped all communication. In "Missing Richard Simmons," Taberski – a former pal of Simmons' – investigates why the star has seemingly shut himself in his home with only the company of his longtime housekeeper.
"He's not angry with anybody," Lenny told Taberski. "He doesn't talk to very many people, which I wish he would but I can't make him… but, you know, he calls me every Sunday. For some reason, he just wants to be quiet which is the complete opposite of what he normally is. I don't understand it. I wish I did. But I have to respect it."
Lenny had no negative words to share about his brother's housekeeper, Teresa Reveles, though there has been speculation about her role in Richard's decision to stay in his home.
The star's older brother reiterated his sentiments in an interview with Entertainment Tonight.
"Teresa is a very lovely lady. She has been a good friend of my brother for over 20 some odd years," Lenny told ET.
He added that his brother has spent years making himself available to fans and he wants a break.
"My brother certainly deserves his vacation," Lenny told ET. "I certainly cannot fault him for wanting to do that."
He added, "I would just hope people [can] be a little bit more respectful and realize that he's worked hard and he still loves people -- but he needs some time for himself."
FOLLOW US ON FACEBOOK FOR MORE ENTERTAINMENT NEWS