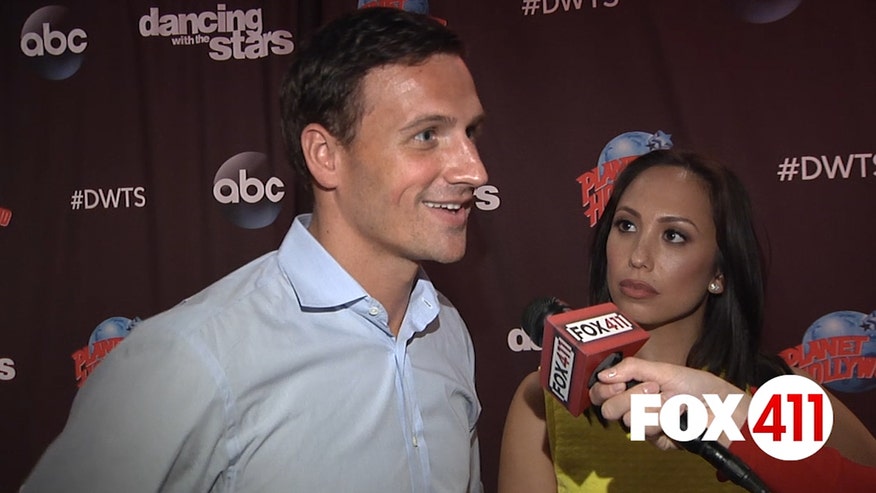 NEW YORK – Twelve-time Olympic medalist Ryan Lochte is one of the competitors on the 23rd season of "Dancing with the Stars," and the controversial swimmer wasn't shy about disagreeing with San Francisco 49er quarterback Colin Kaepernick's decision not to stand for the National Anthem prior to his team's games.
"You know, I'm really proud to stand for my National Anthem," Lochte, who was widely criticized and apologized for fabricating a story about being robbed at gunpoint during the Rio Games, told FOX411. "I remember especially this past Olympics when I was getting that gold, [having] a lot of emotional feeling."
Lochte added that Kaepernick, like any American, has the right to speak his mind. "Everyone is entitled to their own opinion but mine is I'm proud, and I'll definitely stand."
Fellow "DWTS" cast member, former NFL wider receiver Calvin "Megatraon" Johnson Jr., said he had no problem with Kaepernick's protest. "I'm okay with anybody expressing their rights," he said. "No problem with it."
Race car driver James Hinchcliffe echoed Johnson. "Everyone's entitled to their own opinion and expressing themselves in their own way," he said. "That's what he chooses to do, that's what he chooses to do."
But rapper Vanilla Ice, while offering no comment on Kaepernick, was firm in his conviction to stand and salute.
"I mean that's the National Anthem. I rise, and you know, salute that flag every time because we have soldiers that put their life on the line for our freedom to live in this country," he said. "So, I'm not going to comment anything other than that. I will rise."
Kaepernick set off a firestorm of controversy when he refused to stand during the National Anthem prior to a preseason game last month. "I am not going to stand up to show pride in a flag for a country that oppresses black people and people of color," Kaepernick told NFL Media. "To me, this is bigger than football and it would be selfish on my part to look the other way."
"Dancing With the Stars" returns Sept. 12 on ABC.
Fox News.com Reporter and FOX411 host Diana Falzone covers celebrity news and interviews some of today's top celebrities and newsmakers. You can follow her on Twitter @dianafalzone.