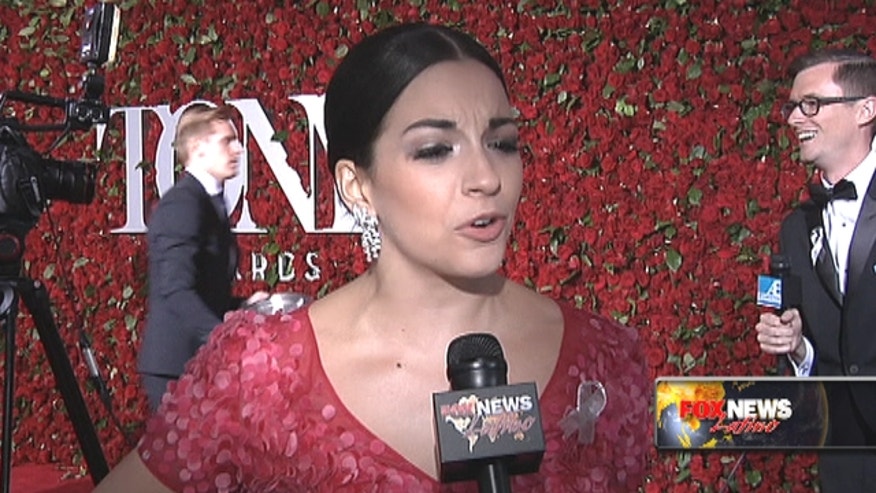 New York – In an impassioned speech motivated in part by the tragic mass shooting that happened only hours before in Orlando, Lin-Manuel Miranda dedicated one of his many Tony wins to love.
"We chase the melodies that seem to find us, until they're finished songs and start to play, when senseless acts of violence remind us that nothing here is promised. Not one day," he said during his speech for best score while trying to keep the tears at bay.
"This show is proof that history remembers, we live through times when hate and fear seem stronger, we rise and fall and light from dying embers, remembrances that love and hope last longer and love is love is love is love is love is love is love is love cannot be killed or swept aside."
Miranda said he had not written a speech ahead of the show but after learning about the shooting, it came out while preparing it. He said it was a day of tragedy.
"You cannot let that moment go by," he told reporters backstage. "Theater doesn't exist without the LGBT community. It's heavy in my heart."
"Hamilton" – which was nominated for a record 16 categories – took home 11 statutes, including best musical, best score, choreography and trophies for stars Leslie Odom Jr., Daveed Diggs and Renee Elise Goldsberry.
"Alexander Hamilton was a dreamer… I stand on this stage tonight, surrounded by dreamers," show producer Jeffrey Seller said. "Look around, look around at how lucky we are to be alive right now."
"Hamilton" was not able to break the 12-statuette record haul by "The Producers" as it lost scenic design to "She Loves Me" and star Phillipa Soo lost to "The Color Purple" breakout star Cynthia Erivo.
The tragedy at a gay night club in Orlando – where at least 50 people died – just hours before weighed heavily on the ceremony.
Josh Segarra, who stars in "On Your Feet" and is from Orlando, spoke with Fox News Latino ahead of the show.
"Today is really special, an important day for me because of my hometown," he said. "My heart is heavy. I'm thinking about all my friends, all my family – they are all OK – but I hope that tonight we can put a smile on a couple of faces. That's what I'm thinking about tonight."
Host James Corden, with his back to the audience, spoke to viewers dedicating the night to the victims and the diversity that celebrated by New York's theater community.
"You are not on your own right now. Your tragedy is our tragedy," he said. "Theater is a place where every race, creed, sexuality, and gender is equal, is embraced and is loved. Hate will never win."
Actor Frank Langella, who won the Tony for best leading actor in a play, said in his acceptance speech: "I urge you Orlando to be strong. We will be with you every step of the way."
Odom Jr. told reporters backstage of moving forward after the tragedy: "It feels so futile… and then we had a show today and there are people who know it that spent every dime to be there… We said we can't take that away from them."
In response to the shooting, on Sunday night "Hamilton" stopped its use of muskets in its performance of "Yorktown."
Despite the tragedy, the ceremony's mood remained light.
Corden performed a head-spinning medley of tunes from famous Broadway musicals, including donning a mask for "The Phantom of the Opera," a leather jacket for "Grease," and a curly red wig for "Annie." Performances by the companies of "School of Rock," "Spring Awakening," "The Color Purple," "Shuffle Along" and "Hamilton" were some of the brighter spots of the night.
The season's rich diversity was also highly touted and celebrated throughout the night.
"Think of the Oscars with diversity," the host said in his introduction before making a dig at Donald Trump for wanting to build a wall around the theater.
Trump was a frequent target. Nathan Lane made a crack about Trump University and Emilio Estefan insisted that his all-Latin cast for "On Your Feet!" were all in America legally.
"Broadway is about diversity," he said while introducing the show's company and his wife Gloria for a special mega mix performance. "I was told that I needed to say this. The entire cast of 'On Your Feet' all have papers. They are legal."
Choreographer Sergio Trujillo, who lost the Tony to "Hamilton," said it was so important to be part of this Broadway season because of number of minorities seen on stage.
"It's so incredibly historical," he told FNL on the red carpet. "What 'Hamilton' is doing is unprecedented and really wonderful. The inclusion … how wonderful that theater can be that open."
Actress Jennifer Simard, who was nominated for her role in "Disaster!," touted this season for bringing theater to a larger group of fans "beyond the walls of the theater, beyond these few blocks on Broadway."
"Now it's something that everyone is talking about," she told FNL ahead of the show. "And that is a wonderful thing. So thank you 'Hamilton.'"
Lucia I. Suarez Sang is a Reporter for FoxNews.com.
Follow her on Twitter @luciasuarezsang