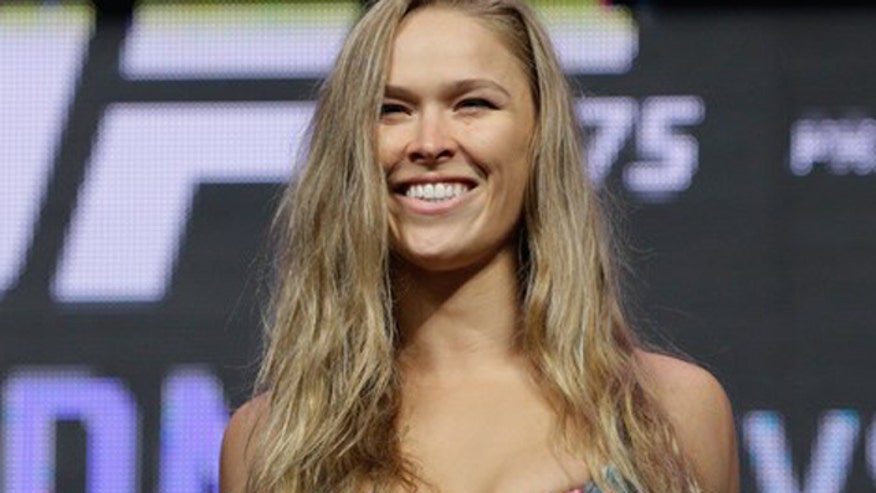 A Marine asked the MMA fighter Ronda Rousey to the Marine Corps Ball and she said yes.
Jarrod Haschert asked Rousey out in a video posted on Facebook that has since received more than 4 million views.
TMZ cameraman caught up with Rousey and asked the 28-year-old if she had seen the viral video.
"I just saw it the other day...I would go for sure," she said although she added she is unsure how to reach out to Haschert.
There's a catch though. Rousey wants him to find dates for her friends and "he's gotta be a gentleman."
Hey guys, I'm trying to take Ronda Rousey to the Marine Corps Ball this year and I need your help to reach out to her and her fans. Please share this post and video. Thank you!!

Posted by Jarrod Hash on Saturday, August 22, 2015
The Marine, who is based in North Carolina, explained in the video that Rousey is his celebrity crush and that if she can make it, she will "truly be making my dream come true."
Subscribe to FOX411's new YouTube channel.
A rep for Rousey did not immediately respond to FOX411's request for comment.
Haschert isn't the first Marine to ask out a celebrity. In 2011, Sgt. Scott Moore, of the 3rd Battalion 2nd Marines in Musa Qala, Afghanistan, posted a video on YouTube asking Mila Kunus to accompany him to the Marine Corps Ball.
FOX411 helped Moore score his dream date when we spoke to her. "I'll go," Kunis told FOX411 at the time. "I'll do it."