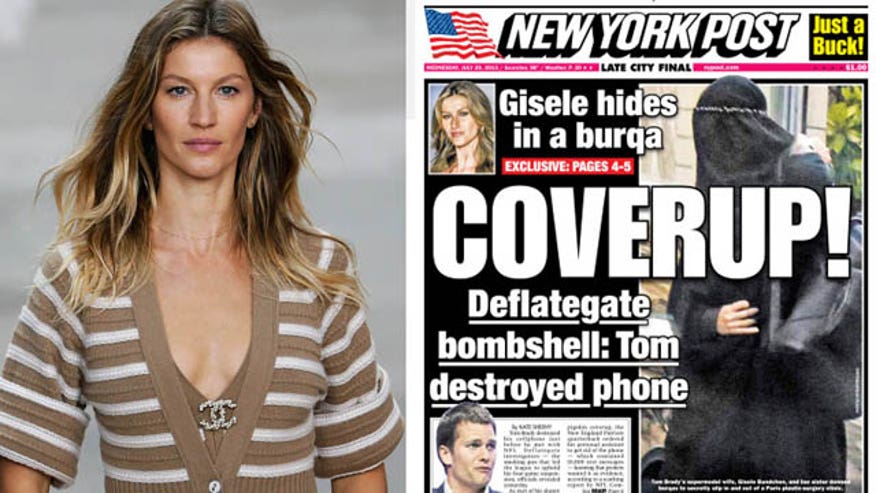 The City of Light lit up with rage on Wednesday over supermodel Gisele Bundchen's alleged use of a burqa as a disguise so she could slip in and out of a Parisian plastic-surgery clinic.
The New York Post reported on Tuesday that Bundchen and her kid sister wore the traditional Muslim clothing — during the holy month of Ramadan — so the supermodel could have secret work done on her boobs and her eyes.
"Ooh la la!" wrote a commentator on the French-language gossip site Public, responding to the stunning news on the Brazilian stunner — wife of Patriots quarterback Tom "Deflategate" Brady.
"C'est ridicule!!!!" agreed another poster. "To be photographed in a burqa is ridiculous!!!!"
"Especially since it is forbidden in France to wear it!!!!" the poster added, referring to the 2010 "burqa ban," which bars women from fully covering their faces.
"She would do better to fess up to the plastic surgery because that's not shameful. I never found her to be beautiful and I definitely don't like her now," the anonymous poster sniped.
The plastic-surgery clinic declined for a second day Wednesday to comment. "Pas de tout" ("not at all") said a woman ­answering the phone.
This article originally appeared in the New York Post's Page Six.
Four4Four: Gisele Bundchen's "Boob-job-burqa-gate"!