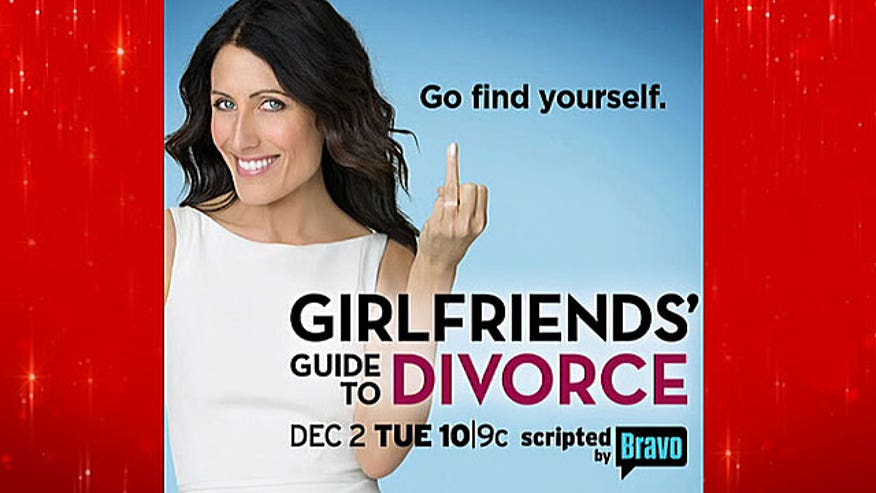 LOS ANGELES – A new poster for the upcoming Bravo show "Girlfriends' Guide to Divorce" doesn't contain nudity, obscene language or violence – but it has still managed to be deemed "inappropriate" in both New York and Los Angeles.
New York City's Metropolitan Transit Authority (MTA) banned advertisements featuring the show's star Lisa Edelstein sticking up her ring finger – which at first glance could be mistaken for the middle finger – along with the tag line "go find yourself" -- which apparently looks a little too much like the F-bomb.
Dom Camera, principal at New York-based firm Dom Camera & Company – which functions as Bravo's out-of-home media buyer – revealed the ban to the press, and said CBS Outdoor in New York and Los Angeles and Van Wagner at popular tourist destination The Grove in L.A., also won't be running the ad after initially approving it.
Adam Padilla, President & Chief Creative Officer at New York creative agency BrandFire doesn't find the ad inappropriate in the slightest.
"The pairing of the extended ring finger with the 'Go Find Yourself' is hilarious and smart. This is milquetoast compared to the egregious sexuality and potty humor that you see in many campaigns today," he said. "If there aren't any of George Carlin's famous seven words, and you don't see genitalia, sexual or drug-related acts, then it should be fair game."
Katie Yoder of the Media Research Center (MRC) Culture gave the decision the thumbs up.
"What the ad suggests is repulsive: that divorce means 'finding yourself.' The ad not only mocks married couples living out their vows, but also insults divorcees surviving the pain that often accompanies a broken marriage. The message trivializes marriage while serving as an ad for divorce," she told FOX411. "That is even worse than the imagery and language. Any ad that tears down the building block of society – the family – deserves criticism."
Others aren't ruling out a publicity stunt.
"There have been smart marketers who have submitted so-called 'inappropriate material' in the hopes of being banned," Ronn Torossian, CEO of 5WPR, noted. "So they can get even more attention than if their advertisement had been accepted."
"Girlfriends' Guide to Divorce" marks the first scripted series for Bravo, and centers on the plight of a 40-something self-help book author (Lisa Edelstein) who is concealing her marital separation from the public, all the while embarking on her new single life.
A representative for Bravo did not respond to a request for further comment, but told industry publication TheWrap.com that despite the controversy, they will not be altering the artwork.
"The ad is an accurate representation of the show's humor, attitude and story, so rather than 'divorce' this creative concept – we found alternative sites for it to run in NY and LA," a spokesperson stated.
The ads are slated to run on double-decker tour buses on both coasts, and have been seen on the sides of phone booths and newsstands in New York City.
"Girlfriends' Guide to Divorce" debuts on Bravo Tuesday, December 2.
Follow @holliesmckay www.twitter.com/holliesmckay on twitter
Hollie McKay has been a FoxNews.com staff reporter since 2007. She has reported extensively from the Middle East on the rise and fall of terrorist groups such as ISIS in Iraq. Follow her on twitter at @holliesmckay