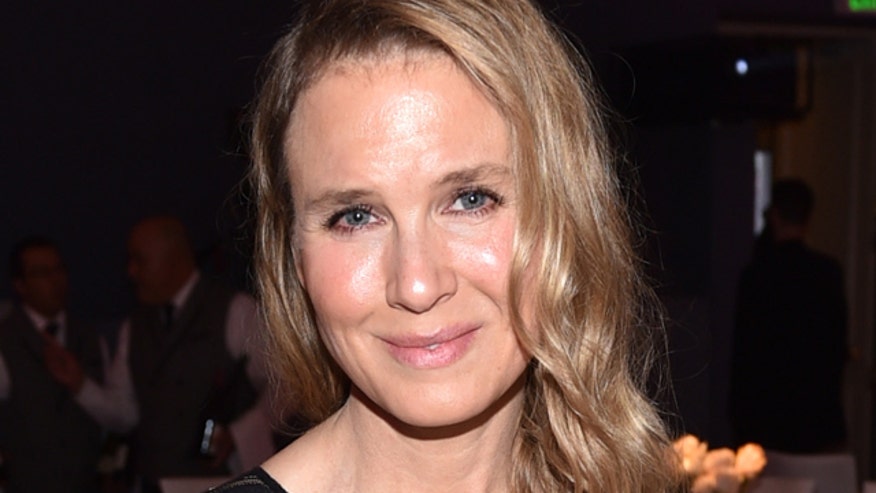 Renee Zellweger sent celebrity fanatics into a frenzy yesterday when pictures surfaced of her from Monday night's Elle Women in Hollywood Awards. The 45-year-old "Bridget Jones' Diary" star debuted a nearly unrecognizable face, leaving many wondering what work she's had done. Now, Zellweger is speaking out about her new look, claiming her revamped face is the result of a healthy lifestyle and the natural changes that come with aging.
"I'm glad folks think I look different! I'm living a different, happy, more fulfilling life, and I'm thrilled that perhaps it shows," she told People magazine. "People don't know me [as] healthy for a while," says Zellweger. "Perhaps I look different. Who doesn't as they get older?! Ha. But I am different. I'm happy."
She added that fans simply "don't know me in my 40s."
"My friends say that I look peaceful. I am healthy," Zellweger said. "For a long time I wasn't doing such a good job with that. I took on a schedule that is not realistically sustainable and didn't allow for taking care of myself."
Zellweger's new lifestyle has included a low-key and happy relationship with her boyfriend, Doyle Bramhall, she explained.
"I did work that allows for being still, making a home, loving someone, learning new things, growing as a creative person and finally growing into myself," she said.
Zellweger didn't address whether or not she'd had any surgical help to achieve her new look, but some social media users were quick to insist she'd gone under the knife.
Renee Zellweger said her new face is down to a happy, healthy lifestyle. In other words, she had plastic surgery.

— ☢ (@envy_the_dead) October 22, 2014
The problem w/ Renée Zellweger's face is not that she's aging.It's that she stopped aging naturally, went for plastic surgery and that's sad

— Anthony Jaeger (@ajaeger16) October 22, 2014
Hey, I'm living a happier more healthy lifestyle now as well. Why don't I look as dramatically different as Renee Zellweger?

— John M (@John_M15) October 22, 2014
I had no idea having a "happy healthy lifestyle" causes your forehead to creep down your face. Pass the junk food, please. #ReneeZellweger

— Megan Carter (@MeganCarterPXY) October 22, 2014
Zellweger told People all the fuss about her new look was "silly," and she was only addressing her changed face because she was being hounded by the press for answers.
"[It] seems the folks who come digging around for some nefarious truth which doesn't exist won't get off my porch until I answer the door."
WATCH: Four4Four: Inside Renee Zellweger's change of face