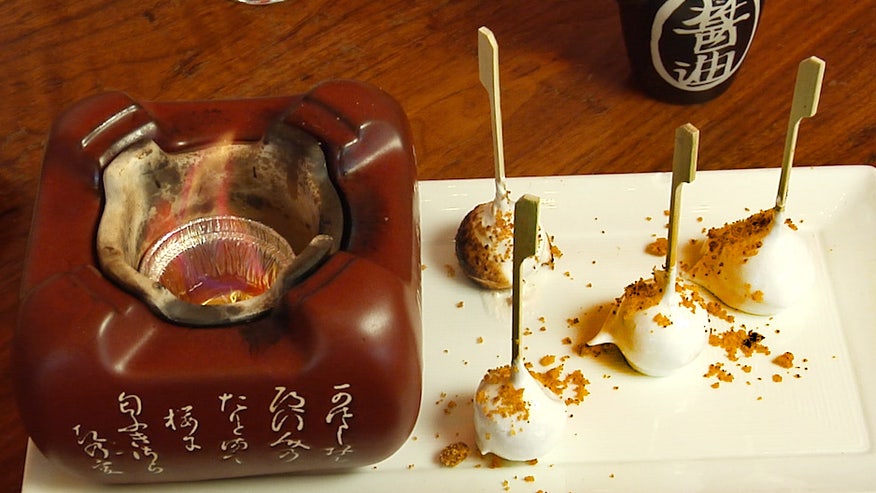 Here's what's we've heard:
Britney Spears reportedly shared a sneak peek of her Women's Health photoshoot on social media (below), but we're not quite sure what we're looking at. Is she hiding behind that attractive, severe-featured blonde woman with the great abs? We don't get it.
National S'mores Day is just around the corner (August 10), but you don't want to celebrate with just any s'more, like some amateur. You'd better watch the video above to see how executive chef Pedro Duarte of SushiSamba makes his signature Samba S'mores, loaded with ice cream and served on a stick.
An admittedly drunk Chrissy Teigen tossed out the first pitch at Dodger stadium on Tuesday evening (below). But seeing as did a pretty decent job, we say the Dodgers should just hand her a fifth of tequila and throw her in the bullpen.
George Clooney and Amal Alamuddin reportedly got their marriage license in London recently, and holy cow, he's really going through with this thing, isn't he?
Over 40,000 people have signed an online petition in the hopes of seeing "Weird Al" Yankovic perform at the Super Bowl. That's probably not enough to influence the NFL, but Al should get to work on a football-themed parody of Katy Perry's last hit, just in case.
Warner Bros. has moved the release date of "Batman v. Superman: Dawn of Justice" from May 2016 to March 2016, leaving you with that much less time to sew together the Superman outfit that you plan to wear to the premiere.
Barbra Streisand joined Instagram on Wednesday, and like many of us, she began by posting a photo of herself and her dog (below). But unlike us, Streisand and her pet were photographed on a piece of rattan outdoor furniture, so you just know she's a true star. That's class, Babs. That's class.
Mark-Paul Gosselaar stated on "Live With Kelly and Michael" that he was never a natural blonde, and had to dye his hair for the entire duration of "Saved By the Bell." However, he mentioned nothing about Zack Morris' power to freeze time with his signature "time out" hand signal, so that was probably real.
Singer Gary LeVox of Rascall Flatts has lost his voice, prompting the band to cancel multiple upcoming shows until he recuperates. And seeing as LeVox roughly translates to "the voice," we will henceforth be referring to him as "Gary." (Feel better, Gary!)
Ireland Baldwin shared multiple bikini photos on Instagram this past Tuesday (below), seemingly for no other reason than to show off her body, and also to make us jealous that we, too, weren't lounging poolside in the middle of a weekday.
Madonna posted a selfie of her own crotch to Instagram on Wednesday, then quickly deleted it, presumably after recognizing the photo for the horrid, pathetic attempt at staying relevant that it certainly was.
On Wednesday, Arnold Schwarzenegger revealed the title of the next "Terminator" installment, called "Terminator Genisys." Naturally, we're hoping that this "Genisys" thing will somehow explain why the Terminator — a robot from the future — keeps aging at the same rate as Arnold Schwarzenegger.
Megan Fox recently claimed that she and Brian Austin Green aren't having sex because their 2-year-old son sleeps in their bed every night, which is like owning a pair of Maseratis and never riding in them. Or, better yet, it's like being Megan Fox and Brian Austin Green and not having sex, ever.
And finally, "Saturday Night Live" has teamed up with a candy company to release real-life versions of all the fictional snacks they've featured in skits, though we're guessing these foods are less funny at home — especially when you're sitting across the breakfast table from a box of Colon Blow cereal.