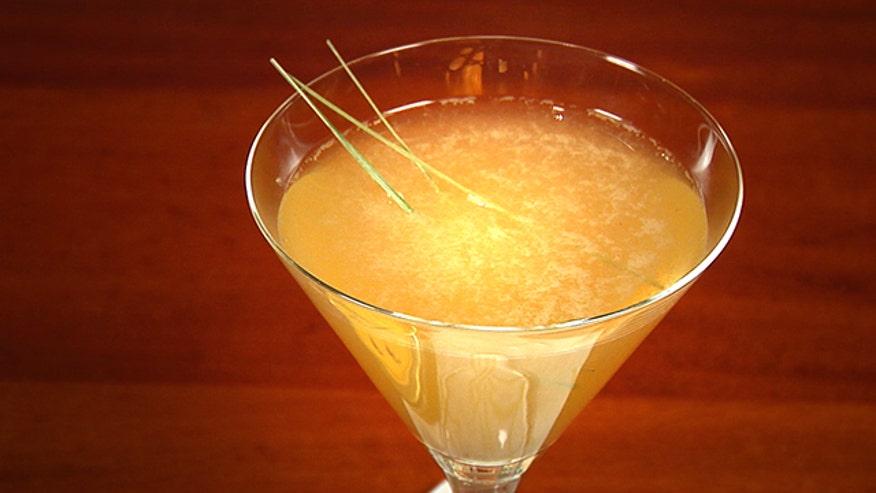 Here's everything worth reading about:
If you couldn't piece together an accurate image of Kim Kardashian's naked torso from her previous ensembles, you might be interested to know she was photographed wearing a wet, see-through t-shirt on her Mexican honeymoon. (Needless to say, the photos might not be safe for work.)
The 19th of June marks National Martini Day, so if you don't have a drink in your hand by 6 p.m., you're doing it entirely wrong. Check out the video above and learn how to make the signature Wax Poetic from the famed Waldorf Astoria hotel.
Taylor Swift announced (via Instagram) that she got herself a new kitten named Olivia Benson, presumably after the "Law and Order" character of the same name. For anyone keeping track at home, Swift now owns five million kittens.
Speaking of Swift, Wednesday's hot weather in NYC gave her an excuse to show off her toned stomach in a new crop top. Or maybe it wasn't a crop top, but rather a regular shirt designed for a much shorter gal. We'll work on getting those details.
Pitbull received an honorary degree from Doral College in Miami on Tuesday, and celebrated just like most 18-year-olds after receiving their high school diplomas: by flipping the bird in his graduation photo.
Mere days after Justin Bieber and Selena Gomez were rumored to have gotten back together, Selena threw a raging party at her house that required police intervention. Coincidence?!? Well, perhaps. Even without Bieber around, parties do get out of hand sometimes.
The Clarence House's Twitter account recently posted an old picture of Kate Middleton's grandmother Valerie back during World War II, and in doing so, proved that Kate's lineage is downright adorable. So if Prince George turns out to be an uggo, we'll know whose side is to blame.
Valerie Middleton, the paternal grandmother of The Duchess of Cambridge, who worked @bletchleypark during #WWII pic.twitter.com/mBVY1BDW2s

— Clarence House (@ClarenceHouse) June 18, 2014
Chelsea Handler signed a deal with Netflix to helm their very first talk show, but it's not set to begin until sometime in 2016, when "Orange is the New Black" and "House of Cards" inevitably start to lose their luster.
After three years of separated bliss, Jennifer Lopez and Marc Anthony's divorce was finally finalized on Monday. Congratulations, you two! We always knew you kids wouldn't make it.
In celebration of Blake Shelton's 38th birthday on Wednesday, Miranda Lambert shared one of her husband's baby pictures on Instagram. From the looks of his jammies, this photo was taken back when baby Blake played in a jailhouse rockabilly trio:
Remember what Sinead O'Connor looked like back in the day? Good. Now imagine the exact opposite of that and you'll have a pretty accurate picture of what she looks like on the cover of her new single, "Take Me to Church."
Tim McGraw is so buff in these shirtless photos from the upcoming issue of Men's Heath that we wouldn't be surprised if Sylvester Stallone adds him to the ever-growing list of aging action stars, aging wrestlers and aging musicians that will undoubtedly star in "The Expendables 4."
Much like a drug dealer who gives you the first "taste" for free, 7-Eleven locations in Dallas and Los Angeles are trying to get their customers hooked on junk by handing out samples of their new Doritos Loaded cheese nuggets.
And finally, it was recently revealed that countries like Chile, Russia and Mexico have banned their World Cup athletes from having sex until after their soccer games. (But technically, isn't it always after their soccer games? Amirite, Chilean, Russias and Mexican players? You what we're talkin' about!)