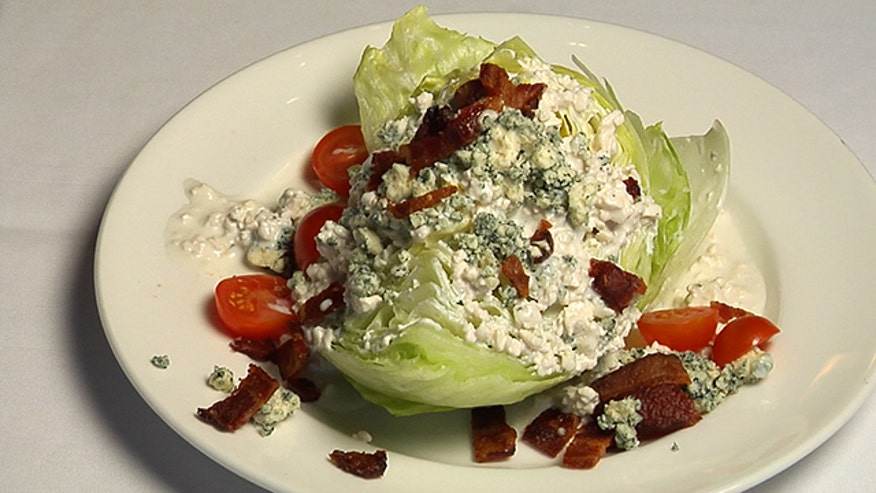 Here's everything worth knowing:
Dita Von Teese believes that "one mustn't wear undergarments with haute couture," but that's because her haute couture comes with built-in fantastical undergarments. The rest of us aren't so fortunate.
Stacy Keibler, the statuesque model (and former athlete) who's currently pregnant with her first child, posted a Mother's Day photo to Instagram on Sunday. And because she's a statuesque model (and former athlete) who's currently pregnant, she did it in a bikini.
Taylor Swift visited a 5-year-old cancer-stricken fan in an L.A. hospital on Wednesday, further solidifying her spot as an extremely decent human being.
Speaking of lifestyles of the rich and famous, Del Frisco's, that famous steakhouse where Taylor Swift stopped for a bite recently, is sharing their secret to making the perfect wedge salad at home. Check out the video above and you'll be up to your eyeballs in bacon and blue cheese before you know it.
Kendall Jenner and friend Hailey Baldwin (daughter of Stephen) wore near-identical leopard-print bikinis for Instagram. You can go ahead and look, they're both 18. (But barely.)
An Austrian drag queen named Conchita Wurst has won the 2014 Eurovision Song Contest, which is like "American Idol," except for countries in Europe, and with only original songs, and apparently much more entertaining:
In Billboard magazine, Miranda Lambert once again addressed the false rumors of a divorce between her and Blake Shelton. But maybe people wouldn't be talking about it so much if the two of them stopped talking about it too.
British songwriter Rita Ora seems to be highly aware that she's not on everyone's radar, so she recently stripped down to her underwear for a London performance and went topless on Instagram. Helloooooo, Rita Ora!
For Mother's Day, Kim Kardashian gave us a peek at playtime with her daughter North, while Kanye West gave his bride-to-be a literal wall of roses.
Zoe Saldana of the upcoming "Guardians of the Galaxy" movie told a SiriusXM radio DJ that she once had sex in the small space between two subway cars on the way from Coney Island into Manhattan. Beat that, Miranda Kerr!
While receiving his honorary doctorate from Howard University, Puff Daddy gave a speech to the Class of 2014 in which he stated, "I am a unicorn. You are a unicorn. We are all unicorns." (See what he did there? He started out with a nice metaphor for being unique, then completely ruined it.)
Nobody's reading Pippa Middleton's "Sport and Social" newspaper column in Britain's Daily Telegraph, so they're not renewing her contract. But people are still reading about her new lob-ish haircut, so at least she's got that going for her.
Jennifer Lawrence almost tripped at a star-studded event for the third time — this time while ascending a staircase at the NYC premiere of "X Men: Days of Future Past." At this point, it's becoming less endearing and quirky, and more drunk-aunt-at-Thanksgiving.
Ahead of her final appearance on "The View," Barbara Walters stopped by "Saturday Night Live" to make fun of herself, and also possibly to keep her name on the lips of a younger demographic in case she wants to pursue a sitcom deal with NBC. Here's the clip:
We can't tell if Chrissy Teigen is promoting Cap'n Crunch cereal, of if Cap'n Crunch is promoting bikini-clad Chrissy Teigens, but the two were photographed posing together on the beach in some kind of awkward publicity stunt.
Former "Spin City" and current "Blue Bloods" actress Jennifer Esposito wrote a tell-all book in which she pretty much trashes ex-husband Bradley Cooper, calling him mean, cold, and a "master manipulator."
Because subtlety is lost on people nowadays, Miley Cyrus went ahead and topped her previous antics during a show in London on Friday night. (Pics might not be safe for work, depending on where you work.)
And finally, about 5,000 Burger Kings across the nation have decided to start offering burgers and chicken sandwiches during breakfast, because c'mon, who really wants one of those Croissan'wiches.