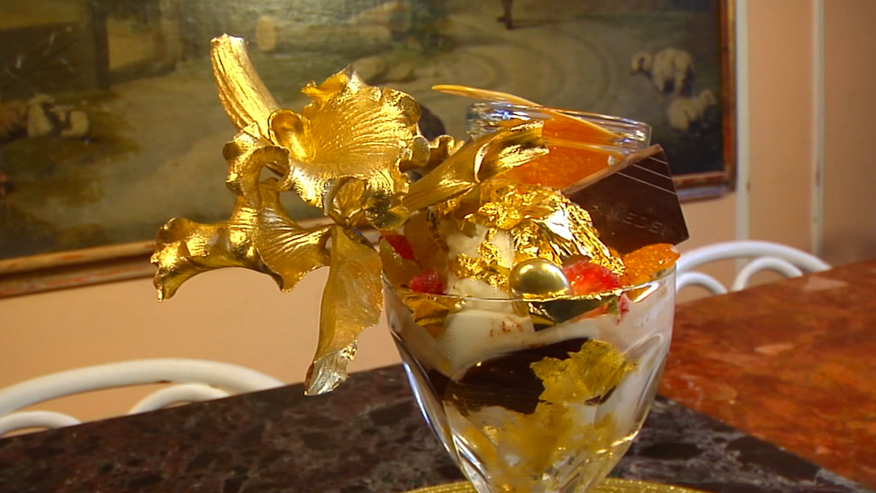 Here's what we're obsessing about today:
Miley Cyrus' "Bangerz" tour usually begins with a video depicting a naked, tongue-brandishing Miley smearing oil all over herself. But if you didn't happen to catch the concert, you can now watch this video online (Warning: You probably don't want to watch this one at work).
After (presumably) countless hours of grueling research, a royal family "expert" named Stephane Bern made the claim on British television that Pippa Middleton was wearing some kind of a fake butt at Kate and William's wedding.
Jason Priestley has written a memoir focusing on his "90210" years. And it's jam-packed with stories about Shannon Doherty being a spoiled brat, or the time his former roommate Brad Pitt refused to shower on a bet. In other words, it's gold.
You know what else is gold? The Golden Opulence Sundae at Serendipity 3 in New York City. And we mean that literally — this $1000 sundae holds the Guinness Book of World Records' title for the most expensive in the world, featuring edible gold leaf and plenty of other goodies. See for yourself in the video above.
Remember how Prince Harry went out partying in Miami following his breakup with Cressida Bonas? Welp, the media is reporting that he "chatted up a brunette" while there. Or, you know, maybe he was simply having an innocent conversation with a member of the opposite sex. Because that's possible too.
While partying at a Toronto nightclub back in March, Justin Bieber reportedly ran into the city's troubled mayor, Rob Ford, and made a comment about his crack habit. This allegedly sent Ford into an angry drunken bender, but c'mon — the guy was already hanging out at a club that Justin Bieber frequents. Ford was just waiting for an excuse to party.
The first single from Michael Jackson's posthumous album "Xscape" was released, and the song was even performed at Sunday evening's iHeartRadio Music Awards, though not by an undead Michael Jackson. Rather, Usher came out and danced to MJ's disembodied voice.
Michael Jackson - (Usher) Love Never Felt So... by IdolxMuzic
Judging by his recent Instagram activity, James Franco really wants you to see the area of his lower torso where his groin meets his abdomen.
Olivia Wilde is pretty much already skinny again after giving birth just last week.
On a recent episode of "The Graham Norton Show," Hugh Jackman claimed that he almost sliced off his little Hugh Jackman while screwing around with his Wolverine claws on the set of "X-Men: Days of Future Past."
And here's more X-Men stuff, if you're interested: It's a clip from the movie, featuring Jennifer Lawrence running around naked (save for some blue makeup), in a conference room, about to kick the living snot out of Peter Dinklage.
Gwyneth Paltrow will be opening the very fist GOOP pop-up shop in Los Angeles, presumably to sell the very same super-expensive items that we weren't able to afford when they were available her the GOOP website.
E! Online is wondering whether Mariah Carey was "digitally slimmed down" on the cover of her upcoming album. The answer is yes, E! Online. Yes.
And finally, somebody on the Internet put forth a theory that Katy Perry has been stealing her style and aesthetics from an Archie Comics character named Katy Keene for years. We admit, we were skeptical when he heard this, but the resemblances are actually uncanny. In fact, we'd like to applaud Perry for getting away with this for so long.