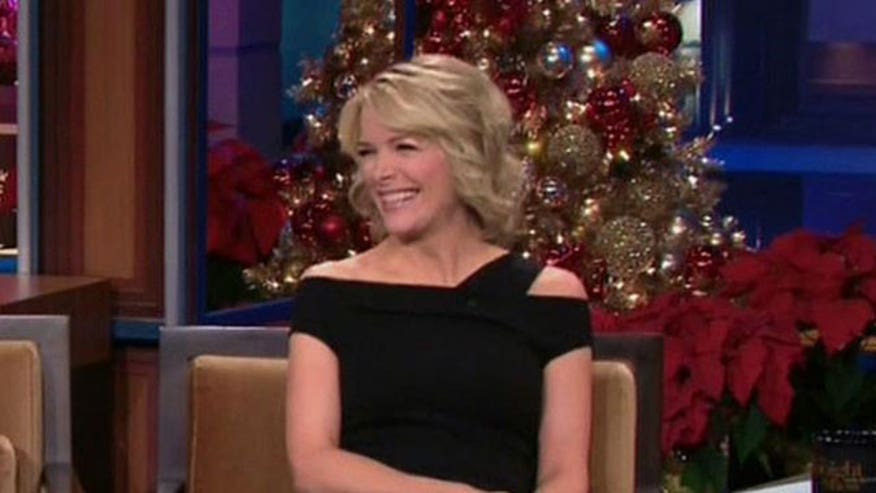 Fox News' Megyn Kelly appeared on a different evening show last night when she visited Jay Leno's "Tonight Show" to talk about congress, proposed changes to the minimum wage and her thoughts on Anthony Weiner.
Kelly, who was fighting off a cold, sat beside "X Factor" judge Simon Cowell, who mostly stayed silent during "The Kelly File" host's interview with the veteran late-nighter.
Leno initially praised the former lawyer for her new show's success, and noted that she tends to deliver a balanced view of the news, calling her reporting "straight down the line."
"I am a straight news anchor. I am not one of the opinion hosts at Fox," Kelly explained. "I always tell people if they think I am this conservative operative, ask Karl Rove if that's true. The way we do it on the Fox News channel is the straight news anchors—like myself—give a hard time to both sides."
Still, she said things still tended to get heated with some of her more passionate guests. One such incident happened when she sat down with Anthony Weiner, which she called a "contentious interview."
"He used to come on the show, and he was so full of hubris and he was so—sort of—in your face… If you were walking around with that kind of secret, and you were going on the national news, wouldn't you dial it back a little bit?" Kelly mused. "You'd be a little on egg shells?"
When it came time to talk about congress, Kelly got laughs from the audience with her quips about approval ratings.
"We did a segment on this not long ago, and we put up on the screen that congress has a lower approval rating than cockroaches and hemorrhoids," she said.
Later when discussing proposed changes to the minimum wage, Kelly said she saw both sides of the argument to raise the minimum wage, and when Leno jumped in to disagree, the savvy TV anchor turned the questioning on her interviewer and asked him what he thinks the minimum wage should change to.
"What do you think it should be? Ten bucks?" she asked.
Leno then explained his idea for two minimum wages based on age.
Viewers of the late night segment turned to Twitter to praise Kelly's appearance.
@megynkelly You're were adorable on Jay Leno, Megyn! You're so honest, unpretentious and enjoyable to watch...hope you feel better soon :)

— Jane Hunt (@JaneJanehunt49) December 10, 2013
@megynkelly A smart, beautiful, classy woman ... you lit up the Leno stage! You are a star and a credit to Fox News Channel! Bravo, Megyn!

— Raymond J. Mitchell (@RayJMitchell) December 10, 2013
@megynkelly killed it on #leno tonight. First time in years that I watched his show but it was 100% worth it

— Michael Wood (@MikeWood0424) December 10, 2013