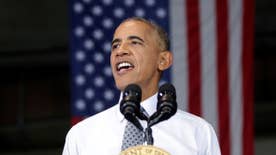 The announcement was made ahead of a major offensive to recapture Mosul; James Rosen with the details for 'Special Report'
President Obama is expected to extend the bombing campaign against the Islamic State in Libya for a second time, three US military officials with knowledge of the request tell Fox ...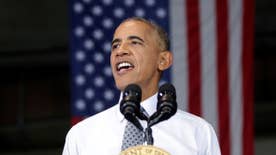 US to send hundreds more troops to Iraq
President Obama approved a Pentagon request to send more than 600 additional troops to Iraq helping local forces battle the Islamic State, the White House and military officials co...
US airstrikes in Somalia killed four al-Shabab fighters in "self-defense," military officials confirmed to Fox News on Wednesday.
Seven Afghan students training at US military facilities disappeared just this month, the Pentagon confirmed, sparking security fears amid terror attacks in New York, New Jersey an...
In an about-face, U.S. military officials said Tuesday that no "mustard agent" turned up on the rocket that landed on a U.S.-controlled base in northern Iraq last week, according t...
As deadly airstrikes pounded Aleppo, Syria over the weekend, a major foreign ground force was also converging on the region.
For more than two decades, combat aircraft flown by the U.S. and its European allies have pretty much owned the sky.
Islamic State fighters in Mosul are digging trenches and can be seen pouring oil in some of them to bolster their defensive positions in Iraq's second largest city ahead of an expe...
Fifteen years after the 9/11 attacks, the U.S. military continues to pursue the terrorist organization's top leaders in eastern Afghanistan, a senior U.S. military commander told r...